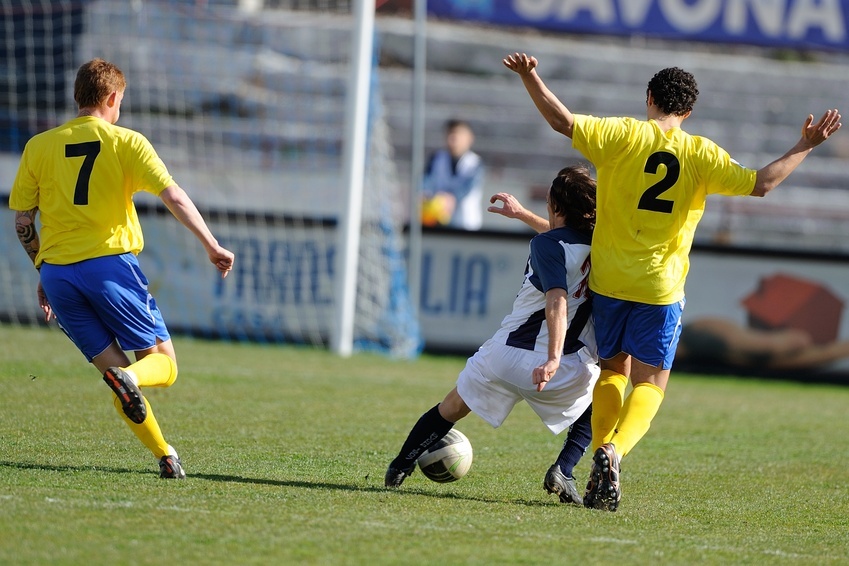 Football is the number one sport in the U.K. There are a number of notable clubs in the Eastern Counties Football League or Thurlow Nunn League. One well-established Premier Division club is F.C. Clacton. This club is based in Clacton-on-Sea, Essex, and Rush Green Bowl is the club's home pitch.
F.C. Clacton has a long history that dates back to 1892. Today, F.C Clacton is still an active club competing not only in Thurlow Nunn Premier League but also in the FA Cup, FA Youth Cup, Essex Senior Cup, Eastern Region Women's Football League, and Colchester and District Youth League. F.C. Clacton is comprised of different teams with different age brackets. For those who are interested in seeing F.C. Clacton play, it is important to know how to buy football tickets. One popular source of tickets for division as well as league competitions is eBay.
An Overview of F.C. Clacton
Football Club Clacton was first established as Clacton Town on the 27th of October 1892. The club then joined the North Essex League in 1895. After winning Division Two thrice in a row, once in the 1898-1899 season, then in 1899-1900, and then again in 1900, they were levelled up to Division One. The club battled hard in the years that followed, and in 1959 the club, having won the newly-renamed Division One, were promoted to Premier Division. They stayed in the division for some years, but were relegated back to Division One in 1962-1963 when they only finished 21st out of 22 clubs. The football club continued to push forth and despite obstacles encountered throughout the years has made it into the Premier Division on several occasions. They became 'F.C. Clacton' officially in 2007.
Home Grounds
A pitch behind Queen's Head pub in Great Clacton was the first playing field of the Old Clactonians. The club then transferred location to a ground behind the National Schools in 1903. In 1906, the Clactonians found another ground that would become their home for the next few decades: the Old Road ground. The Old Road ground underwent several changes, from being a playing field with a wooden stand to having a car park built around it. Because of the decision of the local council to sell the ground for a retail park in 1985, the club eventually moved to the Rush Green Bowl ground, which has remained the football club's ground up until today.
The Squad
Currently, the goalkeeper of F.C. Clacton is Keith Tucker. The defenders include Tom Austin, Adam Daniels, Lee Clowsley, Kyelan Marvell, Lee Peacock, and Billy Wales. The midfielders feature Ray Knight, Stewart McFarlene, Ali Mclnnes, Louie Newland, and Darren Tarling. Lastly, the forwards or strikers include Jake Clowsley, Aaron Condon, and Kevin Coyle.
Honours Bestowed on the Club
The table below shows the honours that F.C. Clacton received during their history. It shows both the League and Cup honours, with the corresponding year.
| Leagues/Cups | Honours |
| --- | --- |
| | Division One Champions (1959-1960) |
| Eastern Counties League | League Cup Winners (1973-1974, 2001-2002); Division One champions (1994-1995, 1998-1999); Division One Cup winners (1998-1999); Division One Cup winners (1998-1999) |
| East Anglian Cup | Winners (1956-1957, 1999-2000); |
| Eastern Floodlit Cup | Winners (1995-1996) |
| Essex Junior Cup | Winners (1899-1900) |
| North Essex League | Division Two champions (1898-1899, 1899-1900) |
| South East Anglian League | Division Two champions (1907-08) |
| Colchester and District League | Division Two champions (1909-1910); Division Two Cup Winners (1909-1910) |
| East Anglian League | Champions (1910-1911) |
| Clacton and District League | Champions (1905 to 1906) |
The table above is a complete list of all the honours bestowed on F.C. Clacton throughout the years. Some of these honours were responsible in their promotion to Premier Division on several occasions.
Tickets to Watch F.C. Clacton Play
Since the club competes regularly, there are many matches that fans can attend. There are different ways to obtain F.C. Clacton tickets or football tickets in general. The club-owned website contains information about admission, both for adults and children. Tickets to see F.C. Clacton play are priced differently, with the First Team matches being more expensive and tickets to see the Reserves and Under 18's being the cheapest. Concessions for seniors, the disabled, and students are also available. Fans and supporters can also buy programmes from the club's website.
Aside from details about admissions, fans can also view all the club's scheduled matches on the team's website, including the First Team, Reserves, The Ladies, Under 18's, Under 12, and Under 10's. Previous matches can also be viewed on the site, complete with the scores. More information about F.C. Clacton is available on the website so fans who want to know about what the players and the teams get up to can check the website for updates.
Purchasing Resold Tickets Online
Although buyers can reserve or line up to buy an F.C. Clacton tickets at the ground, they can also find people reselling tickets online. Those who are reselling tickets have their own reasons for doing so. Possibly something unexpected has come up and the original ticket holder can no longer attend the match. Another reason is that a fan has excess tickets available to sell online. Whatever the reason for a private seller putting up the tickets for sale, the buyers must ensure that they are getting the real deal. Buyers should always examine the scan of the ticket if he or she is unable to inspect the ticket in person. Another way to check the authenticity of the ticket is to ask for a proof of authentication, such as the original sales receipt.
Buyings Resold Tickets from Licenced Sellers
It is possible to buy tickets from members of a fan club or from licensed agents. These people are authorised to sell tickets. Just the same as buying online, buyers should make sure that they are buying authentic tickets from sellers. They can also check the prices of the tickets on the club's website before buying to ensure they are not paying too much. Remember that there are concessions for seniors, disabled and students, so prices for these tickets are lower. However, only a senior, a disabled person, or a student brandishing a student card is admitted with a concession ticket.
Buying Tickets on the Day of the Match
Buyers who missed out on the chance to buy tickets from the club can drive to the match and look for people who are selling their tickets outside the ground. These people may sell their tickets because of a decision to forego watching the match in lieu of another engagement or an emergency. Scalping, on the other hand, is illegal in the U.K. and it is not recommended that one buy tickets from such people.
Searching for F.C. Clacton Tickets on eBay
eBay is one of the most varied and dynamic marketplaces on the Internet, and many football fans turn to eBay in their quest for football ticket for upcoming games. It is easy to find tickets on eBay. You simply have to type in descriptive keywords into the search field on the site's home page. This action prompts the local search engine to show listings for a particular items, in this case, it may be tickets for a particular game on a particular day.
To refine your search, you can make use of the categories and filter options on the site. It takes just a few minutes to work out how to sort listings and hone searches. When buying tickets using eBay, it is very important to only deal with reputable sellers. You can determine if the seller is reputable by the positive feedback score that is published on their profiles pages. Credible sellers also enjoy a stream of positive comments and you should take the time to read these comments before committing to doing business with a particular seller.
Along with descriptions of the tickets they are selling, reputable sellers also post scans or photos of the tickets. You should examine these photos or scans carefully to ensure that the tickets are for upcoming matches and are not used tickets offered up as memorabilia. To authenticate tickets for an upcoming game, you should request proof of purchase in the form of the original sales receipt.
Conclusion
Football is Britain's favourite sport, and with so many teams, clubs, and leagues there are many opportunities to attend some stellar football matches. F.C. Clacton is a club in the Thurlow Nunn League. It is currently a Premier Division and fighting hard to maintain its status. The F.C. Clacton Club is composed of different teams, so aside from the First Team fans can also support other teams such as The Ladies, Under 18's, among others.
If planning to attend matches, fans and supporters should first view the competition schedule as well as admissions details on the club's website. Fans can search the Internet for tickets to F.C. Clacton matches. The most efficient way to search for tickets is to search on eBay. Many private sellers list tickets to matches that they cannot use. When searching for tickets for upcoming games, it is important to read the item descriptions very carefully. Sometimes, the tickets listed for sale are memorabilia tickets and so cannot be redeemed for entry to future matches.