Just when we thought NAND flash memory counterfeiting was bad enough, Apple's infamous iPods are now being counterfeited as well.
Below is a stringent list of Certified Genuine & Authentic sellers for peace of mind purchase of flash and computer memories on eBay. One can safely purchase from these sellers as they have been through our restrictive process of verification & checks:-
The list is open to all genuine sellers to join. Due to overwhelming requests to be on the list, sellers MUST maintain 99.8% and above eBay feedback and/or a minimum of 1000 positive feedbacks before you will receive a reply. These requirements even surpass the standard eBay PowerSeller program at any level.
Since October-2006, eBay has decided all sellers could no longer hide their BAD feedbacks. Simply enter seller's eBay ID and watch for Negative/Neutral feedbacks wordings such as 'fake' and 'counterfeit' before buying at http://www.toolhaus.org/cgi-bin/negs
Apple Computer last month began notifying its service partners that some companies are illegally manufacturing digital music players that look very similar to its various Apple iPod models in an attempt to pawn them off to unsuspecting buyers.
Two of the most commonly counterfeited iPods appear to be the iPod nano and the iPod shuffle. Apple's tiny flash memory MP3 players, the iPod Nano and iPod Shuffle and microdrive based iPod Video are on the top of the list for counterfeiters. All the counterfeiting units are circulating on eBay and on sale usually at less than HALF the price compare with the price offered by authorised Apple Stores.
Beware of sellers that are using original Apple iPod web download pictures to sell counterfeit iPod as they do not represent the actual item that you will receive!
The counterfeit iPod Nano, when compared to the real iPod Nano seems like a very poor attempt at duplication. Where as Sony's Memory Sticks are counterfeited quite well which appear identical to the real thing but both iPod Nano and iPod Shuffle have more than enough cosmetical differences to easily tell what's real from what's fake which the quality of the counterfeit unit also bears little resemblance to the real thing.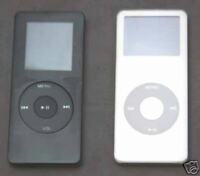 -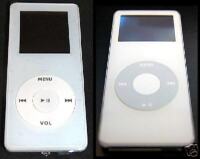 Counterfeit - Genuine - Counterfeit - Genuine
Characteristics of counterfeit iPod Nano not found on genuine version:-
The LCD screen is longer and displaying a clearly different user interface/operating system.
Older fake displays 'MENU' as 'M' and has writing below the screen and its fake click wheel positioned closer to the LCD screen.
Extra Vol symbol control at the bottom of the click wheel while the Play/Pause symbol is located at the center instead of at the bottom of the click wheel.
Lacking a standard iPod Dock connector at the bottom of the unit and it also ship without a standard USB to iPod Dock connector cable.
Sporting a non-standard headphone jacks where the ear-piece design are totally different.
Most of them have fake 2GB/4GB/8GB memory capacity, the real capacities are usually a lot less below 1GB.
Fake has additional capabilities such as: MP4 Video, FM Radio/Recorder and Voice Recorder.
They are sometimes stamped with a valid Apple serial number which several of the fakes have been found to use the specific Apple iPod serial number '6U545TK2TJT'.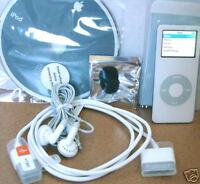 -
-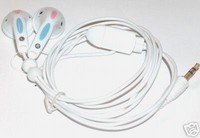 Genuine - Counterfeit - Counterfeit
Meanwhile, forged iPod shuffles are said to include an On and Off switch that lacks a repeat option, actual shuffling function is entirely absent. The players, which are otherwise strikingly similar to the the shuffle, but with battery life or status indicator light absent. Counterfeiters have been packaging the players in fake iPod shuffle retail boxes that include the words 'Digital Music Player' on the top.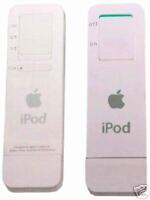 -
Genuine - Counterfeit
Some of the players also ship with documentation that prompts the user to copy their music to a folder on the device instead of using iTunes software CD which it is also lacking, another telltale sign the iPod is not genuine.
In a bulletin to its service providers, Apple said it is taking the matter very seriously and any information provided by buyers of the counterfeit players may help the company in dealing with the matter.
Service providers who come across one of the fakes are asked to photograph the device, find out where the customer purchased the item, and escalate this information to Apple's technical support group, along with any serial number included on the player.
For other flash memory product