PLEASE VOTE AT THE BOTTOM FOR THIS GUIDE!
THERE ARE LOTS OF FAKE ghd IRONS ON eBay UK!
MANY ARE BEING SOLD AND MOST BUYERS SEEM TO BE NONE THE WISER!
MAKE SURE THAT YOU DO NOT END UP BEING CHEATED!
IF THIS GUIDE HELPS or INTERESTS YOU,
PLEASE CLICK ON THE 'YES' BOX, BELOW, TO KEEP IT ALIVE!
WARNING! The photographs, images, wording, and layout used in this Guide are protected under The Copyright, Designs and Patents Act, 1988. We will take immediate action against anyone who STEALS our intellectual property. For those who pretend not to understand, this means that they MAY NOT reproduce, copy, save, or print any part of this Guide. NO part of it may be used in (or linked to) any Listing, Guide or Review on eBay or elsewhere, UNLESS PRIOR PERMISSION IS OBTAINED. It MAY NOT be saved to disc or hard drive, or e.mailed.
It is here, FREE OF CHARGE, to be READ ONLY.
In this Guide, we tell you how to recognise a fake ghd iron from the Photo & Description. Where the fraudulent Seller has been particularly devious by using a stock photo and removing tell-tale phrases from the Item Description, you would only be able to detect that the iron is fake on receipt. We give you the questions to ask BEFORE bidding/buying!
We show you what to look for on both a fake and genuine ghd iron, inlcuding:
The Iron - what should be present, and what should not!

The Holograms - how to tell genuine from fake

The Heating Process - differences betwen a ghd and a fake iron

The Accessories - what is really ghd and what is definitely not!

The Box - features that give away a fake
This Guide contains full-colour photographs (copyrighted!) - as large as eBay permits in a Guide - of both fake and genuine ghd irons. In our investigation of fake ghd irons on eBay UK, we use the ghd Mk 3.1b pink iron as an example. Our findings also apply to the ghd black Mk 3.1b iron, and the Mk3.3 Hot Pink iron.
As we type this, thousands of UK eBayers have bought fake ghd irons on eBay UK. Only a few have realised that they have been cheated, and usually only because someone has alerted them!
If you have bought a ghd iron on eBay and are concerned that it may not be genuine, or if you are planning on buying one and want to ensure that you are not cheated, then read on!
We do not charge for this information, but we do ask that you please CLICK on the 'YES' button at the bottom, to keep this Guide alive!
OK, let's get started!
First of all, it is clear that the fake Sellers have become aware of this Guide and are now trying hard to prevent their Item Descriptions from 'giving the game away'. They have all removed the tell-tale phrase that the iron does NOT have a flashing LED. If an iron listed as ghd does not have a flashing LED or light then that iron is a FAKE!
It's that simple!
(The only possible exception is where an old and broken ghd iron is being sold as such, but beware, some fraudulent Sellers describe their fakes as refurbs, or 'slightly faulty').
How do we know? Because ALL ghd irons have a flashing LED. This is the more expensive microprocessor, which controls the heating process. Cheaper irons (ie, the fakes) have what is known in the trade as a 'PTC' heating element, which is connected to a constant light. No flash, no microprocessor. No microprocessor, no ghd.
It's that simple!
The fakes have a
red
LED. When a ghd iron is switched OFF, the LED is
clear
. You can see this in the 2 below photos.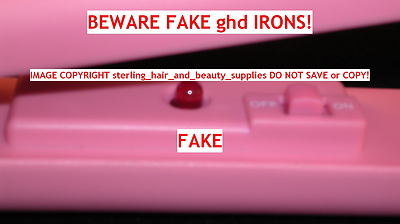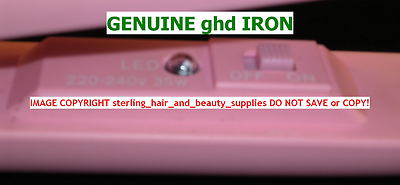 Now, let's look at the hologram issue. ghd started fitting holograms to its irons in late 2004. The first models to bear these were the Mk3.1b (Original Iron) and SS3 (Salon Wide). This security feature is the responsibility of a German company called Schreiner.
The holograms bear Authenticity Verification Codes (AVCs), which are a series of 3 blocks, each of 5 characters, both numbers, and letters in upper and lower cases. All AVCs are different. The AVCs on iron and box, or iron and power cord label - can therefore never match, as each AVC is unique. These AVCs are individually registered with Schreiner. If an owner of a ghd iron visits the ghd website they can click on a link titled 'Hologram Verification' (in the section 'Product Registration'). There, you type in your AVC (from iron, box/power cord label, or each) to confirm the authenticity of your ghd product.
Initially, a hologram sticker was fitted to the inner face of the iron lower casing - where it remains today - the second to the bottom face of the box sleeve. The box hologram was subsequently enlarged to include a barcode. This is a 'Track and Trace' feature, which, when scanned by ghd, enables them to trace which of their Distributors (formerly approx 15 in UK, now only approx 6) was supplied with that iron for onward trade sale to ghd-accredited hair salons in their geographical regions. If - just for example! - a former Distributor had wanted to covertly sell irons to a non-accredited source - like an eBay seller - it was a fairly simple (albeit time consuming) process to peel the 'Track and Trace' stickers off the boxes.
Eventually, to try to make this activity more difficult, ghd enlarged the electrical safety rating label on the iron power cord, and moved there the hologram sticker containing the 'Track and Trace' barcode (previously stuck on the box).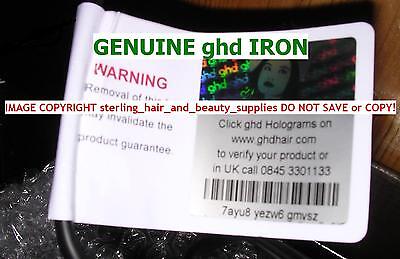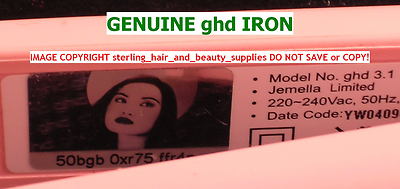 To further combat removal of the 'Track and Trace' barcode hologram sticker from the power cord label, ghd now secures the boxes of most of its irons with a one-time security seal.
NB: The Hot Pink Mk3.3 iron did not have a sealed box.
These revised security features have created huge difficulties for the far-eastern fraudsters trying to copy current ghd irons. However, through cunning ingenuity, they have devised one method that fools Buyers. It is simple. They rely on the fact that only either someone in the trade, or an observant owner of a recent ghd iron would know exactly what to look for!
Here are the features on these fake irons, which you DO NOT find on ghd irons:
A 'hanging hole' on the swivel cord (ghd irons do not have this)

A hologram sticker on the iron casing with no AVC (all ghd holograms include an AVC)

A hologram sticker bearing a 3-D picture of an iron (ONLY APPLIES TO Mk3/3.1b/3.3 (Hot Pink)/SS3/Mini Styler as all ghd holograms on these 5 models bear a silhouette of the head of a female model with long, dark hair). The MkIV Styler hologram DOES contain a picture of an iron.

When iron is OFF, the LED on the switchgear has a RED lens (all ghd iron LEDs have a CLEAR lens)

When the iron is on and heated up, the LED does not flash (all ghd iron LEDs flash when the iron has reached the correct operating temperature)

A pouch mat, embroidered 'ghd professional' comes with the iron (ghd has NEVER released a heat mat, other than the integral mats that are part of their Roll Bags, or the distinctive 'Wrap', released as part of a limited package with the Hot Pink iron).

Box sleeve made from light, corrugated card - best seen from the inside face of the sleeve - (ghd uses flat board)







OK, let's find some fake ghd irons on sale on eBay UK right now! What you need to do is copy and paste the following phrase into your eBay Search box:
ghd pink
Now, click on 'Search'. Some Listings in the results will NOT be ghd irons and will have appeared only because the phrase 'ghd' appears in the Listing Title. Also ignore any Listings with 'GHD STYLE' on the Gallery photos. What you are looking for is those Listings with Titles stating that the Item is a pink ghd iron. You are specifically looking for the Mk3.1b Baby Pink ghd iron. These were released in Autumn 2004 and Autumn 2005. The 2004 edition had a white plug, the 2005 edition was a very slightly deeper pink and had a clear plug. 2006 saw the release of 2 ghd pink irons, the hot pink Mk3.3 (identical to the Mk3.1b, but a deeper pink), and the hot pink MkIV Styler. The fakes currently circulating are in 3 forms:
Copies of the 2005 edition Mk3.1b Baby Pink Iron.

Copies of the Mk3.1b Original Black Iron.

Copies of the MkIV Styler.
So, you have seen these irons on eBay, want to buy one but are unsure if they are genuine. What should you do? Here's our checklist:
Look at the Photo/s. Do these show a 'hanging hook hole' on the swivel cord, or a red coloured LED?

Does the iron come with a black heat mat, embroidered 'ghd professional'?

Does the Item Description state that the LED does not flash?
If 'YES' to any of these, it's a fake! However, as we said earlier, many Sellers are becoming wise to our Guide, and are now carefully avoiding using photos which show the hook hole, LED or heat mat. They have all now removed any mention to LEDs. If you remain unsure, e.mail the Seller BEFORE BIDDING/BUYING and ask these 4 simple questions:
Does the LED flash when the iron is heated up to the correct temperature? (ghd irons DO)

Is there a little hook hole on the swivel cord to hang the iron up? (ghd irons DO NOT)

Does the hologram on the iron have the 15-character ghd Authenticity Verification Code? (ghd irons DO)

Does the hologram have a picture of an iron? (earlier ghd irons DO NOT) (ONLY APPLIES TO Mk3/3.1b/3.3 (Hot Pink)/SS3/Mini Styler as all ghd holograms on these 5 models bear a silhouette of the head of a female model with long, dark hair). The MkIV Styler hologram DOES contain a picture of an iron.
Unless the Seller answers correctly (they will probably ignore your questions, or say that they don't know), DO NOT BUY!
DO REMEMBER that the ghd3, Mk2 and Mk1 irons did NOT have holograms, but the ghd3 did bear a Date Code (a series of 2 letters and 6 numbers). The Date Code, when read backwards in pairs, tells you the date, month and year that the iron was manufactured in the ghd factory (near Seoul, South Korea). For example, the Date Code MW040531 tells you that the iron was made on 31 May 2004. It was easier to fake these irons. However, with the subsequent release of numerous new ghd models, the older, non-hologrammed irons are much less attractive to prospective Buyers and therefore of little interest to counterfeiters. It is unlikely that you will see an early fake ghd iron.
UPDATE MAY 07 eBayers who have bought fake ghd irons are now trying to cut their losses by selling them on eBay! Be cautious about all Listings for ghd Mk3.1b irons, pink or black. Look out for Descriptions stating that the Seller has just got another iron for their Birthday, or that they have just cut their hair short, etc, etc, etc. If in any doubt, ask them the above questions!
UPDATE AUG 07 Many fake ghd MkIV Stylers are now circulating. These do have a flashing LED.
UPDATE NOV 07 We have updated the above information to include specifics concerning the MkIV Styler.
We have invested a lot of time, research and effort in creating your Guide, to help you avoid being cheated. Please help to keep it on the site, to help other eBayers who may otherwise be conned. So......
IF THIS GUIDE HAS HELPED or INTERESTED YOU,
PLEASE CLICK ON THE 'YES' BOX, BELOW, TO KEEP IT ALIVE!
Thank You.