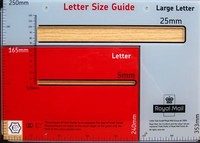 I have wrote this guide as I sell the Genuine Royal Mail Size guide on Ebay, the picture above is only small the actual sizes are,
Wide = 360mm,
Height = 257mm,
Thickness = 4mm,
Item number,370524182433
Instead of clogging up the listing with these FAQ's I have decided to put them on this guide,
Q: "Is your item a Genuine Royal Mail size guide ?",
A: Yes my item is Genuine exactly the same as the one that you local Post Office use, The Chinese have started making fake copies of these size guides, but these are poor quality and not worth buying.
Q: "How do I tell the difference between an Genuine size guide and a fake size guide",
A: There are a few easy ways to tell if you are looking at fake size guide,
1, Does it say "royal mail style" in the title,
2, Is it a poor quality picture without an enlarged picture on the description like mine,
3, Does it have the black Royal Mail cruciform in the bottom right corner,
4, Does it have the small white sticker UK06 in the bottom left corner, only genuine size guides will have the sticker as this proves it has been checked by Trading Standards to be 100% accurate, fakes won't have the sticker,
5, Does it have the ledges to the left and bottom of the size guide,
6, I have put an exact size enlarged picture on my listing so use it as a guide to what they should look like,
If you buy a fake version of this size guide it is quite likely if you use it to check your post when you take it to your Post Office it won't fit through their guide rendering the fake one not fit for purpose,
Q: "I am looking for the best quality & usage ?"
A: This size guide is made from 4mm high impact polycarbonate plastic, and has been check by Trading Standards to be 100% exactly correct, the label in the bottom left corner is proof that it passed the check, the last thing you want is to buy a cheap "home made version" from other ebayers, as the slots will bend open allowing a bigger parcel to fit through so when you take it to the post office it won't fit through their size guide and you will end up paying around £1.00 more postage or having to re pack the item.
Q: Does the size guide sit up or does it have to be held while being used ?,
A: This size guide DOES NOT stand up you have to hold it, I contacted the manufacturer of this size guide to ask about the foot, they told me Royal Mail never asked for a foot to be designed, they were asked to pre drill 4 holes in the guide, but the Post Office made there own foot so they could screw them down in Post Offices to stop them being stolen.
Q: Does this size guide loose it's shape ?,
A: This guide is made from 4mm thick plastic and is stays rigid so no being able to flex open the slot, this guide is the best one available on the market this is why all UK Royal Mail Post Offices use this exact same size guide to check items.
Q: The picture on the listing shows the slots as blanked off ?,
A: I have took the picture on a wood background to show the slots in more detail, the guide you get will be completely open, exactly the same as the one your local Post Office uses, go and have a look at theirs to see the quality.
Q: Do you supply the new postal price guide leaflet ?,
A: I don't supply the postal cost leaflet with this guide as it would put the guides weight over 500g in weight and cost 45p more to post, you can pick up a copy of the new prices from any Post Office just ask at the counter.
Q: Can it be wiped clean ?,
A: Yes it can as all the colours & writing are printed on the reverse of the clear plastic, I have used one for 6 months and never needed to clean it.
If you have any further questions please do not hesitate to contact me through ebay.