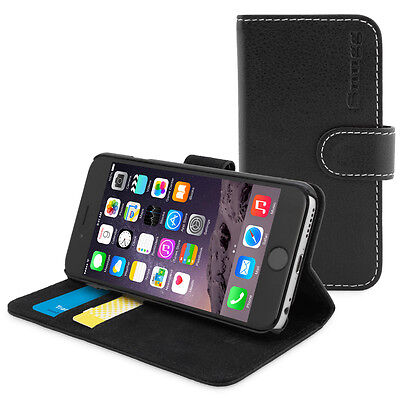 iphone 6 case
i recieved this case as part of a promotion from an iphone case company, #GotItFree iphone 6 is a product worthy of protecting. so an extreamly good investment is a sturdy, strong protective case as the iphones easily get damaged or scratched from past experiance. this type of case not only protects the iphone 6 but also holds your important cards such as bank cards and driving license, with a space for another card or pictures, reciepts ect. this product is also used as a stand so you can watch videos ect without holding the phone.
the iphone 6 can easily be removed from the case if needed.
if the iphone 6 is dropped the case stays closed and protects all round the phone.
the price is also an all round bargain as prices range from as little as £2.50 if you search for a bargain and often offer free postage.
the cases are unfortunatly fake leather and the material does ware away in time. the cases come in a variety of colours.
there is holes for earphones, speakers, USB charger and any other accesory you wish to add.
the only downfall with this type of case is the fact you cannot see the screen without opening up the cover, so unless you set a certain ringtone for certain people there is no other way to know who is calling. #GotADiscount @eBay_UK #ebayguides.