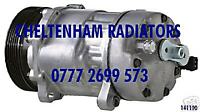 Many customers have experienced Ford Galaxy Aircon compressors not pumping correctly on the above vehicles, sometimes this has been on the original Ford Galaxy AC compressor but more often than not on replacement new or remanufactured A/C compressors that are fitted. The problem that occurs is that the air con compressor will pump the refrigerant for 20 minutes and then cease to pump anymore, giving the impression that the replacement Ford Galxy Air Con compressor is faulty.
Our Suppliers have done extensive investigating into this problem, and have now found the reasons behind this occurrence. In the majority of cases that we have discovered the vehicle has had an ac condenser and a/c compressor change, this can result in the system being "over charged" with oil, This oil sits in the Ford Galaxy evaporator. Those of you who flush the ac system will flush the evaporator and believe that all the oil has been removed, however in some cases the oil will remain in the ac evaporator (as the flush will always take the path of least resistance). So when we are recharging the system the block valve will deliver the correct flow rate of refrigerant, however the a/c evaporator will only work at a restricted rate, this will result in liquid refrigerant returning back to the compressor and preventing it from pumping as the control valve senses that the system requires no more performance.
The Solution!
The solution is when changing the compressor, ALWAYS flush the system first, If the replacement Ford Galaxy compressor does not operate correctly, drop the amount of refrigerant charge, then check to see if the compressor is working. If the car aircon compressor appears to be pumping as normal, the evaporator will be partially blocked. The evaporator will require a more aggressive flush or worse case scenario a replacement Ford Galaxy Evaporator will be needed.
You can buy all of your Aircon Compressors, Condensers and other AC parts from our Ebay shop using the below links:
Ford Galaxy Aircon Compressors - Ford Galaxy Aircon Receiver Driers
Aircon Compressors - Aircon Condensers - Aircon Evaporators - Aircon Expansion Valves - Aircon Pressure Switches - Aircon Receiver Driers