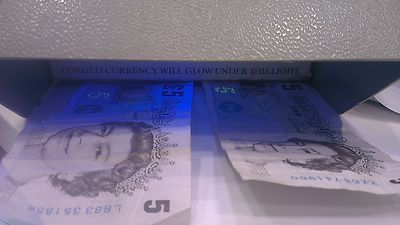 FAKE NOTE REAL NOTE
I'd just like to make people aware that there are a lot of counterfeit £5 notes going around..
I certainly do not condone counterfeiting in any way, but I must admit these notes are of very high quality.
They have been printed on a printer with a very high DPI resolution, The paper is very similar (although certainly not identical)
to a real note, they all have a watermark, a hologram, a silver thread and even a UV (Ultra Violet) marking.
However, the criminals behind the manufacture of these worthless pieces of paper have made two fatal mistakes.
The first is the fact that they are using UV-Reflective paper which means any fake notes will glow under UV as seen on the note on the left of the photo.
The second is a lot easier to notice. If the note is counterfeit, the ink will begin to rub away at the folds. This will never happen on a real note.
I work in Westfield Stratford City and the store I work in has had three counterfeit five pound notes in the past week; two of which were in two consecutive days.
I have spoken to the police and they have confirmed that if a customer hands you one of these notes and you suspect beyond reasonable doubt
that the note is counterfeit, you have the right to seize the note and pass it onto the police. If the customer has a problem with this, ask them to leave a
name, address and phone number and also give that to the police. Explain to the customer that if the note is genuine, the police will return it to them.
Criminal gangs know that people regularly check £10, £20 and £50 notes but £5 notes pass through many hands before being checked.
As a matter of habit, I check every single note which goes into our till and this is how I noticed these notes are far from genuine.