Before I start, at the end of this review could you please vote to let me know whether it was helpful or not, thanks in advance.
When searching for a good supplier of genuine GHD straightening irons I have come across so many sites offering me GHD's of all styles for 50% less than retail price or below with free or low delivery.
My immediate thoughts were...
'This is fantastic, I can make a fortune on ebay'
So there I was all ready to go ahead and buy them in and checked out how I could set myself an ebay shop up.
Then, something in me got me thinking...
'If I can do this and find these guys so easily, why isn't everyone doing it?'
Then, I started worrying...
I stopped what I was doing and ended the talks that I was having with suppliers from various parts of china and took a step back, I didn't even realise that you could get fake GHD's until I googled it and saw all of the many, many results telling of how people had bought fake GHD's without realising.
So my first thought although I am not very proud of it was...
'I've seen the pictures they look exactly the same, no one will know and I can make a huge profit'
Then I got to thinking would these fake GHD's work as well? I know from experience that I spent a fortune on straighteners, replacing them regularly and spend hours straightening my hair until I bought my GHD's, now people come to my house to borrow my GHD's because they say they straighten their hair so much better than their (not so cheap) own straighteners. Obviously I quickly changed my mind and realised it was dishonest and wrong as well as dangerous, these straighteners wouldn't have passed the UK safety checks either, anything could happen!
So again I went to google and searched fake GHD's and problems they cause etc... heres where I started to worry, there was a number of stories about fake GHD's catching or causing fires, not working well, burning peoples hair and just generally being rubbish.
My thoughts then changed...
'How do I make sure my GHD's are genuine?'
Trusty Google told me numerous ways of checking, so here today instead of selling 'possibly' fake GHD's on Ebay I have put together a list of all the information that I found about how to spot a Faulty GHD.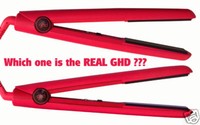 1. The Hologram - There should be a GHD hologram on your straighteners but this is not a great way to tell if your irons are genuine as holograms and sticky "security" labels are pretty cheap to produce if you are able to mass produce almost identical copies of a well know, sophisticated product and convince people from all over the world to buy them, you would probably be able to add pretty convincing holograms or security labels to them.
2. The Serial number - You can phone GHD and give them the serial number on the hologram, if they're fakes they'll let you know as they get a huge number of calls from people who have the same serial number on these fakes.
3. The Feel and Weight - If you've had GHDs before or held them in a salon you'll notice fake ones just feel cheaper and flimsier or they will be heavier like the cheaper type of straightener you can buy.
4. Made in China! - Real GHD straighteners are made in Korea not China...
5. Hook on cord to hang GHD - ever seen a pair of GHD's hanging from a hook on the cord in a salon? No... there are no hooks on real GHD cords as one of the main faults with GHD's are due to cord problems from people carrying or hanging the GHD from its cord or wrapping the cord tightly around the barrel for storage.
6. Screws - Real GHD's do not have flat head screws they only have domed screws.
7. GHD Instruction booklet - The instruction booklet should be full colour throughout, GHD do not put black & white photos in the real booklets. there will be two booklets also, some fakes only come with one.
8. GHD Instruction DVD - DVD's as we all know are really easy to copy so don't be fooled by the fact that it comes with the DVD, hold your DVD up to the light and in the cirle in the middle you will see the GHD details not something like DVD-R.
9. The Box - Real GHD Boxes are thick and sturdy, fake ones tend to be smaller and more flimsy.
10. The Sensor lights - Real GHD's sensor lights are clear but will flash red when ready to use and make a funny beep. Fake GHD's sometimes do not flash red or are solid red, not clear.
11. The Cord - There should only be one hole on the cord part where the the flex joins the straighteners, never more. There should also not be a plastic ring where the cord joins the straighteners.
12. The Fuse cover - The fuse cover on the plug should be white, not black.
13. Carry Bag/Roll Mat - If you get a carry bag/roll mat with your straighteners look at the metal press studs, on the genuine ones there are 5 stars.
14. NEW Baby Pink GHD - The what??? where are they on the GHD official website then? apparently the baby pink straighteners ran out of stock in 2005 and none have been made since, there are no 'new' baby pink GHD's.
15. Scuffs & Scrapes - New GHD's will always be in pristine condition when you receive them however, mass produced fakes tend not to be looked after so can arrive already scuffed and scraped.
16. Spellchecker!!!! - Apparently some boxes have arrived with spelling mistakes??? DUH!!!
17. Date Code - Real GHD's have a date code on them.
18. 'Thou Shalt surrender to Pink' - genuine GHD's will come with a card inside the bag that says 'Thou Shalt Surrender to the Pink', fakes tend not to. they should also have Black writing not White.
19. Black GHD Box - The Black GHD's should not come in a shiny box, it should be Matt.
20. Price & Availability - Pink GHD's sell out every year, do you honestly think people won't mark them up to RRP of £120+. There are no seconds or excess inventory, or anything like that. Only fakes.
Hopefully this will help you make sure that you get the genuine article. You can also rest assured that any GHD's that I am selling will definately be genuine and I will be pointing you in the right direction to prove just that!