You think you may be getting a BARGAIN Juicy Tube ?!Please read this :)
UPDATE 25.11.09
FEW BUYERS HAVE INFORMED ME THAT A CERTAIN SELLER IS SELLING THE FAKE * LANCOM*JUICY TUBES ,AGAIN(SHE ALSO SELLS FAKE *MACs*,cosmetics*)SO PLEASE BE AWARE
LANCOME
COUNTERFEIT JUICY TUBES
I love Lancome Juicy Tubes(I have a vast collection of about ermm 30!yes)but,I know what fakes look like hence I know what to avoid!Some people do not care if they sell counterfeit cosmetics to unsuspecting buyers so here is this little guide just to make sure that YOU buyers are AWARE before you spend your hard earned CASH.
Most of us have been victims of a fake one way or another but buying a fake handbag and cosmetic is vastly different as with the bag you don't actually smear yourself with it directly onto your skin like when you use a lipgloss or cream!Counterfeit cosmetics are bad for your health(do you know where and in what conditions they have been made!)and spoil the eBay experience!
The most faked of all the Juicy Tubes ranges is the Limited edition "Cherie", and "Mood", range which were manufactured for Summer 2005 ,ask a seller prior to BIDDING for a batch number of the lipgloss .Do NOT be fobbed of with "that there are cheap because there was a printing error made by Lancome" or the latest what I heard".. the STICKERS fell off hence they are sooo CHEAP"! puhleese DO NOT BELIEVE THIS !"that is simply NOT true!Lancome is highly reputable company and would NOT allow the product to be sold(they would be DESTROYED) if the was a spelling mistake etc! ...here is a short guide on how to spot a fake :
1)all genuine Lancome Juicy Tubes (even the mini GWP*gift with purchase* items)have batch number stamped into the top ridge of the juicy tube!For example:CB278
2)The outer casing of the AUTHENTIC Lancome Juicy Tubes is HARD .
COUNTERFEITS outer casing(shell)is soft!Another dead give away is the lenght of the tube.Fake is slightely longer than the authentic ones.
3)AuthenticC Lancome Juicy Tubes are about 3/4full when brand new .
Counterfeit are always filled to the brim so they will leak into the applicator!Hence they look used.
4)"MOOD" and "CHERIE"type: AUTHENTIC have shade number &name in black ink on the back for example: *55 Le Rose Cheri/*49 White grace .
Counterfeit will have no names ONLY number stuck on it (label or otherwise)for example :02,03,12,17 and so on.Also in the fake "Mood" range the colour is not what you would expected .Most will have 60*Tonic* on it.The AUTHENTIC "Mood"tonic no 60 is slightely shimmery pinkish/red.
There was only 5 shades in *MOOD* range ever produced by Lancome :60*ToNic*shimmery /pinkish/red ,61*ReLaxed shimmery apple green ,62*SeXy*pale lilac,63*GlaMorous* shimmery red,64*EuPhoric*shimmery peach!
There was ONLY 8 shades ever manufactured in*CHERIE*range :49 *White Grace,55* Le Rose Cherie, *56*Miss ROSE, 58*Precious Gold,59*Fancy Turquoise. USA shades*Chai Freeze,Honey Violet and Frozen Punch!

<Fake Cherie Juicy tubes and it's fake 20 shades!
NUMBERS ONLY NO SHADES NAMES IN THESE FAKES!

item :260342149965,mum_zhang2008

ABOVE Another Fake being sold v.recently on eBay!
Suzie2106 - auction nu:180425186255all her Lancome& MAC cosmetics are counterfeit!
Starbuyz09-same fake Mood lipgloss ,very runny looking
Christine-beauty-fake Mood Lancome juicy tubes
fake-tan-uk -same as above

They claim their Mood lipgloss are seconds,but Lancome does not do seconds with spelling errors!

Look at the photo BELOW how it shows the FAKE tube filled to the brim!Shades are all named Tonic 60!Shades actually look almost the same !


<~~Authentic MOOD no 60 "TONIC

"<~~Authentic "RELAXED"NO64 clearly visible on the box
5) COUNTERFEIT also come within the usual range of Juicy Tubes !The tubes all have on the back *BLUE Belly 04,BLUE BElly 05 and so on.Lancome ,has never manufactured these
<Authentic,shade "Miss Rose NO*56!
In a nutshell all Lancome Juicy Tubes(ranges)always have batch number stamped onto the top seal(ridge)on the actual TUBE.This is to identify the product in case of any problems( allergic reaction from customer etc)if you BUY a JUICY TUBE with NO BATCH NUMBER then you have bought a FAKE.
I have NOT written the above guide to upset GENUINE,HONEST sellers just want to make sure that buyers who do not know their Lancome J.Tubes are informed .After all you the buyers will be putting the lipgloss on your lips and if it is counterfeit you do NOT know in what conditions the fake has been manufactured or what dubious ingredients have been used especially if you are an allergy sufferer!Some of the ingredients used are highly POISONOUS such as LEAD&MERCURY!They can cause severe skin lesions,burns and blindness.Also did you know that every time you purchase a fake you're contributing to organised crime,child labour etc all illegal and totally uneccessary.
Final thought :by selling fakes you are breaking COPYRIGHT laws!Lancome spends lots of money and time on conducting proper testing of the ingredients.If you purchase a fake via eBay,please report the seller to eBay and to your local Trading Standards&Paypal!
UPDATE
Lancome Cherie range was discountinued in summer 2005,so it's NOT possible to buy them in vast amounts.
If you come across a listing that has like say 12 or 20 for sale please be aware that these are counterfeited juicy tubes and nothing to do with genuine LANCOME Juicy tubes !

<~ fake shades Cherie
Boxes look very authentic but THIS IS FAKE!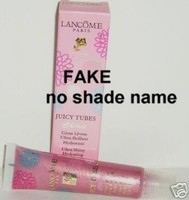 The TEXTURE&TASTE is NOTHING like the genuine J.T'S!
Important Lancome has never manufactured JUICY TUBES with numbers only!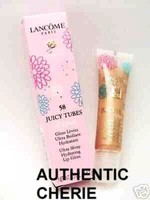 <<Genuine Cherie*PRECIOUS GOLD*No58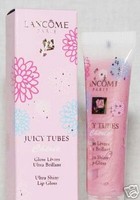 <<AUTHENTIC*Frozen PUNCH*
Ebay ,is a great place to buy some bargain Juicy Tubes, but apply common sense,fakes may be CHEAPER but do you really want to risk your LOOKS by using lipgloss with DUBIOUS,UNTESTED ingredients. Thank you for reading this guide and don't forget to vote.
Happy eBaying.
Chiara