Fake Nikon Lens Caps and Other Accessories - Counterfeit Replicas
When buying a lens cap with the Nikon logo you may not receive a genuine product, many sellers are selling counterfeit unauthorized copies that are made of cheaper material, check the item description carefully before making a purchase and if your brand new cap or other accessory does not arrive in a pack like in the photo below it's very likely it's a replica, ask for a refund and report it as "unauthorized copy" when leaving feedback under "how accurate was the item description?"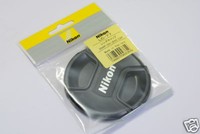 You may find that it's not just lens caps, but there are fake Nikon BS-1 flash hot shoe covers, DK-5 eyepiece covers and more. Under close inspection if you compare it to a genuine Nikon you can see the difference in quality and cosmetic differences.
If you found this guide helpful, please vote below.
Thank you.
oo7**
(ebay member since 2006, 100% positive feedback)