Susie Cooper
With 15 years of collecting experience I am glad to say that the number of fakes, forgeries and problem items associated with the work of Susie Cooper is fairly low in relation to her total output. That said collectors and dealers should be aware that fakes and forgeries do exist and are most frequently encountered on eBay.

Back in 1998 the Susie Cooper Information Site was launched to try and help collectors, the site includes a section on commonly encountered fakes and also has a link to a group on Yahoo! for discussing Susie Cooper, many of the problem items encountered on eBay often appear on the Yahoo! group site first.

[search Google for Susie Cooper and you should find the Susie Cooper Information Site as the top listing]

Some of the Most Frequently Encountered Fakes or Problems:

Miniature Tigerlily Pattern Tea & Coffee sets
Miniature t-sets and coffee sets seen sold on eBay as either complete sets or single items. These originated in the UK during 1997 and were produced without permission. Items include miniature tea and coffee ware in a rough copy of Kestrel shape as well as a round tray and a small ceramic plate stand. Only produced in Tigerlily pattern and originally sold in a cream printed gift box for around £60.00 All items carry a copy of the Susie Cooper leaping deer mark which is poorly printed and slightly fuzzy.
ENCOUNTER RATING ON EBAY: VERY HIGH.
Latest sightings: 20th Sept. 06 item 150036377204. 9th Nov 06 item 230048988880

Mabel Lucie Attwell and Fairies
Either hand painted or transfer prints added at a later date to genuine Susie Cooper banded plates. Intended purely to decive. Mabel Lucie Attwell did not produce any items in association with Susie Cooper, all items claiming to be by Susie Cooper with Mabel Lucie Attwell are fake. Pictures and prints are over glaze and can be scratched easily. Various subjects and sizes of plates used. Examples also known with other subjects including Margaret Tarrent or similar flower fairies and also teddy bears. If it does not look like Susie Cooper or the illustration was designed by another artist then it is not genuine.



this example shows a hand painted scene based on a Mabel Lucie Attwell design which has be painted onto an original Susie Cooper plate where the centre would have originally been blank other versions exsist where transfer prints have been added.
ENCOUNTER RATING ON EBAY: VERY HIGH
Latest Sightings 30 April 07 item 170106184079

Later Decorated Utility Ware
Susie produced large quantities of semi-matt aubergine/off white glazed ware during the late 1930's. examples with later applied geometric patterns have appeared in the UK over the past years. the big give-a-way is that these pieces all carry a script signature factory mark which is not normally associated with her Geometric period. The colours used also look incorrect and the execution of the pattern is poor, not being an exact copy of any that are know to have been produced. Quantities of these fakes are thought to be quite low, possibly less than 20 pieces.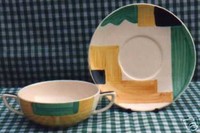 notice how pale and thin the colours are on this soup and saucer, originally sold as a plain item during the 1940s the pattern was added more recently and is poorly applied, it can also be scratched easily, the factory mark on the back is also incorrect for the geometric period.

ENCOUNTER RATING ON EBAY: HIGH
most recent sightings: spring '06, August '06 item numbers 300022496575 & 300022498414

Crown Devon Ware
Some patterns produced by Crown Devon and Susie Cooper are very similar. usually the correct factory mark on the base is enough to attribute the item correctly, however some listings incorrectly describe these pieces as Susie Cooper. There is also one known example of a Crown Devon jug which carries the Crown Devon mark but has had the name Susie Cooper added by hand. Susie Cooper did not work with or for Crown Devon.
ENCOUNTER RATING ON EBAY: LOW but more down to bad listing descriptions
East Anglia Items
A couple of years ago they was a series of items offered on eBay as Susie Cooper which all seemed to originate from the East Anglia area. Items included tea pots, jugs and beakers as well as some figurines. All were either shapes which Susie Cooper never manufactured or carried patterns which were never produced by Susie Cooper. Subjects include a golfer [see image], teddy bears, both printed in brown transfer, beehive honey pots a female deco figure kneeling and holding a round bowl glazed in beige.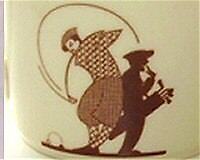 Susie Cooper golfer jug - the shape was never used by Susie Cooper, the pattern, a brown transfer of a golfer, is not a Susie Cooper design and the mark is incorrect, it is smaller than normal and actually too crisp compared with the original.

All carry a black Susie Cooper Crown Works mark [see picture above] which experienced collectors can identify as incorrect due to it's size and quality. Items are also often undecorated or glazed in a single plain colour. Amounts produced are not known although the recent drop in prices for the rarer items of Susie has also resulted in less of these items appearing on eBay. 3/06/06 Update: A fake car shaped object carrying these marks was recently on eBay item #130001727474.
ENCOUNTER RATING ON EBAY: HIGH
most recent sighting 3/06/06


Looks Like Poole Studio Pottery
A new development in the use of the mark shown above under the title East Anglia items is a piece described as a Susie Cooper Studio item. Looking more like a piece of Poole Pottery, the shape is incorrect, the pattern and technique used is not a Susie Cooper design or method and the use of the Susie Cooper Signature on the front is also something Susie Cooper Never did. This item is an out-right fake and brand new. Ebay item #180129243607 sighting 12/06/07

Cardew Ceramics
Made a range of miniature items including a teapot with a lid similar to the Kestrel shape, usually encountered in blue of pink polka dots. These are just poor modern imitations of the shape and had no input from Susie Cooper or the current owners of her trademarks.
ENCOUNTER RATING ON EBAY AND AT ANTIQUE FAIRS: MODERATE / HIGH
most recent sighting 21/9/06 item 160033135238
Art Deco Period Signed Susie Cooper Handpainted Jug Item number 270182240490
The above item appeared on eBay Nov 2007. This floral decorated jug is not a Susie Cooper design, I think it is possibly a New Hall shape or a similar factory. Dispite the claims about the signature being under glaze it is a poor copy. Further investigation is need but I suspect the reg no 814269 would enlighten us to exactly which factory registered the shape. As for the pattern number 3302 this is beyond the number range used by Susie for earthenware, those numbers finished at around 2420 in 1964 and although it does fit into the Grays numbering System, Susie Cooper was not using her autograph mark at that time.

You may also find the following guide useful:
Clarice Cliff fakes