BEWARE of ''Very old Tricycle horse'' listings- the chances of it being a genuine velocipede are almost nil.
As a brief rundown, here is what to look for in a fake.
CARVED mane [real velocipedes NEVER have carved manes] coupled with a so- called horsehair tail'' -the tail is usually some sort of dyed fibre which looks like horsehair.
The saddle is usually od very worn leather, the stirrup is held on with a knot, and the leather has been soaked in some sort of salt to make it look ''old''. There may be 'tooling' marks to the leather.
The carving is very poor. Lots of ''chisel'' marks all over the horse, making it look like a peeled apple, and grooves are carved in to mimic muscle.
The mouth usually is C shaped, and has teeth and a tongue.
As yet, I have never seen a genuine Victorian velocipede with a tongue.
The ''paint'' is a sludgy brown, or can be a sludgy white, -sometimes these horses are ''restored'' in England to try and make them look ''old''.
The wheels are often wooden, and the metal rim is tinny and nailed on.
The ''chain guard'' is poorly cast-and there is no chain!!!
The pedals are wooden on many of these fakes.
A real Velo has metal pedals [iron]
The handlebars are excessively wide- a real velo is well proportioned.
Scroll down for pics of real and fake velocipedes.
A fake tricycle is not safe for children to ride.
It will not stand up to use.
As a ''decorative'' item, you should be aware that these are very cheap items, BUT some sellers place high prices on them to try to dupe the unwary into thinking the horse is genuine.
they fabricate stories ''been in the same family for 100 years''
or ''my grandmother used to play on it when she was a little girl''
or ''been in same family x generations''
IF you see a velocipede, and it ticks any of the above boxes-it is highly likely it is a modern Phillipine fake.
A real velocipede is much plainer looking, yet has a harmony to the eye. The horse has an elegance, the hooves are neat, the head points downwards, as in looking at the floor. very rare for an English horse to look ahead if it is looking at the horizon.
Caveat Emptor.
___________________
Here is the longer version: [with pics-for some reason, I couldn't upload pics to the ''brief'' guide.
On many online sites, you will see pictures of ''antique tricycle horse'' and antique rocking horses for sale.
Sadly, the vast majority of tricycle horses are ''fakes'' or reproductions made in the Philippines.
When they first appeared on the market, about 12-15 yrs ago, they were sold as 'antique' to the unwary, and these have various giveaways as to their being ''wrong''.
They flooded the market with horses with weak construction, shallow bow rockers, flowery painted bodies and 'stiff rater awkward looking legs.
Genuine Victorian/Edwardian wooden horses tend to have a more flowing appearance, with no stiltedness.
Fakes can have very old and dirty appearance, and are a curious mishmash of styles from carousel horse to push horse all mixed together. as if the maker isn't quite sure wether they are making a carousel horse, a tricycle horse, or a rocking horse.
A genuine velocipede never has a carved mane, the mane is either missing altogether, or is cowhair. [If restored, it will most likely be horsehair, long and straight]
Even the French velocipedes which have cast metal heads have real cow- hair manes set in to a slot of timber , there is a gap left in the iron for this.
The fake/repro trikes have iron ''chainguards'' at the rear of the horse, and there is no chain present. [N.B edit: I have now seen some horses which are new, but which are now fitted with chains! seems the fakers are working harder at duping the unwary.
These guards are of cast metal, with a fancy design, yet there is a roughness in the casting-the originals have a lovely smoothness and no rough parts.
Wood wheels with thin iron rim also points to fakes-genuine velocipedes could have wooden wheels, but these are beautifully done with timber spokes, and look like proper cartwheels.
Usually, Victorian /Edwardian velocipedes have iron wheels, some are rubber tyred, but others just have iron convex rims.
New horse with chain. The brown paint on this horse rubs off with a damp cloth according to the buyer. Victorian paint would not do this.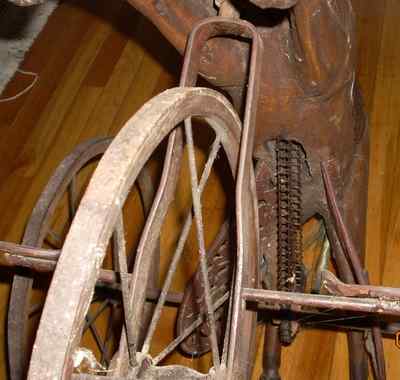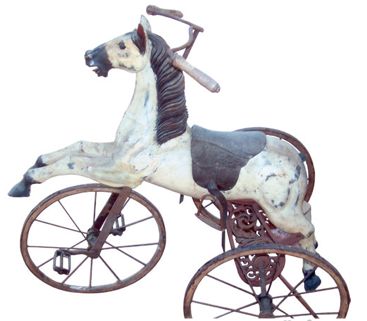 New horse with the carved muzzle with teeth and tongue. The carved mane is completely wrong, and the handlebars are too wide.
Again, wooden rims to wheels, which would last about 5 minutes with use
The more common fakes have handlebars, as opposed to cranks set in to the neck, and the shape is incorrect, being very wide and straight, and too tall for the velocipede.
The main giveaway is the horse itself.
Made of solid hardwood, as opposed to morticed and tenoned softwood/hardwood mix like yellow pine and beech, often there are very large splits, which are often ''due to age'' in the ads.
The splits are simply due to green [not air dried] timber being used, and sometimes to avoid these splits, a small cavity is roughly chiselled out of the horse's belly.
a genuine velocipede still has sound timber even over 100 years [woodworm apart] and any cracks will be tiny, and along the joints of the timber, like on the tops of the legs.
The shape of the fakes is all wrong, lacking flow, having a stiff awkwardness, with visible chisel marks here and there, especially on the underside of the horse, the hooves often have a 'flowerpot' look, and have fetlocks that look like a raised [or carved in] bracelet all around the hooves.
The faces often have mouths with ''C'' shaped mouths, with carved teeth and tongue.
There are random chisel grooves on the body that serve no anatomical purpose.
Paintwork on these fakes has sometimes been redone by restorers to try to make them more 'authentic' but the usual colour is a reddish brown, applied over a rough plaster coat to mimic gesso.
Dirt is also rubbed in to mimic ''age''
Any flower decoration also points to a fake, and glass eyes set in with filler are a thing to watch for. an original will have well set in eyes with fine paintwork around them.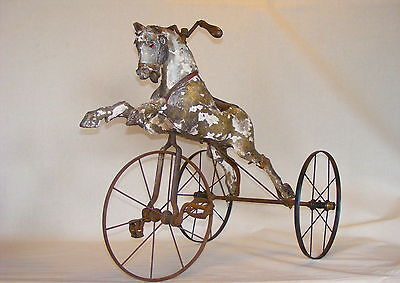 Genuine Velocipede. J.R Smith maker, 1905, In poor cosmetic condition, but it is 100% right. [D.Kiss images]
Tack [harness] on fakes is often of cracked and aged leather [soaked in solution to make it so] and sometimes has 'tooling'.
The stirrups appear to be made of rudimentary iron, like a bent 6'' nail and bar, and a knot is the favoured way of attaching.
Tails are of some sort of fibre, not horsehair., and it looks dyed if you look closely.
Stories are often concocted, such as ''estate find'' or ''belonged to a little old lady who rode it when she was a child, or ''I don't know the exact age of this trike''.
IF a fake is labelled as reproduction, with a low pricetag to match, all is well.
But anyone thinking of investing in a velocipede/rocking horse should do research first to avoid disappointment.
There are many new designs of fakes being created every year, and the makers try to improve, but if you do research, especially by looking at genuine examples, your chances of a costly mistake are much reduced.
IF you are considering buying one for a child, be warned, they do not withstand actual use by ''real'' children, and are not made with safety or strength in mind.
Even an antique velocipede is too precious for actual riding, so if you want one for a child to ride, best to commission one from a rocking horse maker!.
Genuine Velocipede horse photo. Horse has lovely ''active'' position.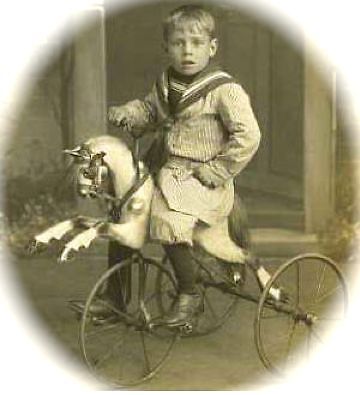 Genuine J.R.Smith Velocipede.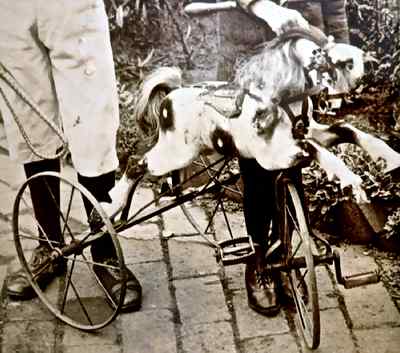 Genuine Velocipede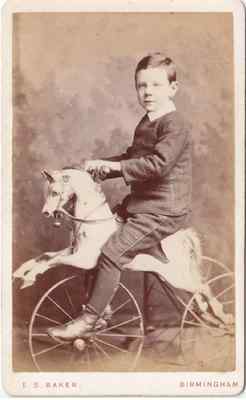 Genuine Bow rocking horse. by FH Ayres, unrestored, circa 1880
note the strength and confidence of carving, and the strong bow rocker
the correct manufacture meant that this horse survived the vagaries of time, and over a 130 years of riding.
Imported far-Eastern rocking horses usually have similarities to the imported tricycles, with carved manes, and have flowery decoration painted on them.