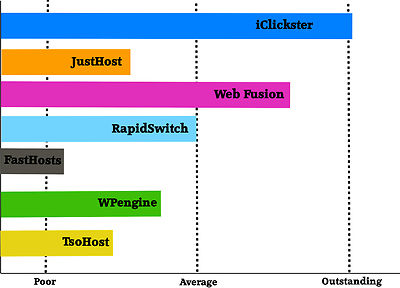 Fasthosts has been around for many years, and have many reviews about them all over the internet - so is Fasthosts a good host to buy from?
Having seen the chart above, you can probably tell that we do not recommend using
Fasthosts
because of the following reasons experienced by our business team:
- Downtime of email (No help for more than 48 hours!)
- Downtime of Servers very regularly with no help from support via email
- No support response, often had to email multiple times and then get a copied and pasted response showing clearly that support do not care to help the user.
Having said that,
Fasthosts
has somehow survived this period, god knows how, by providing poor support to customers - I first thought I was lucky, but I have read countless reviews of people who have experienced the same thing like we have in our company.
So what are some better hosts to go with if you wanted to host a website for your business or organization or even a personal site?
My two favorites are iClickster and Hostgator - both have fantastic support and the best prices on web hosting you can find anywhere online - for iClickster, they even have a easy to upgrade method where you do not have to experience downtime at all - so if you ever need to upgrade, its only a click away.
With Hostgator, they have slight support on dedicated servers, but their shared hosting plans are great just like iClickster's, although a little more pricey so its a matter of your choice.