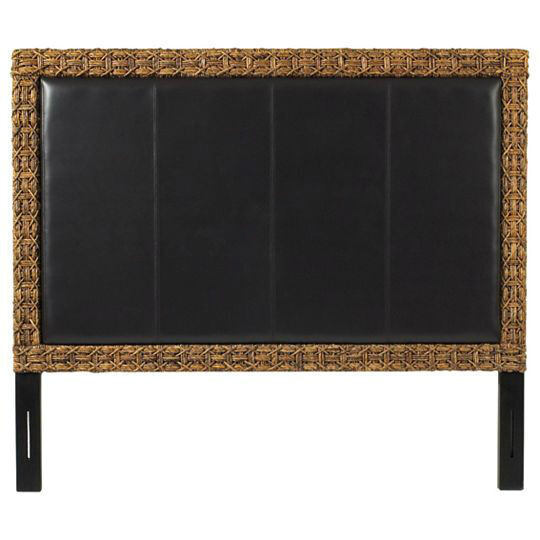 There are several upsides to owning a piece of leather furniture. Leather is one of the materials that bring to mind feelings of comfort and luxury. Because leather is available in a variety of neutral colours, it makes pairing other items with leather furniture pieces very easy. With its rich, soft feel and classic rich colours, any product made from leather is very luxurious. Therefore, any leather item can add a certain wow factor to any room in the home.
But there is a downside to buying leather furniture pieces as well. The cost of a piece of leather furniture can be extremely expensive, and not everyone can afford them. That is why so many people opt for buying faux leather instead, especially for bedroom furniture choices, such as headboards. Faux leather headboards can be found in retail furniture stores that sell bedding, in store catalogues, and on eBay as well. Understanding the different types of faux leather along with how it stacks up to real leather in terms of headboards may convince traditional leather buyers to go faux instead. In addition, the advantages and options that come with buying a faux leather headboard are numerous as well.
Faux Leather Headboard Overview
There are various names associated with faux leather such as "pleather" or "leatherette", but they are almost always constructed from the same man-made material. Headboards that sport faux leather are a great way to add a classic touch to a bedroom, but not all faux leathers are the same. There are actually two different types of faux leather that can be used on headboards, and their qualities are very different.
Polyvinyl Chloride Faux Leather
Polyvinyl chloride, otherwise known as PVC, is a man-made leather that is created by adding agents to the PVC to help plasticise it. Plasticising the PVC in this way is what gives the material its flexibility. Dyes are also added to the material so it has a more natural colour that resembles actual leather. This type of leather is less breathable, so it is often used for faux leather headboards since the properties used to construct it make it less desirable for clothing or other items that come in close contact with the skin.
Polyurethane Faux Leather
Polyurethane, also known as PU, is created by adding a coating of polymer to fabrics. Then, it is processed in much the same way that a cow hide is to give the fabric the look of traditional leather. The most common fabrics used to make faux leather for headboards are polyester and cotton because they are more breathable materials.
Faux Leather vs. Traditional Leather
There are a few things that a person needs to be aware of when buying a faux leather headboard. Although faux leather and traditional leather can resemble each other quite closely, there are differences in the characteristics and care of these two materials. There are several advantages in choosing a headboard with faux leather. For example, faux leather headboards have a wider range of colours and hues than traditional leather since there are not as many options for changing the colour of the cowhide that the traditional leather comes from. Since faux leather is constructed from man-made materials, there is also many other textures that are able to be developed that cannot be created with the traditional type of leather.
Another advantage of choosing these types of headboards is that they are very easy to care for. Traditional leather needs regular conditioning maintenance, while faux leather only needs to be dusted or wiped down with a damp cloth as needed. Another great thing about a faux leather headboard is they are able to withstand direct sunlight unlike traditional leather. The UV light from the sun's rays does not damage faux leather. It is also more durable and usually less expensive as well.
How to Choose a Great Faux Leather Headboard
Faux leather headboards come in a variety of styles, so it is easy to find one that matches the décor of the bedroom. Not only are these headboards easy to pair with other furnishings, but they are also commonly used as central decorating themes in the bedroom. Here are a few choices of headboards that are sure to make any bedroom look magnificent.
Faux Leather Inflatable Headboard
Buying an inflatable faux leather headboard is a great option for a bed in the case that space might be limited. This style of headboard is easy to care for and is often constructed with a plywood frame. The core is comprised of an inflatable air cushion that allows for some flexibility in size. The interior is finished with a soft foam cushion, and many stunning lacquered finishes are available, which give a stunning overall effect to the entire ensemble.
Patterned Faux Leather Headboards
No longer does a bed need to be the centrepiece of a great bedroom when there are so many jaw-dropping patterned faux leather headboards on the market. Unless the bed comforter is going to be replaced, it is a wise choice to consider choosing a colour or pattern that matches the décor of the bedroom. If the bedroom theme is primarily comprised of one or two neutral colours, choosing a bright pattern or coloured faux leather headboard is a great way to make a statement and liven up the bedroom.
Faux Headboards in Neutral Colours
Many people like to make their bedroom into their own private haven for relaxing and do not find bold colours particularly relaxing. Faux headboards in neutral colours would be the perfect choice for people who want to update a bedroom. A black faux leather headboard would be a great addition in this situation. Other people may want buy a white faux leather headboard for the purposes of brightening a room that may have too many dark finishes in order to give the room and bright and airy appearance.
Double Faux Leather Headboards
For individuals that want to show off their sense of style and flair, adding a double faux leather headboard can do the trick. Many people choose to use this type of headboard in the bedroom in order to draw attention to a great looking bed or to make the room appear larger. Many other people like to use these double faux leather headboards to upgrade the look of a bedroom and find that replacing just the headboard is enough to do the job. But this type of headboard also has very functional purposes as well because they can also be ideal with king-sized beds.
How to Buy Faux Leather Headboards on eBay
If you want to find a great faux leather headboard, eBay is the place to go. With so many vendors available, this online store is your one-stop shopping place for items that may be hard to find elsewhere. Not only are there so many vendors to choose from, but finding the right headboard is easy because the eBay homepage allows the researcher to not only enter their search query from that location but from the top of any of the pages. This helps make the research time much shorter. And if for some reason you need to go back to access a prior search result, the homepage keeps a list of all of your recent searches for you.
In addition to these great features, you can also find a headboard within a specific price range if you are buying one on a budget. Simply choose the advanced search option feature, and you will be provided with an opportunity to not only search by price range, but by entering item keywords or item numbers, location, seller, and many other great modifiers. It is important to note that when using these advanced search filter options, the results returned to you will be narrowed down considerably so if want to have more options available to you, try taking out one or two of the search filters to return more search results.
Conclusion
Finding a great faux leather headboard is an exciting experience once a person realises how many great options are available to them. Faux leather has so many great features and advantages when it comes to changing the look of the bedroom décor. Its versatility makes it a great addition to the bedroom. The only problem that one might run into is being able to make a decision about which one they like best.
Understanding the difference between the two different faux leather options may be valuable when choosing the right headboard. Many people enjoy faux leather over traditional leather headboards not only because they can be a more cost-effective way to update a bedroom, but also because they are relatively easy to maintain. Anyone can have a great looking headboard that makes a stunning centrepiece for any bedroom without having to invest a fortune. Being armed with information on faux leather before buying a headboard can make the process a much less painstaking one when you know what to look for.