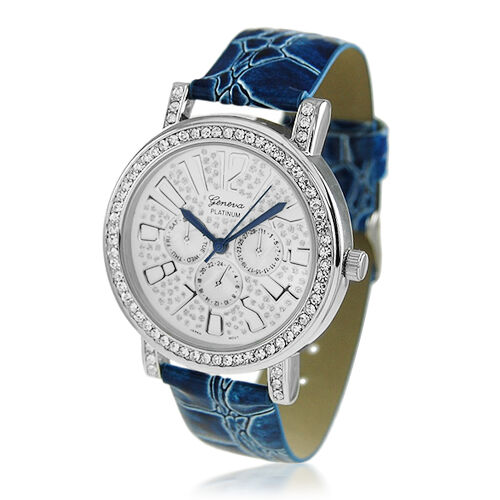 Watches are both stylish and functional and worn by many people. Traditional watches have an analogue display and a leather strap. However, leather may not be a suitable material for everyone because it can cause allergies on sensitive skin. Moreover, some buyers, such as vegans and animal rights activists, have ethical reasons not to wear leather. They can opt for alternatives, like rubber, fabric, metal, or plastic straps. However, some still want the simple, yet elegant look of leather without having to purchase a leather watch. Faux leather, also known as synthetic leather, imitates real leather, but does not originate from animals. It can be constructed to have the look of any type of real leather and it comes in many colours. Before buying a faux leather watch, it is wise to learn more about the material as well as common watch features. Faux leather watches can be bought from high street jewellery shops or conveniently from online sites, such as eBay.
Faux Leather Explained
Faux leather is imitation leather, but it is not always completely leather free. However, the leather content is usually so small that it cannot be categorised as real leather. The leather look is achieved by mixing leather with polymers. The more polymers the faux leather includes, the lower its grade. Buyers who want faux leather with no real leather content, can choose a material that is made of polyurethane or PVC. Polyurethane is usually preferred because it is flexible and softer than PVC, thus requiring no softening solvents. Unlike PVC, polyurethane is degradable and therefore, more environmentally friendly. Polyurethane is easily cleaned with just soap and water.
Faux leather smells like rubber, while genuine leather has a unique smell. Faux leather is also warmer, shinier, and stiffer as well as stronger and more durable, so it requires less care.
Features of Faux Leather Watches
Faux leather watches have some features that vary, which should be considered when buying a watch. They differ by their display and strap types, power sources, mechanisms, functions, and water resistance.
Display Types for Faux Leather Watches
The main display types are analogue, digital, analogue-digital, and chronograph. The analogue display of a faux leather watch is the traditional style and it consists of a dial and minute and hour hands. The display is distributed into 12 hours and these can be marked either with Roman or Arabic numerals, or baton markers that are bar shaped. Digital watch displays show the time in figures. Their timekeeping is very accurate: time can be measured in seconds or even fractions of seconds. Analogue-digital faux leather watches combine two display types, showing the time both with hands and in figures. Chronographs are available in analogue and digital formats, and have a stopwatch function as an additional feature. Digital chronographs can have separate displays or a single display that can be switched from timekeeping mode to a stopwatch. Analogue chronographs look like standard analogue faux leather watches, but have a separate digital display and a dial for seconds.
Strap Types for Faux Leather Watches
Faux leather wristwatches have two types of straps. Usually the strap is fastened with a buckle, but the watches can also have bracelet-style straps that are fastened with a clasp. If the faux leather watch is like a bracelet, then it usually has some kind of material, such as metal, combined with the faux leather.
Mechanisms for Faux Leather Watches
The mechanism maintains the timekeeping nature of faux leather watches. It is also known as the movement and could be described as the engine or power source of the watch. The mechanism can be quite complex, containing about 600 parts. The watch's reliability and accuracy depends on this mechanism.
Faux leather watches with quartz crystals are precise timekeepers. A current, powered by a battery, moves through the quartz crystal and as a result the crystal vibrates very fast. This movement powers the hands of the watch, making them move. While quartz watches are battery powered, some faux leather watches also work on solar power. Kinetic watches convert the body movements into electrical energy and do not need a battery. The wrist movements create energy that is saved in a rechargeable cell. If the kinetic watch is not worn for about six months, the cell runs down, although some may have an energy conserving sleep function.
Functions for Faux Leather Watches
Faux leather watches may have several useful functions. Digital watches often have an LCD or LED display as well as illumination that allows the wearer to look at the watch in the dark. Analogue watches can also be illuminated if the minute and hour hands are coated with light absorbing paint. Multiple time zone watches show the time at more than one zone and are suitable for people who travel frequently or communicate regularly with others overseas. Some faux leather watches have functions, such as a calendar and stopwatch. The most accurate watches are radio controlled because they receive signals from satellite transmitters. This makes them accurate to within a second.
Water Resistance for Faux Leather Watches
Faux leather watches that are not water resistant can withstand minimal moisture, such as a rain shower, but cannot be immersed in water. Water resistance for a watch is measured in metres, which represent the depth of water that the particular watch could endure while still remaining functional. The following table indicates the water resistance of watches.
| Water Resistance (m) | Recommended Usage |
| --- | --- |
| 50 | Occasional swimming in shallow water |
| 100 | Swimming and snorkeling |
| 150 | General water use, but no scuba diving |
| 200 | Recreational scuba diving |
The values in the table are only rough guidelines because the watches were tested in ideal laboratory conditions. In the real world, it is better to keep the watch away from water, if possible, because constant contact with water may loosen the screws and cause damage.
Styles of Faux Leather Watch
Faux leather watches can be designed in many ways. The different styles are suitable for a variety of occasions and can match an array of outfits.
Classic Faux Leather Watches
Classic faux leather watches usually have an analogue display and can be worn on all occasions. This style has lasted for many years mainly because of its simplicity. Both men and women can select a classic faux leather watch from a range of colours and brands.
Sports Faux Leather Watches
Sports faux leather watches not only look good, but come with an array of useful functions that help to monitor workouts. They can also resist shock and water. Sports watches measure speed and time, and models with a GPS function also track the workout on a map. Heart rate monitors are integral parts of sports watches and they can be coupled with heart rate belts worn around the body.
Fashion Faux Leather Watches
Fashion faux leather watches are the most colourful watch style and they follow current trends both in their style and colour. Faux leather can be dyed in many tones, so it is often used when designing fashion watches.
Buying a Faux Leather Watch on eBay
If you would like to buy a faux leather watch on eBay, you can start by typing the keywords "faux leather watch" into the search box found at the top of every page. You can make your search more specific by adding the brand or the gender of the wearer. After you receive your initial search results, you can sort them by price, condition, and other features of the faux leather watch. If you narrow down the results, you can find the desired watch more quickly. You can read more about the watch's features in the item listing and look at any photographs. From there, you should also find information about payment methods and delivery options. If anything remains unclear, you can always contact the seller and using the "Ask a question" link. You can find good sellers by reading their feedback and ratings. For the best service, look for Top-rated sellers.
Conclusion
Faux leather watches are a good option for people who cannot wear real leather for ethical reasons or because of sensitive skin. Faux leather, also known as synthetic leather, imitates leather and can be either totally leather free or contain a small percentage of leather. Faux leather that contains no leather at all is made of PVC or polyurethane that requires less care than real leather.
Faux leather watches can have either an analogue or digital display, or can combine them. The watch straps are usually fastened with buckles, but bracelet-like watches have clasps on them. Faux leather watches can work either on a battery and quartz crystal or be powered by body movements or sunlight. Features of faux leather watches include dual time, calendar, illumination, LED display, water resistance, and radio controlled timekeeping. Sports watches usually have many functions and they can measure speed, time, and distance as well as heart rate. Classic watches have a more conservative look and they fit most outfits. Fashion watches are available in bold styles and can be in any colour. Whatever the style and functions required, eBay has a faux leather watch for everyone.