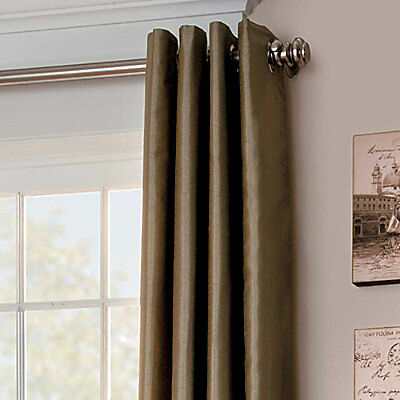 Elegance is a fashion statement. Silk fashion is associated with elegance. Silk is also expensive and not as affordable as other types of fabrics such as faux silk fabrics. Faux silk, or 'false' silk, is a chic substitution for natural silk fabrics. Elegant decor that incorporates silk fashion with affordability uses faux silk to achieve this purpose. Faux silk fashions are found in homes, galleries, and hotels. The popularity of faux silk, especially faux silk curtains, is reflected in the increasing number of faux silk curtains sold.
A home reflects a person's individual fashion taste and style. Curtains, a window's decoration, are an important focal point of any room. Faux silk curtains, made from synthetic fabrics and not raw silk, come in various styles, colours, fabrics, and textures. Whether shopping at a homegoods store, department store, or online at eBay, the important factors to consider in buying faux silk curtains are types of faux silk curtains, faux silk curtain fabrics, curtain styles, accessories, and curtain sizes.
Types of Faux Silk Curtains
There are several different types of faux silk curtains, reflecting popular fashion. Faux silk curtains, as opposed to silk curtains, are machine washable, making them easier to care for. They can be ironed on the back side to prevent wrinkling and creasing. Faux silk is lightweight and made from a polyester, synthetic material. To protect the faux silk material from direct sunlight, many faux silk curtains are lined from behind with a thicker, heavier fabric. They resemble heavier, lined silk curtains, lending elegance to the overall look of the curtain.
Patterned faux silk curtains give a room an artistic look with varying designs and colours. The buyer can choose between plaids, stripes, or floral patterns to complement any decor. Plain faux silk curtains are available in solid colours. The colours range from elegant gold, silver, or pewter to vibrant red, blue, or green. Embroidered faux silk curtains are customised to fit individual preferences. Embroidered accents may include flowers, leaves, or scallops.
The type of curtain selected also determines the type of curtain hardware needed to hang the faux silk curtains.
Pleated Curtains
Pencil-pleated faux silk curtains is a popular choice with many buyers. The top of the curtain is pulled tightly together, resembling a row of pencils. Pinch-pleated faux silk curtains are more uniform at the top of the curtain than pencil-pleated faux silk curtains. Each pleat, whether single-, double-, or triple-pleated, is evenly spaced at the top of the curtain. These types of curtains are hung directly from the curtain rod using pin hooks or rings.
Eyelet Curtains
Faux silk eyelet curtains have plastic or metal eyelets or holes in the top of the curtain fabric. Curtain rings can be inserted through the eyelets. The curtain rings are then threaded over the curtain rod. This type of faux silk curtain is commonly referred to as ring top because it uses curtain rings to hang the fabric.
Tab Top Curtains
Tab top faux silk curtains, on the other hand, do not use rings to hang the curtains. Instead, flat loops of fabric are uniformly spaced at the top of the curtain. The curtain rod can then be inserted through the loops or tabs for hanging.
Faux Silk Curtain Fabrics
Faux silk is a polyester, synthetic fabric that closely resembles natural silk fabric. Its texture is soft yet durable. The fabric is smooth to the touch with an elegant weave. The three popular fabric choices for faux silk curtains are taffeta, dupion, and voile.
Taffeta
Taffeta is an extremely soft, smooth fabric with very little texture. It resembles satin for its sheen and luster, and makes a crinkling sound when touched. Because it wrinkles easily, a lining is needed.
Dupion
Dupion has more texture than taffeta. It also has less sheen. It does not wrinkle as easily. The fabric surface resembles slightly discernible yarn irregularities achieved through knotting or twisting of the fabric lengths. This is known as the slub effect. It is a good choice for buyers who are looking for sophistication rather than shininess.
Voile
Voile is a smooth, sheer, lightweight fabric. It wrinkles easily. It doesn't have as much sheen as taffeta. It can be coordinated to hang with heavier, thicker curtains.
The following table summarises the similarities and differences between taffeta, dupion, and voile.
| Fabric | Texture | Appearance | Care |
| --- | --- | --- | --- |
| Taffeta | Soft, smooth | Sheen, luster | Wrinkles easily |
| Dupion | Slub | Very little glimmer | Less wrinkling |
| Voile | Smooth, sheer | Slight shininess | Wrinkles easily |
This chart is a simple summary of the three fabrics' texture, appearance, and wrinkle capability. It is always best to consult the individual manufacturer's care guide for additional information.
Styles and Accessories
There are many different styles of faux silk curtains. The choice of style selected largely depends on the room's location and the windows. Popular choices include traditional, contemporary, vintage, and country. A buyer looking for faux silk curtains for tall living room windows should select a more traditional, floor-length style to complement such windows. Country faux silk curtains for the kitchen, emphasising smaller windows, may include floral and plaid designs. eBay offers the buyer a wide selection of faux silk curtain styles to appeal to any taste or fashion.
Accessories
Many styles of faux silk curtains may also include additional accessories, such as matching tiebacks or valances. Tiebacks are fabric loops that hold back the curtain. They can be individualised with tassels or jewelled accents. Valances make the curtains appear more formal. They are placed at the top of the curtain, hiding the curtain's hardware. They can be styled into scarfs or swags. Many faux silk curtains on eBay include tiebacks or valances. The buyer should carefully read the curtain's description to find out what accessories are included with the purchase.
Silk Curtain Measurements
Measuring the window is the most important step in selecting any type of curtain. If the window measurement is incorrect, this means the curtain measurement will be incorrect. To hang faux silk curtains, first, determine the location of the window. Next, take a measuring tape and measure the window. The measurement should include the height (drop) and width of the window.
Next, add 15.24 cm to the top measurement to cover the curtain hardware and 7.62 cm to the sides for complete window coverage and curtain fullness. For a more accurate measurement, the buyer should measure from the top of the window and then take another measurement from the bottom of the window.
It is also important that the buyer determine if the curtains will be mounted inside or outside of the window frame. Curtains can also be mounted higher on the wall, closer to the ceiling. This makes the windows appear taller. The curtains may not extend to the floor if they are mounted this way. The buyer may need to add additional fabric to the curtains to achieve appropriate drop. Buying a larger size of curtain than what is measured causes the curtain fabric to intentionally pool on the floor. This pooling effect is a popular method of hanging faux silk curtain.
Buying Faux Silk Curtains on eBay
eBay offers the online convenience of shopping for different types of faux silk curtains made of quality fabrics in various styles and colours. Some faux silk curtains include tiebacks or valances. To shop for faux silk curtains on eBay, simply go to the eBay homepage and type "faux silk curtains&" into the search bar. This action results in a results page that lists descriptions for faux silk curtains posted for sale. Many of the curtain descriptions indicate if the packaging includes one or two panels, tiebacks, or valances. There are also colour selections on the results page.
To organise listings by top-rated sellers, go to the seller heading on the left and select eBay top-rated sellers. This will take you to the top-rated sellers listings only. These sellers have been rated favorably by buyers for their quality of customer service. It is also important to know if the seller accepts returns in case the curtain size is incorrect. This is usually indicated under the seller's profile. To go to the seller's profile, simply click on the seller's username. If you have any questions for the seller, click in the contact link in the seller's profile.
Conclusion
The important factors to consider when buying faux silk curtains are the types of faux silk curtains, faux silk curtain fabrics, faux silk curtain styles, accessories, and hanging measurements for faux silk curtains. First, an accurate window measurement must be obtained. After the window is accurately measured, a curtain measurement must be calculated. Next, select the type of faux silk curtain, according to room location, window type, and decor. The buyer should also take into account various fabric materials, such as taffeta or dupion, and styles such as traditional or contemporary, when making their selection. Certain fabrics work best with certain styles of curtains and accessories.
eBay offers a wide assortment of faux silk curtains in varying styles, sizes, and fabrics to please any buyer. eBay features popular and hard-to-find selections of faux silk curtains that may not be found in regular curtain shops or department stores. eBay can bring a touch of elegance into any home with beautiful, quality faux silk curtains at affordable prices.