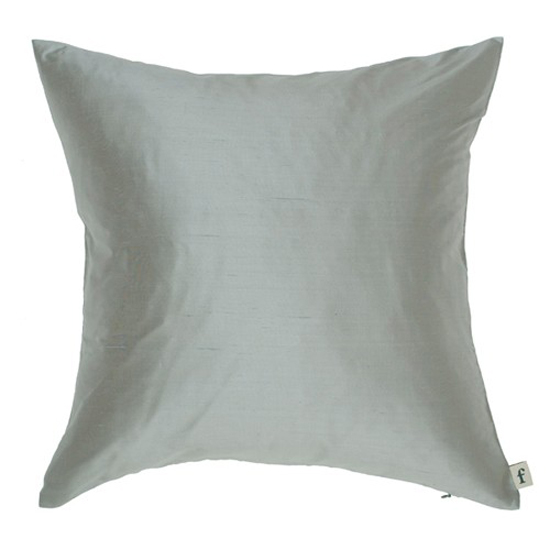 Cushions are one of the most versatile accessories available to anyone decorating a home. They are available in almost every imaginable design and a variety of sizes and shapes. Faux silk cushions are an ideal way to add a touch of luxury to a home at a budget price.
What Is Faux Silk?
Faux silk is usually polyester which is given a special finish to give a soft feel and sheen to look like natural silk. It is robust enough to be easily washed and even ironed on a low temperature.
What Kinds of Cushions Are There?
Cushions come in three main forms as below.





| | |
| --- | --- |
| | A bolster is a long, narrow cushion, typically used for support. They are most often placed at the tops of beds and are sometimes placed on the floor for people who like to lounge. Bolsters can also be used in cots to stop active babies from rolling too hard against the sides or to give young children something to cuddle into at night or during nap time. |
| (Scatter) Cushion | (Scatter) cushions are cushions which are primarily for decoration, although they may also add comfort and/or support. Traditional scatter cushions are square and these are still very popular, however they are now available in other forms such as heart-shapes. |
| | Seat cushions, as their name implies, are used to add comfort and support to seating, particularly dining chairs. Although they can be decorative, their primary purpose is to add comfort. Some seat cushions are available in large sizes for use on the floor. |
What Difference Does the Filling Make?
The filling makes a great deal of difference to a cushion. It affects the degree of support and comfort it provides and also how easy it is to maintain.
| | |
| --- | --- |
| Feather | The most commonly used feathers for stuffing cushions come from ducks and geese, reflecting both their suitability for the purpose and the fact that they have been traditionally used as a source of food. Feather cushions have a natural bounce to them, although this can become lost with use. In the short term, it can be restored by patting up the cushion, but feather cushion pads are likely to need replacing more often than synthetics. They may also provoke allergies. |
| Down | Down is used for insulation as it aids in staying cool in summer and warm in winter, making it a popular choice for pillows and duvets. While it is very comfortable, down cushions need to be plumped up and turned regularly and even with the best of care will wear out quicker than the synthetics. They may also provoke allergies. |
| Feather and down mixtures | There are cushions available in a mixture of feather and down. The degree of care they require will depend on the proportions. |
| Foam | Foam is the most common filling for cushions. It is measured by density, which is weight per cubic foot, and compression (the amount of pressure needed to reduce the volume of foam by a third). The higher the weight and compression ratings, the more support the cushion pad provides. |
| Fibre | Fibre is very variable in type and quality, however, as a guideline, it is generally soft to sit on and requires regular plumping up and turning. It is the cheapest filling available and often the most robust. |
| Foam Core | This is a popular cushion filling; the foam core provides support, and the fibre outer gives extra softness. The foam centre tends to last longer than the fibre outer, however foam core cushions are usually designed so that the fibre outer can be replaced. |
If buying a cushion on eBay, there are separate categories for cushions with pads, cushion covers and cushion pads on their own. If in doubt over this, or any other part of a description, buyers can use eBay's messaging system for clarification with the seller.
Getting the Best out of Faux Silk Cushions
Good faux silk cushions are an investment in any home and may have resale value if the look of a room is changed. It is, therefore, worthwhile to take good care of them. If buying a cushion with a pad, check the care labels on each section. Faux silk cushions are usually machine-washable, however, cushion pads may require special care (particularly feather and down ones). Keep faux silk cushions away from heat, particularly naked flames (such as cigarette lighters and candles). All fabric is flammable to some degree and as faux silk is usually made from polyester, it is particularly vulnerable. Limit the amount of weight placed on decorative cushions. If a cushion was designed purely for decoration, it will wear out quickly if used for supporting weight.
Getting the Best Value for Money
Everybody loves a bargain and eBay is a great place to go and hunt for one. Sellers are encouraged to list the condition of their item so that buyers can judge an appropriate price.
| Condition | Description |
| --- | --- |
| New | This is exactly what is says. A brand new item similar to the items in high-street stores. |
| New other | Sellers are encouraged to give details of what is meant by "New other". Two common explanations are unwanted gifts and ex-display/sample stock. |
| Manufacturer Refurbished/Seller Refurbished | These are items which have had some repair work done to them (for example had fastenings replaced or been refilled). If there is any reason why the refurbished item is different from a new item, sellers must make buyers aware of it. |
| Used | Used items are of various qualities. Some are like new and some show signs of wear. Sellers are encouraged to describe their item clearly and to post pictures of it. If in doubt, potential buyers can use eBay's messaging system to ask for further information/more pictures. |
| For parts/not working | This category is for items which have significant defects but may still have value to people who have the time and skills to repair (or reuse them). |
Picking the Right Faux Silk Cushion for the Right Setting
Once the practicalities of cushions have been dealt with, the real fun can begin. Buyers can use eBay's style categories to enjoy picking the perfect faux silk cushion for any room in the house.
| | |
| --- | --- |
| Animal Print | Funky, fun and playful, animal prints make a statement with both power and humour. |
| Antique Style | Combining modern convenience with antique styling is a popular choice for owners of traditional homes. They can also be used as statement cushions in modern homes. |
| Art Deco Style | Bold colours and designs combine powerful style with simplicity. |
| Asian/Oriental | Clean and elegant, oriental décor is highly suitable for modern homes where maximizing space is a priority. |
| Children's | Children's rooms should be fun and creative, places where they can learn through play while still feeling secure enough to relax. |
| Contemporary | Cushions designed to work with modern furniture. |
| Country | Bring the outdoors inside, as well as working in rural homes, country-style cushions can bring a touch of nature to urban living. |
| Farmhouse | Similar to country cushions. |
| French Country | Similar to country cushions but with a touch of French style and joie de vivre. |
| Modern | Similar to contemporary, the most up-to-date styles and trends. |
| Nautical | The seaside look can work equally well inland. With blues and whites key colours the nautical look can add crisp freshness to any home. |
| Novelty | For a bit of fun; sometimes can be cheeky. |
| Scandinavian/Nordic | For those who love natural colours and textures. |
| Traditional | An excellent choice for older homes and can work well in modern rooms, if used with care. |
| Victorian Style | Opulent, elaborate and eye-catching, Victorian style always gets attention. |
| Vintage/Retro | Vintage/Retro can cover everything from 50s glamour through to 80s party style. |
| Not specified | This can be a fun category to search for the unexpected. |
Buying on eBay with Confidence
Most eBay sellers are honest and legitimate and eBay continually monitors its listings to ensure that they maintain the expected standards. The best sellers are rewarded with a coveted Top Seller icon. When transactions do go awry, this is often due to misunderstandings and miscommunications which is why eBay recommends communication as a first step to resolving differences. If, however, buyers remain unhappy with their transaction, they may seek protection under eBay's buyer protection scheme.
Finding Faux Silk Cushions on eBay
It's easy to find faux silk cushions on eBay. From the Home Page navigate as follows: Home & Garden>Home & Garden>Furniture & Living>Home Decor>Cushions. Then scroll down to Material and mark Faux Silk. The sheer variety of styles and prices means that buyers are sure to find the perfect item at the right price and eBay makes sure that sellers keep their postage costs reasonable, in fact it's often possible to have faux silk cushions delivered for free.
Conclusion
Whether it's a quick update to the look of a room, or a major redecoration, faux silk cushions are the perfect way to personalise a space without breaking the bank.