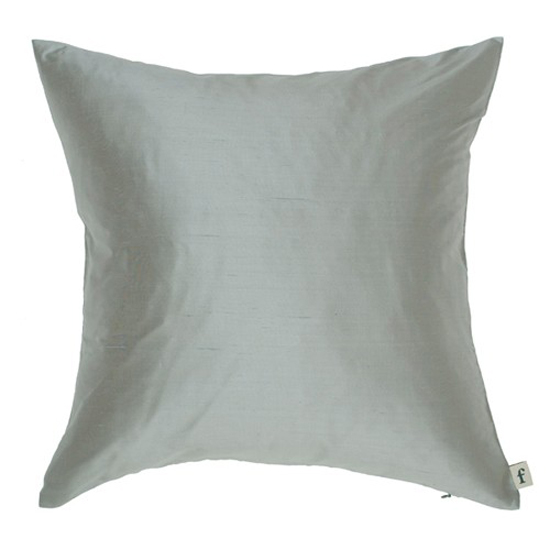 Natural silk has been a sought after material for centuries. Used in textiles and clothing, it is valued for its softness, sheen, drape, and comfort. Today, manufacturers have imitated the feel and appearance of silk with manmade or faux silk. Though not the 'real thing', faux silk cushion covers actually have a number of advantages over real silk cushion covers, which make them more desirable for the home in many respects.
Natural Silk and Faux Silk
It often helps to know the differences between natural and faux silk, as the material components of the latter are sometimes not known.
Natural Silk
Natural silk is from the cocoon of silkworms, produced to protect larvae. While other insects also produce silk, only that from certain moth caterpillars has been used to produce manufactured silk. These include the mulberry silkworm Bombyx mori. Silk is produced from moth caterpillars in captivity, a process known as sericulture. It is a time-consuming and labour-intensive process that makes silk an expensive material. The history of silk production begins in China, where fabrics have been found dating to around five and a half thousand years ago. Originally reserved for royalty, silks gradually became more widely available throughout China and then beyond. Silk has been found from Egypt dating to around three thousand years ago. The silk trade eventually became so important that trade routes between China and Europe were named the Silk Road. In Europe, the Crusades were responsible for introducing silk manufacture. Italy became an important production centre in the Middle Ages, and France also had a thriving silk industry. Silk is a protein fibre with a structure that refracts different angled light. It is this that gives silk its characteristic ability to produce beautiful arrays of shimmering colours and textures. It has a beautiful soft, smooth texture and, due to its absorbency and breathability, is comfortable and cool in warm weather. Silk is amongst the strongest natural fibres known, as strong as steel, although it does lose about a fifth of this when moistened. It is also not very elastic and when stretched, does not regain its shape. Silk is not naturally resistant to insect damage and can be weakened by excessive sunlight. It has to be carefully cleaned, often by dry cleaning, and is prone to shrinkage.
Faux Silk
Faux silk is becoming increasingly popular due to both technological advancements in manufacture and the desire for silk alternatives. Also known as synthetic silk or manmade silk, faux silk is made from polyester and designed to mimic the softness and lustre of natural silk. Polyester is manufactured from ethylene and has several advantages over natural silk. Because its manufacture is not as time consuming and labour intensive, polyester is more affordable and more readily available than natural silk. It is produced in a wider range of colours and shades. Polyester can also be washed in a domestic washing machine and is easy to iron. It is also more resilient to stretching and resistant to moisture.
Choosing Faux Silk Cushion Covers
The choice between faux silk and real silk may be a tough one, but keeping these factors in mind will help the decision making process easier.
Type of Faux Silk
As with natural silk, there are several different types of faux silk. For cushion covers, medium weight silk is used more frequently than lighter weight silk. Dupion is a beautifully textured medium weight silk which does not have the same shimmering effect as other silks. Other types of faux silk include taffeta, a plain woven fabric with a satin like shimmer. Organza is a light, sheer fabric. Voile or chiffon is a similar light, sheer fabric but slightly heavier and more reflective. When choosing a cushion cover, bear in mind the different types of faux silk and their properties. Medium weight silks are generally more durable and long lasting than lighter weight silks and are more appropriate for cushions or areas that receive a lot of use. They may even be used outside as they are generally resistant to moisture and fading, though it is not recommended to leave them outside permanently. Lighter weight silks can produce beautiful cushion covers, but are generally more suited for cushions and areas that receive less use, or for cushions used primarily for aesthetic purposes. However, being faux silk, they are still more resistant to wear and tear than natural silk.
Style and Size of Cushion Cover
There are a huge range of styles and colours of faux silk cushion cover available. Listings can either be browsed to gain inspiration and ideas, or certain styles can be searched for directly. Consider existing decor. Is it more traditional or contemporary?? What shades of cushion cover would suit the existing colour scheme? Should it be plain, striped, or otherwise patterned? Because faux silk is easier to work with than natural silk, a number of interesting effects can be created with the fabric. Faux silk cushion covers often feature raised floral designs or other three dimensional effects that can look stunning. Most contemporary cushion covers have plain edging, but some have piped or ruffled edges that can add interest. Piped edges help define the shape of the cushion. Cushions might also have tassles, beading, embroidery, or other decorations. These can be extremely attractive in cushions that receive light use but are not generally recommended for cushions that receive heavy use. Look out for the method of attachment and quality of stitching. Most contemporary cushion covers have concealed zips, but some have buttons or simple envelope type enclosures. Many sellers state their cushion covers are overlocked, which is a type of stitching used to prevent fraying. The quality and type of stitching will be an important factor in how long the cushion lasts. When purchasing a cushion cover, be sure to measure the cushion pad carefully to ensure a snug fit that maximises the cushion's shape. A cover that is too small for the cushion will twist its shape, while a cover that is too large will result in a cushion that looks lost and undefined.
Buying Multiple Cushion Covers
Consider how many cushion covers are required. Sofas often look attractive with several cushions, while chairs frequently have one or two. It is best to purchase covers together as it may not be possible to find an exact match at a later date. Some sellers may also offer special discounts or free postage if multiple cushion covers are bought at the same time.
Finding Faux Silk Cushion Covers on eBay
Faux silk cushion covers in a huge range of styles and colours are available on eBay. From the eBay home page, open the Home & Garden tab to the left and click on the Home & Garden link. Open the Furniture & Living tab and click on the Home Decor link. Under Categories select Cushions then under Type select Cushion Cover. Under Material, select Faux Silk. This will bring up several listings of faux silk cushion covers that can be browsed. Alternatively, the listings can be refined by options such as Main Colour, Style, Condition, Brand, and Size. Faux silk cushion covers can also be searched for in the search bar at the top of eBay pages. If any type of faux silk cushion cover is required, typing in "faux silk cushion cover" will bring up a large number of listings to browse. If a specific colour or style is required, typing in specific terms such as "blue faux silk cushion cover" or "taffeta faux silk cushion cover" will result in a smaller number of more relevant listings.
Conclusion
Faux silk cushion covers are perfectly suited for the modern home, whether it is of contemporary or more traditional design. Faux silk cushion covers have a number of advantages over natural silk cushion covers, including their cost, wider range of styles, superior moisture and stretching resistance, and ease of cleaning and maintenance. Faux silk cushion covers are durable and long lasting. They can be used in any room of the house, from the kitchen to the office and the bedroom to the living room. Because of the wide range of styles and colours available, it is simple to match them with existing decor and find unique and interesting designs. There are different types of faux silk which have different sheens and qualities, from heavier textured silk to more satin like fabrics. Browse listings to gain inspiration and ideas. Check product descriptions and seller feedback and reviews. Look out for special offers and free postage either on one or multiple purchases. Finding the perfect faux silk cushion cover on eBay is made easy with a range of searching criteria that enable listings to be refined as required. The large number of products means that there is something to suit all tastes and all homes.