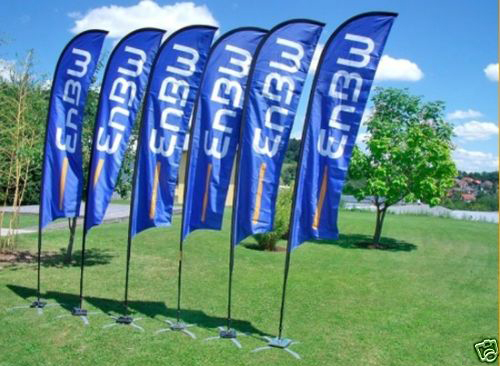 Success in business depends on attracting customers, and the way to do that is to grab their attention in a world filled with advertising. Successful business owners need to choose reliable marketing tools to ensure that their advertising budget drives in new traffic and continues to work over a long period of time. Feather flags have become an essential advertising method for many retail and service businesses because they are cost effective, portable, and easily customised.
How Feather Flags Work

Even businesses that offer the best product at an impossibly low price cannot make money if people do not know they exist. Potential customers develop filters to block the constant flow of internet, TV, and print advertisements, which means that they may not see the marketing materials for many businesses. Outdoor banners, particularly in the form of feather flags, also called sail banners, take advantage of a simple, old marketing method that works in the modern world. Eye-catching, customised designs blow in the wind and encourage passers-by to alter their course and enter the business premises.
Feather Flag Hardware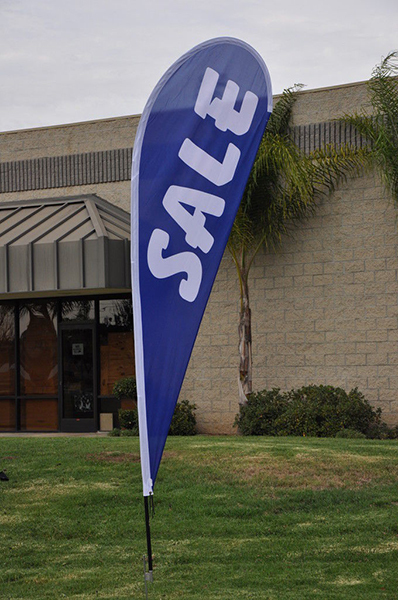 Feather flags require special hardware that enables business to display them in a variety of situations and locations. The flags are available in two styles: feather and teardrop and typically fit a 4m, 5m, or 6m whip flagpole. These flagpoles are typically made of fibreglass or aluminium and hold the banner so that it is always fully open and visible to the public, whether or not wind is present. Base and stake systems keep the poles securely in place and are suitable for indoor and outdoor use on hard or soft ground, and snowy landscapes. Buyers should look for bases designed to allow the flags to rotate freely in the wind to ensure that they never furl.
Feather Flag Graphics
The attraction of advertising flags is their vibrant colours and stunning, eye-catching designs. Many banner companies provide professional graphic design services to help customers to get the most from their advertising budget. Customers can also have an in-house design printed on their flags, often using an online template.