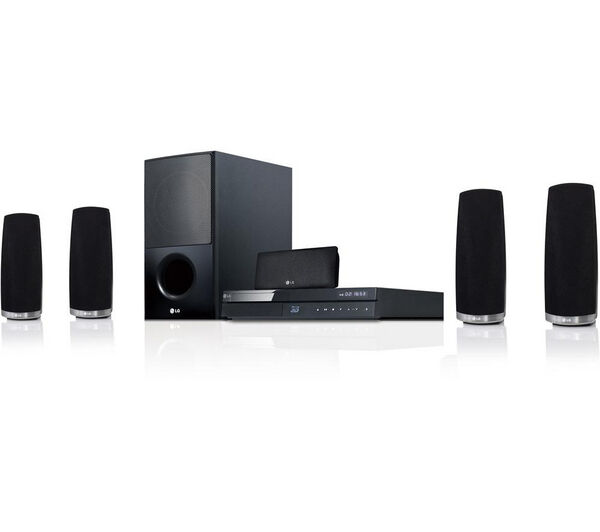 Home cinema systems allow consumers to watch movies, listen to music, and play video games with a much higher audio and visual quality than can generally be obtained through television sets with inbuilt speakers. Their primary benefit is that the cinema experience can be brought into the home, with surround sound also being possible. This is achieved in a number of ways, such as a setup that supports surround sound and the inclusion of a large television set or projection system. For the true cinema experience, some buyers may opt to include a projector and screen, many of which are capable of 720p and 1080p resolutions. Whatever the ultimate decision, a wide range of all-in-one systems and home cinema accessories can be found on the eBay website, which provides a way of purchasing products at prices that are often much more competitive than high-street retailers.
1: Compatibility
Home cinema accessories bought as part of an all-in-one home cinema system will have no issues with compatibility, as the system is designed to work straight out of the box. However, if purchasing separates to create a customised system, then it is important to ensure that all of the components and connections are compatible. Most seller listings stipulate the specifications of a product, which will include whether there are any compatibility issues with other products. As a general rule, the majority of brand name products will be compatible with other products manufactured by the same company.
2: Number of Devices to be Connected
Buyers of home cinema systems often have very different intentions for their setup, with varying numbers of connections needed depending upon the devices to be connected to the system. Devices that are often used as part of a cinema system are projectors, televisions, mp3 docks, stereo systems, radios and video gaming consoles. Of course, it is important to remember that every additional connection will require a cable, and the required number of cables should be determined before a purchase so that they can be ordered and delivered simultaneously.
3: Space Requirements
As inferred by the above paragraph, space requirements for a home cinema system can range quite widely depending upon the number of devices being connected and the size of the chosen components, such as speakers and speaker mounts. Since sound quality can be affected by the placement of speakers, they should be placed in a relatively open space.
4: Purchasing Sufficient Cables
The intended number of device connections will dictate how many cables are needed for the overall system setup. All-in-one packages will contain cables to set up the included components, though regardless of the number of inputs that such a system can accommodate, the package is unlikely to provide more than 1or 2 initial connective cables. Additional cables will need to be purchased separately. Some sellers offer bulk purchases of cables for a discounted price, which can help to reduce the initial outlay when purchasing and setting up a system. However, they are generally inexpensive.
5: Positioning the Components
Thought should be given as to how the components will be positioned when they are purchased. It may not be feasible to buy a 7.1 system in a small room or a large projection system. Furthermore, the speakers should all be positioned in a space that is away from walls and other obstructions. Speakers positioned in a cluttered space may suffer some loss of sound quality. Speaker stands can be purchased to assist in creating a setup that is both optimised for sound quality and offers an aesthetically pleasing arrangement around a television set or projection screen.
Choosing a Seller
The number of sellers trading on eBay means that one particular product is usually sold by a wide number of different members, which can make the decision on which seller to use harder for the buyer. Though eBay monitors seller activity and offers support to members in the case of a dispute, there can often be issues with some sellers or buyers not acting responsibly and honouring their commitments to a sale. Therefore, it is reassuring to know that there are functions on the eBay website designed to safeguard buyers and sellers and fully inform both parties on the processes involved in a sale.
Leaving, Receiving, and Viewing Feedback
Every member on the eBay website who has completed a transaction as either a buyer or seller should have a feedback score, providing that both parties honoured their obligation to leave feedback after the sale. This figure is representative of the number of sales completed and can be clicked upon to reveal the feedback records for that member. Each sale completed permits the buyer and seller to leave each other a positive, neutral, or negative remark. This is often accompanied by a comment, which can be useful for providing further information in the case of a neutral or negative review, such as the reasons for not leaving a positive remark. All of this aims towards fully informing buyers on the most trustworthy, reliable, and experienced sellers, which can help to avoid any problems in the sale process, such as non-delivery of an item, though these sorts of issues are rare.
Postage Charges and Delivery
When a sale is created, the additional postage costs are shown beside the main cost of purchasing the item. This makes the breakdown of charges very clear to buyers, who can make an informed decision of how much to pay for an item and its associated P&P. However, after the sale is confirmed and an item is purchased, the charges are added to the overall invoice for the item so as to easily display what must be paid to the seller. Charges can vary based largely upon item weight and size. The eBay website provides sellers with guidance on how to approximate postage costs, should they need it. Delivery times can vary depending upon a number of factors, the most prominent being the postage method offered by the seller. Sellers may choose any postage type that they desire, including Royal Mail special services, such as signed-for and recorded delivery options. These are especially useful for more expensive and valuable items.
Questions to Sellers
Buyers may request more information about an item by posing a question using the link available on the item listing page. This is useful for when a listing does not provide enough information to decide on whether to purchase the item or not, or when the pictures do not provide a full overview of the item's condition for example.
Finding Home Theatre Systems on eBay
Home cinema accessories and full home cinema systems are found under the Sound & Vision category of eBay, which is located under the main section that contains all products relating to the field of Electronics & Technology. This area of the marketplace can be linked to from the main eBay website homepage. The Sound & Vision category is split into further subcategories that contain various different types of home cinema and stereo accessories. Home Audio & HiFi Separates contains products referred to as separates, which are the separate components required to set up a customised home cinema system, such as speakers, subwoofers and cables to connect a system. TV & Home Audio Accessories contains accessories pertaining to stereo systems and television sets, such as remote controls, and wall brackets and mounts. The DVD, Blu-ray & Home Cinema subcategory contains a range of media players for both DVDs and Blu-rays, which can be connected as part of a home cinema system.
Conclusion
Home cinema accessories include a wide range of products that are useful in setting up a home cinema system, or replacing older or broken parts in an existing system. The wide range of products that fall under this field on the eBay website includes television remotes, connective cables, wall brackets, and separates, which are the large individual components that comprise a system, such as the speakers and subwoofers. Five key considerations to make when purchasing home cinema accessories include checking compatibility before making a purchase, determining the intended number of external connections, ensuring that there is enough space for the system, determining the number of cables required, and planning a setup that will dictate what components are needed. On the eBay website, buyers can find all kinds of home cinema accessories under the Sound & Vision category, which falls under the Electronics & Technology section of the marketplace. A wide range of subcategories branch off from here and offer various different accessories.