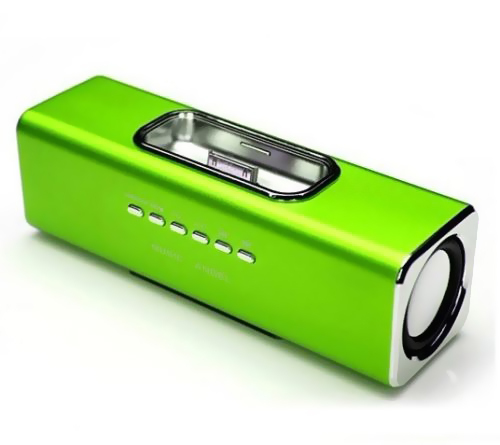 eBay has a huge range of MP3 docks available for sale, and the choice can be overwhelming at first. To make the decision easier, this guide will look at important features that should be considered when buying an MP3 dock on eBay, and then advise how to find and buy one.
What Are MP3 Docks?
An MP3 dock is a device that transforms an everyday MP3 player into a home stereo system. They usually have a set of speakers that vary in quality depending on the brand name and price of the unit. In addition, most MP3 docks have a recharging function that powers the MP3 player while it's docked. Some MP3 docks are custom-made for each brand of MP3 player, so this must be checked before purchasing. Many MP3 docks that are specifically made for certain MP3 players have a custom opening (or dock) that holds the device securely. The dock connector is part of this opening, and charges the MP3 player while transferring data to the speakers. Another common feature for MP3 docks is alarm clock functionality. This includes displaying the date and time, as well as offering programmable alarms. This can be useful if the dock is to be used in a bedroom setting. Higher end MP3 dock systems may also include Bluetooth connection functionality, that allows transfer of audio via Bluetooth, whether the device is physically docked or not. MP3 docks can range in price from just a few dollars for basic charging systems, up to hundreds of dollars for high-end audio options from well-known brands. Regardless of the requirements, there is sure to be a perfect MP3 dock on eBay to satisfy any need.
MP3 Dock Features to Consider
Each user will have different requirements and expectations of the MP3 dock being considered, but here are some key features to think about before making a selection.
Is the MP3 Dock Compatible With the MP3 Player?
This can be an important consideration, because MP3 docks that are designed for specific types of MP3 players will give a better experience. The dock itself will be custom-made to accommodate the MP3 player, and may offer other useful functions, such as control via a remote control unit. For extra peace of mind, try to find an MP3 dock manufactured by the same company that makes the MP3 player. This will guarantee a perfect fit for the device, and the dock will more than likely have the same appearance and styling as the MP3 player being used. Generic docks are available that only offer sound amplification via a common 3.5mm audio jack, which can be found on most modern MP3 players and smart phones. These are a cheap option, but for a slightly higher outlay it's possible to find an MP3 dock with more features that were designed around the MP3 player being used. Another benefit of buying a dock that is suited to the MP3 player, is that it will cut down on clutter in the room. Instead of having a separate charging cable for the MP3 player, plus a power cable for the dock, the dock can be used for charging and the dedicated MP3 charging cable can be put aside. A popular MP3 player choice is the Apple iPod, and there are many Apple iPod docks available to cater to the millions of iPod owners around the world.
Does the MP3 Dock Feature an Alarm Clock?
This can be an important feature if the MP3 dock is to be used in a bedroom setting. An alarm clock is a useful function that can wake the user with a pre-set alarm sound, music from the MP3 player or even AM/FM radio in some cases. If the MP3 dock has a display, check to make sure that it can display the time. This can simplify and streamline a bedroom setup by eliminating a clock radio from the bedside table. With the right MP3 dock, a stereo system, MP3 player charger, radio and alarm clock can all be combined in one small unit. If the MP3 dock is to be used in another setting, such as office or school, an alarm function may not be as important. In this case, a cheaper MP3 dock could be purchased that doesn't include clock and alarm features. MP3 docks with an alarm clock feature are an excellent fit for a bedroom setting, and are a popular choice for MP3 owners.
What Other Connection Options are Provided by the MP3 Dock?
MP3 docks can offer a USB port, which can then be linked to a computer. This is a good feature because it cuts down on cable clutter and allows the user to transfer music and other data from the PC to MP3 player via the MP3 dock. Bluetooth wireless connectivity allows devices with Bluetooth networking to link with the MP3 dock and stream music wirelessly. This can be a useful feature if the dock is to be used in a living room or other area where the mp3 player may not always be docked to the device all day. A further benefit of Bluetooth connectivity, is that other gadgets such as laptop computers, tablets and smart phones can also be linked to the MP3 dock to enjoy better quality sound. A 3.5mm input jack is becoming more common on even the cheapest of MP3 speaker docks. These jacks are very common on most MP3 players, smart phones and tablets. By using an inexpensive 3.5mm jack cable, other devices can be used as an auxiliary input to the MP3 dock, streaming music through the built-in speakers. Coaxial/Digital inputs are included on high-end, audiophile quality MP3 docks. They allow high-definition digital audio to played through the system.
How to Buy an MP3 Dock on eBay
Once the right set of features have been decided on, it's time to find the ideal MP3 dock. To find the correct area to start an MP3 dock search, follow these simple steps: First, locate the left hand vertical menu, and click on theElectronics & Technology link. Next, select theSound & Vision link, before choosingiPod/MP3 Player Accessories Finally, click on the Audio Docks & Mini Speakers link. eBay has a useful search feature, where the brand, model and specific attributes can be chosen as a series of filters. These filters are set by selecting a series of tick boxes on the left hand navigational menu after the first search query is run. By using these filters, a suitable item can be found after just a few clicks of the mouse. An example would be to choose the brand name of the MP3 player first to generate a list of suitable items for sale. Once that list has been obtained, other desired features can then be selected from the left hand navigational menu. By clicking the 'see all' link to the right side of the 'Features' sub menu, a separate pop-up window will be displayed showing even more choices. Once a list of desired items has been chosen, the next step is to find a suitable seller to buy the item from. Some important things to consider are the seller's location, whether they offer a warranty or refund in case of faults, and how high their feedback rating is. A seller from the local area may be able to offer a local pick-up shipping option, which can save on postage costs. Some sellers even offer free postage, which can be a very good reason to choose their item. If there are any questions, eBay offer a simple messaging service that can be used through the site. It's recommended to get all the details just right before committing to a purchase, so don't be afraid to ask any questions before placing a bid or completing a purchase. eBay offer auction sales or 'Buy It Now' type listings. The auction process may take longer, but the result can be a much cheaper price, plus the excitement of bidding on a desired item. Once the item has arrived and has been checked and working properly, don't forget to leave positive feedback for the seller. This in turn will help other shoppers to enjoy a positive experience shopping on eBay.
Conclusion
An MP3 dock can transform an everyday MP3 player into a compact home stereo system, with improved sound, charging capability and sometimes alarm clock or other functions built-in. There are thousands of MP3 docks available to suit any budget or set of requirements, and eBay has one of the best ranges available. Dust off the MP3 player and give it a new lease of life, or introduce the well-used MP3 player to a whole new world of entertainment by adding an MP3 dock to the home or office.