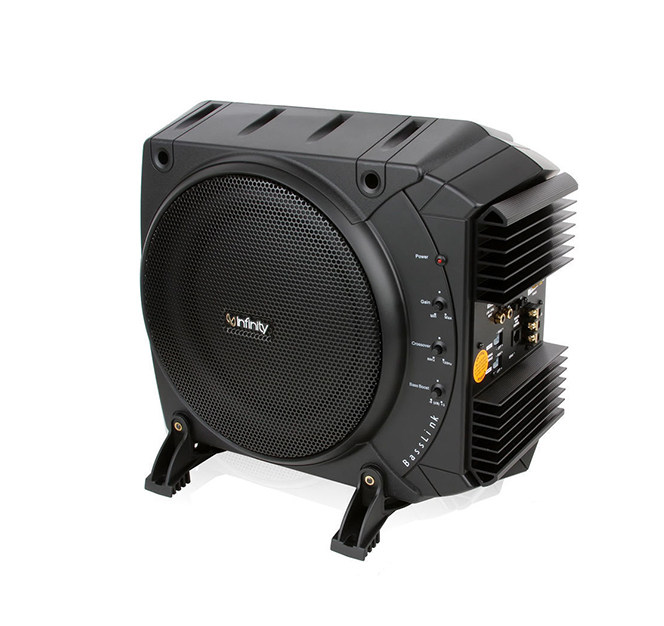 Music aficionados began searching for the clearest bass long before rock was born. Classical music demands the wide and profound sound stage that subwoofers achieve. After the disco era, a stomping rhythm became a more obvious part of most music genres, but the surround sound home entertainment system may have been the arrangement that placed the most demand on this component. Cinemaphiles are seldom happy without at least two satellites dedicated to bass. The rise of the gaming industry has created a fresh set of specifications for subwoofers that must adapt to computer components. The widening audio market has made shopping for subwoofers a complex task, but searching through eBay allows a greater level of refinement according to criteria such as those intended for 5.1 or 2.1 systems, specified brands, and various installation options.
Active and Passive Subwoofers
eBay lists active subwoofers separately from other designs, since these components are created specifically to achieve high volume bass tones that don't distort. An internal amplifier is dedicated to injecting power solely into low frequencies. Passive subwoofers are instead chosen to work with external amps. When searching through these two categories, certain features will guide the way.
| | |
| --- | --- |
| Power | Look for active subwoofers that have the appropriate wattage for the system being used. Wattage of about 1400 or more is powerful enough to produce a resounding sound outdoors. Passive subwoofers needn't have a peak power that is quite as high. Generally, between 500 and 1000 RMS is adequate. By clicking on the subwoofer in the eBay listing, audiophiles will be taken to a page displaying the wattage and other specifications unique to the component. |
| Form Factor | eBay categorises subwoofers according to their form because this is core to how the sound system will be angled and installed. Floor standing tower subwoofers are generally the most powerful, whereas satellites adapt better to audio systems set up for surround sound. Bookshelf and sound bar subwoofers are compact, but their potential for power is not as low as it may seem. Many smaller components pack enormous punch. Some bookshelf subwoofers on eBay list the peak wattage, but RMS ratings are the most accurate way to measure their power. |
| Condition | eBay allows searches according to whether subwoofers are used, new, or refurbished by the manufacturer or seller. A broad search according to this criteria is simple to do from the Home Audio Hifi Separates page. However, choices can be made primarily according to other features. Once a subwoofer shortlist has been created, clicking on the component's image offers information about condition. Technical audiophiles can also look for subwoofers that need to be repaired. This is a strategic way to buy quality on a budget. |
| Price and cone size | eBay shoppers can choose their budget before starting to refine their search to include other features. In many cases, high powered subwoofers are larger, with cones of up to 12 inches. Size improves bass response, but it also increases price. A happy medium is easy to achieve on auction, where patience often leads to a lower expense. |
| Configuration | eBay helps narrow the search for subwoofers by grouping them for their function, whether it be for surround sound entertainment, stereo music listening, or serious gaming. Single subwoofers are easy to add to an existing sound system. 2.1 components generate low frequencies for stereo units, while 5.1 configurations are primed for a vibrant film experience that achieves tonal directionality. |
| Brand | Many audiophiles are loyal brand followers, and shopping according to manufacturer can make it simpler to match the tonal quality of all components for improved fidelity. Despite the weight placed on certain brands, it is more important to select equipment according to room size, satellite speaker power, and matching ohm measurements. |
| Audio Inputs | eBay subwoofers can be chosen practically from the pop up menu beneath the audio inputs link. USB inputs prime subwoofers for computer-based sound systems designed for gaming. Rare banana jack subwoofers can be found to suit older stereo systems, while RCA inputs enable high quality 2.1 system audio. Digital inputs, raw cables, and TRS jacks are also listed. The practical considerations that come with input options often make the search for the right subwoofers time consuming, so searching according to this feature saves hours of effort. |
| Connectivity | Tangled wires have become unnecessary with the introduction of wireless subwoofers. Purists still prefer wired components since they often come with a wider range of features. When it comes to tidying up the interior, wireless, wall, and ceiling installed subwoofers keep rooms looking sleek. |
Choosing Whom to Buy Subwoofers From
eBay gives sellers the chance to build their reputations within separate niches over time. Successful audio sellers may be amateurs in other niches. For audiophiles who are in a hurry, eBay also makes it possible to choose local sellers who can ship subwoofers quickly.
| | |
| --- | --- |
| Authorised Dealers | Buying from authorised dealers means a valid warranty is offered and the subwoofers are designed for a specific market. When digital retailers sell through eBay, research can be done through manufacturer websites to find out more information about the features and accessories included with the component. |
| eBay Seller Type 4 | These are professional vendors who specialise in selling within a particular market. A type 4 audio seller will manage auctions while simultaneously offering additional components through their business website. |
| eBay Seller Type 3 | Type 3 sellers are industry specialists who generally price niche products affordably. |
| Type 1 and 2 Sellers | Type 1 sellers are new to eBay and have not yet established their reputation. Type 2 sellers have earned their reputations as vendors who buy and sell a range of products. |
| Fast'n Free | eBay highlights items that are shipped for free within three business days. Fast 'n Free marked products offer estimated delivery dates. The label can be found on search results, checkout, and items pages. |
| Customising Preferences According to Location | The preferences section makes it possible to look at subwoofers limited to set locations. From the Refine Search section, stereophiles can speed up the shipping process by choosing only those products sold in the UK or Europe. Wider ranges can be sought from worldwide sellers. |
| Bundles | eBay product bundles gather items into parcels that include matching components, entire systems, or subwoofers with accessories. Putting together a sound system can be complicated, so the inclusion of the appropriate cable, amp, or remote makes selections more streamlined. |
Shopping Tips on eBay
eBay allows sound addicts to buy products directly or purchase them on auction. Auctions often come with the benefit of affordability as compared with direct buys. A few strategies increase the odds of bidding success.
| | |
| --- | --- |
| Bid Early | A high number of bidders scares away reticent competitors. Those who bid at the beginning can minimise the competition, giving them better odds of success. |
| Create a Proxy Bid | A maximum bid limit is not shown to competing bidders, but a high proxy does inform those with lower settings when they have been outbid. |
| Pay Attention | It's impossible to respond tactically to auction proceedings one is ignorant of. Responsiveness is particularly important when dealing with expensive products such as audio components, since these are the most desirable items to win on auction. |
| Don't Ignore the Small Numbers | While a maximum limit is important, often bidding only a few cents more can win the auction. It's unnecessary to use rounded figures, particularly since those few extra decimals often lead to success. |
Buying Subwoofers on eBay
From the home page, navigate to Electronics and Technology, which will open up a drop down menu. Click on Home Audio & HiFi Separates,, which contains a link to subwoofers at the top of the page. There are various configurations for stereo, single speaker, and surround sound systems. It is possible to fine tune the search by selecting from these options. Those for whom decor is a priority can search for the right form factors for their interior design needs. It is simplest to choose subwoofers according to the rooms that will carry them by clicking on the Form Factor tab. From here, a pop up box appears, allowing high precision searches according to all criteria. Uncertain audiophiles can find the most popular subwoofers by clicking on the link at the bottom left of the page. New components are offered with second hand and refurbished ones, offering a range wide enough to carry the appropriate subwoofers for different systems and set ups.
Conclusion
In a home entertainment system, it is the subwoofer that generates those lifelike, earth shaking rumbles. When listening to music, they generate a thumping beat. Low frequencies add a significant edge to audio, widening and layering the sound stage for a more authentic experience. Many families are choosing to recreate the virtual experience of a professional theatre by constructing their own surround sound system. In such a configuration, the subwoofers send low frequency film audio into every pocket of the room, making the listener feel enveloped by the events on the screen. Bass tones don't achieve the same sense of direction that satellites do. Instead, they are there to give sound a depth that no other component can mimic quite as successfully.