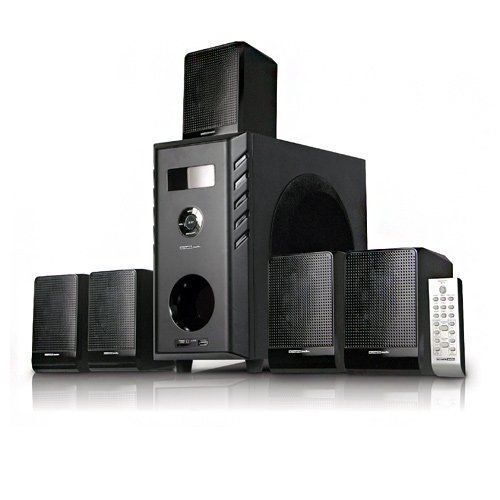 Audiophile quality surround sound speakers only became a possibility when Dolby Pro-Logic emerged. The revolutionary new approach to film audio inspired demand for an in-theatre experience nobody had to leave home for. Suddenly, the concerns of simple stereo set ups expanded to include multiple satellites that could send sound signals from several parts of the room, creating a sense of direction. Channels and sound pressure levels became buzzwords for those ready to transform their living rooms into virtual entertainment zones. Surround sound satellites can be expensive, so audiophiles can only shop according to budget by cutting their expectations in half or using eCommerce sites to discover high end bargains. For those who are motivated enough to build their own surround sound system out of individual components, there are effective and ineffective ways to fill a room with authentic sound.
The Basic Components of Surround Sound Speaker Set Ups
| | | |
| --- | --- | --- |
| 5.1 System | Two front speakers, a centre satellite, two surround speakers and a dedicated subwoofer. Five channels manage individual sound signals. | This set up is suitable for small, regularly shaped rooms. Spaces that are slightly larger need powerful floor standing speakers. Improving the acoustics of a room helps to generate a 360 degree sound field. When choosing speakers separately, they need to deliver the same sonic character. This is simplest to achieve through brand uniformity. |
| 7.1 System | Seven channels are expressed through seven speakers and a dedicated subwoofer. | A powerful subwoofer is responsible for delivering rumbling explosions. They should be a minimum of 12 inches so that distortion-free bass is expressed. Two back speakers can be placed in the centre to mimic the 7.1 experience. |
| 10.2 System | 14 Channels are positioned along the sides of the room, with some satellites placed at a set height to achieve additional realism. Two subwoofers manage bass. An extra low frequency effects channel is dedicated only to low frequencies that range between three and 120 Hz. | Only large rooms can accommodate surround sound speakers for this set up. A high number of satellites and an additional subwoofer make placement of chief importance to retain the effects of individual channels. Layering of the soundstage is achieved by using precise angles and heights for every channel. |
| 20.2 System | 24 satellites are positioned to achieve a layered soundstage with two dedicated subwoofers. | This system works only with ultra-high definition visuals. It produces excellent spatial sound quality. Nine satellites are positioned above the listener, with ten speakers delivering middle layers and three governing lower heights. As yet, these systems are limited to theatres and large spaces. |
Features to Look for in Subwoofers
Subwoofers are a core feature to include in surround sound speaker set ups because when low frequencies are managed from within the satellites themselves, bass tones steal power from other frequencies. This results in flatter tonal quality across all channels. Freestanding subwoofers push out defined, undistorted bass without affecting the satellites' ability to clearly express midrange and high frequencies. The separation of different channels using speakers is of core importance because it is this feature that achieves a defined, layered sound stage. The human ear is incapable of deciphering the directionality of low frequencies, so subwoofer placement relies on this speaker's ability to deliver sound to as many seating areas as possible.
| | |
| --- | --- |
| Active Subwoofers | These are the most common models used. They have their own inbuilt amplifiers, which act as separate a power sources dedicated solely to low frequencies. |
| Passive subwoofers | These are often included in packaged home entertainment systems because they are more affordable. Their bass output is low, and they lack the equalisation required to nudge settings to suit the room they are placed in. |
| Cross over dials | Adjustable cross over management allows users to choose the point at which bass frequencies are sent to subwoofers rather than satellites. Frequencies above the crossover point are expressed by the left and right front satellites. Those with large, powerful woofers may prefer to set a lower crossover point so that the deepest frequencies receive special focus and power. |
| Low Frequency Effect Channel | These bass tones are defined by the sound source and can be sent to the satellite speakers. By including subwoofers, these channels are more accurate and resounding. |
| Phase Control | Surround sound speakers and subwoofers need to deliver signals precisely so that audio is perfectly in sync across all channels and timed according to film imagery. Phase control allows the inversion of sine waves to shorten phase shifts. |
| Enclosures | The cabinet the subwoofer is enclosed in has its own acoustic impacts. Sealed enclosures generate a more powerful bass response. Front cones are left open, delivering sound solely from this area. |
Matching Surround Sound Systems Chosen Individually on eBay
It is possible to build a surround sound entertainment system with individually selected speakers. Sonic tone matching is among the most imperative considerations in this approach. Many cinemaphiles match brands as a simpler way to achieve sonic matches.
| | |
| --- | --- |
| Matching subwoofers with satellites | Here, the size and power of subs and satellites should be matched according to one another and to the size of the room. Speakers no larger than four inches require an eight inch subwoofer. Floor standing tower satellites demand a potent 12 inch subwoofer. Large rooms are better suited to two subwoofers and large floor standing satellites. |
| Matching right, left and centre satellites | Centre speakers are dedicated to generating the midrange frequencies that express dialogue and soundtracks. Left and right satellites handle sound effects. If these satellites have poorly matched sizes and wattage, the audio experience will lack authenticity, with some sounds resounding over others. Sonic character needs to match across right and left channels so that the ear hears these sounds simultaneously. Brand matching helps to achieve this. |
| Matching centre channels and front satellites | The three or more front channels need to deliver a balanced and equivalent tone across high, midrange, and bass frequencies. Brand and model matching is useful here. When upgrading a 5.1 system to a 7.1, a pair of bookshelf speakers can be used for these additional channels. Centre speakers take on some of the bass tones, so they need to be as large as the left and right front satellites |
Using eBay Features to Streamline the Process of Buying Preamps
eBay's tools make safety a focal point for buyers of audio electronics. It remains important for audiophiles to conduct their research so that their expectations are aligned with the specifications of the component being assessed. Buyers who know the process and features that are put in place to support them are better able to make successful decisions. Adding a few bidding strategies helps to secure the appropriate prices and features for a home entertainment system.
| | |
| --- | --- |
| Take advantage of PayPal Buyer Protection | When using the Pay Now button on eBay, PayPal users can trace their transactions and enlist the support of eBay's PayPal resolution centre. This protection system is available on eligible items, which are covered without charge. |
| Researching products and sellers. | By researching both the component on offer and the seller offering it, buyers can ensure that they choose the specifications they need. Feedback scores can guide audiophiles towards sellers who specialise in home theatre equipment. Professional sellers and specialists can be asked for advice through the 'ask a question' feature on the product's specifications page. |
| Use the Best Match feature to find eBay evaluated sellers and items. | The search for an appropriate product and seller is automated by this feature, which lists items that are relevant, popular, and sold by reputable sellers. |
| Bidding strategies that win auctions. | In some cases, bidding the highest affordable purchase price may whittle down the list of bidders and increase the odds of winning the auction. Alternatively, saving the bid for the final minute of the auction is often a successful tactic. |
Buying Surround Sound Speakers on eBay
When navigating from the eBay homepage, surround sound configurations can be found under the Sound & Vision category. From the DVD, Blu-ray & Home Cinema section, complete sets of surround sound cinema systems offer a simple way to create a home theatre. To find separate surround sound speakers and subwoofers, refine the search for speakers and subwoofers or select individual surround sound speakers listed under DVD & Blu-ray Home Cinema, where satellites can be selected according to their configuration , features or brand. Bundled accessories and speaker sets make constructing a surround sound system simple and affordable.
Conclusion
Surround sound speakers can be adapted to the look and acoustics of the room they are bought for. Wall brackets, bookshelf speakers, in-ceiling, and freestanding towers all have their limitations and advantages. Later innovations have given compact speakers more wattage, allowing them to deliver fuller volume. Ultimately, placement should be arranged according to the seating positions the system is tailored to serve. Angles and heights will need to be precisely measured to suit a central viewing point. The goal of a competent audio system is to immerse its listeners in an emotive experience. Signals can be encoded through the source of the soundtrack, or matrixed across two channels by extracting hidden sound from stereo. The ultimate reproduction of the film director's intentions is achieved through discreet DVD encoding.