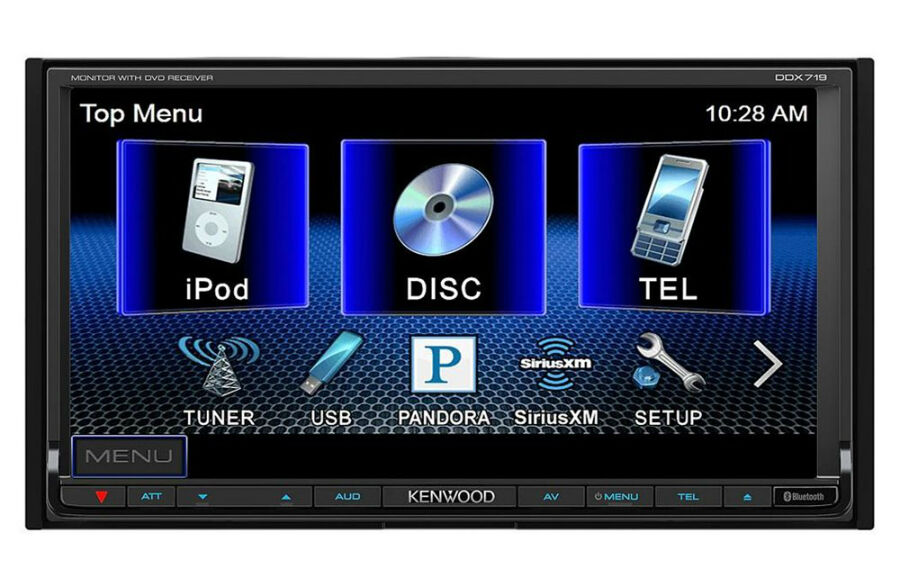 Although the stereo is not usually a main point of contention when it comes to selecting a car to purchase, having a great car stereo can breathe new life into a car,, no matter its age. There are many different components that make a car stereo system function well, from the speakers to the subwoofer, but perhaps the most visible portion of any car stereo is the head unit. This is the part of the stereo system that fits into the dashboard in most cases, and both produces and controls most of the sound.
Selecting the right stereo head unit can mean the difference between an enjoyable listening experience and a frustrating one. Both new and used stereo head units are available from many car audio specialty stores as well as online from eBay.. Knowing exactly what features to look for when buying a car stereo head unit makes the process that much easier and the results that much more satisfying.
Radio
The most basic feature of any stereo head unit is the ability to receive radio signals. Before any of today's technological features were available, like CD players or MP3 inputs, playing the radio was the main capability of a car stereo head unit. Today, most car stereo head units have much greater capability than playing AM radio, but the radio tuner remains an important feature.
AM and FM radio is fairly standard, but there are more options available as well. An HD radio feature allows the driver to listen to digital broadcasts and more channels than a standard radio. For a subscription fee, satellite radio services, such as Sirius, offer more than a hundred channels, including sports and other entertainment, broadcast directly into the car. Depending on what a driver prefers, there is certainly a radio option available to suit him or her.
Media Playing Capabilities
Clearly, media technology has moved far beyond a car radio receiver.. When shopping for a car stereo head unit, there are many more media options from which to choose. It is a good idea to take into consideration how most of the driver's media is stored so that the stereo can be most useful to that individual as well as his or her family.
CD Player
Most modern stereo head units include a compact disc player.. For someone who only listens to CDs on occasion, a single disc player is usually entirely sufficient. However, some people want to be able to quickly change between many CDs. In this case a multi-CD changer is a good idea. The capacity of CD changers varies, but a five or six disc capacity is common.
Furthermore, some CD players have an MP3 player option, which means that they read discs onto which MP3s have been saved, such as from a personal computer. These discs have a much greater capacity and so can store many more songs, making this another convenient feature to consider.
MP3 Line-In
Of course, many people no longer keep their music and other audio on physical CDs at all. Rather, they keep this type of media stored in a portable MP3 player, such as an iPod. Being able to play music directly from this type of player is a very convenient feature that some stereo head units offer. Usually, this is made possible through an MP3 player line-in option that allows the user to plug in the player with an external cord. Other head units feature a dock specifically for MP3 players, which is a good option so long as it is compatible with the driver's player of choice.
Bluetooth
More advanced car stereo head units offer a wireless option, known as Bluetooth, for playing music and other audio from an MP3 player or even a cell phone. After an initial set up, this feature allows the user to connect an auxiliary player to the car stereo without a cord. In most instances, the device automatically connects when it enters the car, making the functionality very convenient.
Controls on Car Stereo Head Units
Because the stereo head unit is the main control panel for the car's audio, it is important to take into account what controls are available as well as how easy they are to use. The ultimate determination for car stereo controls is up to the driver and his or her preferences.
Equaliser
For those who are highly concerned with the audio quality of the stereo and want to be able to adjust every aspect of the sound system, equaliser controls are absolutely necessary. An equaliser allows the listener to control the volume levels of the different frequencies coming from the stereo. With an equaliser, the treble can be turned down while the bass is turned up and vice versa. This can help to customise the sounds for the variable acoustics in the car. Not all car stereo heads offer this customisation, but it is a feature to look for.
Steering Wheel Controls
Driving while distracted can be dangerous, and this does not apply only to using phones. Fiddling with a car stereo can easily distract the driver from the road. For this reason, some car stereo head units feature steering wheel controls that can be installed separately. These allow the driver to change stations, adjust the volume, or even turn the stereo off without taking his or her hands off the wheel.
Other Car Stereo Head Unit Features
While audio functionality is understandably an important feature for most shoppers, modern car stereo head units have a wide array of other features available as well. Some of these features are made possible by the fact that many head units now have video screen displays. These features can make driving a car better in many ways including a more attractive display panel, improved navigation, and theft protection.
Display Features
Today's stereo head units offer many different types of display features. Whether the display includes a full video screen or just a small LED read out, it can provide the driver a lot of information, such as the complete tag for a song, including the artist and album. The display can also make it possible to more easily search and find songs on a CD or MP3 player. It is important to keep in mind the visibility of the display even in bright light in order for it to be most useful. Some head unit displays wash out in bright sunlight and become difficult to see, so a high contrast display may be a better choice.
GPS Capability
In terms of audio quality and options, car stereo head units have certainly come a long way since their inception. However, there are also many other features that could not have even been conceived of when the first car stereo was installed. For instance, many car stereo head units now feature a video screen, which allows for turn-by-turn GPS navigation system.. This can be an incredibly useful feature for anyone who is prone to becoming lost or who drives in unfamiliar areas frequently. Choosing a car stereo head unit with GPS capability can even add value to the car in the long term.
Theft Protections
Purchasing a new stereo head unit, depending on the type purchased, can be a major investment. For this reason, it may be worthwhile to find a unit that offers theft protection precautions. After all, a car stereo is usually in full view of anyone outside the car and therefore is an easy target for thieves who are looking for a quick score.
Removable Faceplate
The most common form of theft protection offered by a car stereo head unit is a removable faceplate. This means that the front portion of the head unit, which contains the controls and buttons, can be easily removed. The idea is that when the car is parked, the driver can remove the faceplate and either place it out of sight or physically remove it from the car. Without a faceplate, the head unit is virtually useless and much less prone to theft. Of course, this theft protection only works if the driver does remove the faceplate when parked.
How to Buy Car Stereo Head Units on eBay
Finding a car stereo head unit on eBay is simple enough, but choosing among the many different units that are available can be a bit taxing. In order to find the perfect head unit for you, be sure to enter specific search terms into the search box from any page of the site. You can use brand names or other specifications to narrow down the results you get. For instance "car stereo head unit&" yields far more results that "Pioneer car stereo head unit&" as the former is more general and the latter, more specific.
When you have selected exactly the right head unit for you and your car, you can begin to complete your purchase. Because some head units are packaged together with other stereo components, such as speakers, it is a good idea to verify the contents of the listing with the seller before completing the transaction. This can easily be done with a quick personal message to the seller using the eBay interface.
Conclusion
Improving the sound system in a car is an effective way to make it more fun to drive. After all, even commuting to and from work can be that much more fun with the right music or radio station to accompany the drive. Without a proper head unit, no car stereo is complete. However, the same head unit features are not necessary or even appropriate for all drivers. Rather, it is important to prioritise which head unit features are most needed by the person using the stereo.
Some audiophiles, for instance, place a very high importance on an equaliser that allows them to perfectly adjust frequencies, while other people care only if they can plug in their iPod easily. Taking care to do the necessary research before beginning the search for a stereo head unit in earnest is the best way to find the head unit that best meets the needs of the driver. Keep these available features in mind when shopping and the right head unit is bound to be apparent.