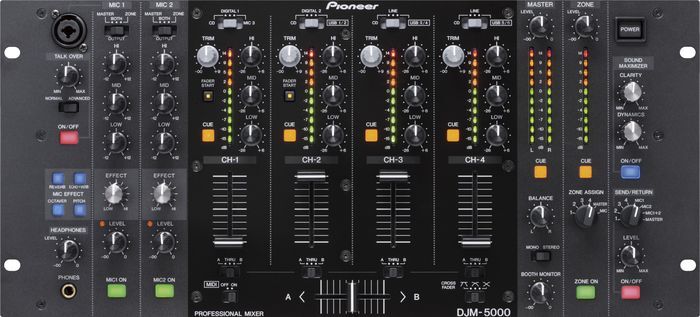 A DJ mixer is one of a DJ's most important pieces of equipment. This device allows the DJ to regulate and manipulate the sound output. Mixing takes skill and practice and having the right tools for the job allows a DJ to showcase his or her talents. Mixers come with a range of features and choosing the right model depends largely on the style of music played. Each style requires different mixing techniques and mixer features, but some key components are required across all styles. Before buying a DJ mixer, learn the common terms used to refer to features and which basic features are needed for all DJs. Make a list of the most important additional features that are required by considering personal preferences, techniques, and the music style. Finally, research the brands available to find a DJ mixer with the right features. DJ mixers are available from electronics shops, and in new and used models from online sources, such as eBay.
Glossary of Terms for DJ Mixer Features
The table below lists common terms used to describe features found in DJ mixers and a short description of each. An understanding of these terms simplifies the buying process.
DJ Mixer Feature

Description

BPM Counter

Beats per minute or tempo counter

DJs can see if the BPM of records or tracks match

Channels

Each signal input into the mixer is a channel

Every channel has identical controls

Most DJs need no more than two channels

Cue Button

Sends channel signal to the headphone monitor

Allows DJs to beat match with music on the master track before mixing

Equalisation (EQ)

Used to adjust bass, midrange, and treble response

Faders

Allows control over volume of each channel

Crossfader

Allows DJs to fade in one channel while fading out another

Fader Curve or Curve Control

Used to adjust the amount of fading required before switching channels

Useful for scratch DJs

Gain or Trim Control

Used to control level of each input channel

Commonly used to set initial level of signal source to balance volume

Hamster Switch

Used to reverse crossfader positions

Usually found on scratch mixers

Headphone Monitor

Controls volume of the headphones and balance between master and cue signals

Mixers with split cue feature allow DJs to hear cue in one ear and master signal in the other

Inputs and Outputs

RCA inputs are for plugging in turntables and line inputs for CD players

Outputs send sound to amplifier

Kill Switch or Isolator

Allows DJ to turn off specific frequency bands temporarily or for extended periods

Level Meter

Displays input volume for channels or master output volume

Measured in decibels (dB)

Master Channel

Where all input signals are combined and sent out of the master output

Controlled by master output volume control or fader

Master Level Control

One or two controls that adjust level of final mix

Mic Input

Allows use of microphone

Desirable for mobile DJs

Peak Meter

Shows the levels of channels or master output

Indicates distortion

Talk Over Button

Automatically turns down the music when the microphone is in use
Understanding which DJ mixer features are available makes it easy to identify those needed. Some are essential to every mixer and DJ, while others are dependant on the DJ's technique and the music style.
Basic DJ Mixer Features
The most important features required in a DJ mixer are a level meter, gain control, volume controls for each channel, and a reliable crossfade feature. Beginners do not need much more than this as these features allow them to learn the basics without adding to the cost of the unit. The level meter is used to avoid clipping, or distortion, while the gain control feature is used to balance the volume by controlling the level of the signal source. The master level is not identical on all tracks, whether on CD or vinyl, so the gain control feature allows DJs to match the volume of tracks. Instead of choosing a mixer that has features that is never used, focus on buying a high quality unit with fewer features. If the mixer is being bought for a beginner, consider investing in a less expensive mixer and upgrading it once the basics have been mastered.
DJ Mixer Features and Music Styles
Although DJs usually have individual styles and use particular techniques to deliver their specific interpretations of music, understanding the techniques used in different music styles makes it easier to choose the right mixer. The music styles listed below are intended as a rough guide only.
DJ Mixers for Techno, Trance, and House
Techno, trance, house, and any music with four beats to a bar is best mixed with a traditional DJ mixer that allows DJs to create long mixes with smooth transitions. This is often achieved through using the equaliser and manipulating the music's frequencies. A mixer used for this type of music should have a smooth crossfader, although some DJs use only upfaders. The type of fader used depends on personal taste and technique.
DJ Mixers for Hip Hop
Cutting and scratching play prominent roles in hip hop and transitions between tracks are shorter. Certain mixers and turntables are designed specifically for hip hop DJs. These mixers are often referred to as battle mixers: very little emphasis is placed on EQ functions, but they are designed with open space around the crossfader to avoid catching the DJ's hand on any protruding knobs or components. All battle mixers have assignable crossfaders.
DJ Mixers for Drum and Bass or Breaks
Drum and bass or breaks require a mixer that has features used for both techno and hip hop. Although scratching and cutting is not essential in these styles, most DJs prefer to have the option of adding these elements to the mix. Look for a loose fader, upfaders, and an EQ to allow long, smooth mixes.
Research the DJ Mixers Available
Once the desired DJ mixer features have been selected, use the internet to learn what experienced DJs think of specific brands and mixer models. DJ reviews from a trusted site can be used to gain a clear picture of the features that add to the functionality of a particular mixer and which are considered superfluous. Obviously, budget restraints influence the type of mixer chosen, but remember to opt for the best quality mixer that falls within the budget for this piece of equipment. Bear in mind that used mixers are readily available and that it is possible to buy a high quality mixer for a fraction of the cost when buying used.
How to Buy a DJ Mixer on eBay
eBay's search function makes it easy to find the perfect DJ mixer for you. Type a search phrase, such as "Pioneer DJ mixer", into the search field, which can be found on any page, to see the items for sale. Narrow your selection by choosing the most appropriate category and item characteristics. If you want more control over your search results, use the advanced search feature.
Before Completing the Transaction on eBay
Before completing the transaction on eBay, evaluate the product and the seller. Click on an individual product to access the item listing page. All the information that you need to make an informed buying decision can be found there, including the item description, buying options, the seller's accepted payment methods, postage and packaging fees, and the seller's feedback information.
The seller feedback feature allows you to see what other buyers have said about specific sellers' products and customer service. Detailed seller ratings offer additional information regarding aspects such as the reasonableness of the postage and packaging fees and how long it took for the seller to post the item.
Conclusion
A DJ mixer is an essential tool in any DJ's equipment setup. This is the component that allows the DJ to manipulate music and create specific sound effects. Mixers come with a wide variety of features, some more suited to particular music styles than others. Before shopping, take the time to learn about the features available, what they are called, and what they are used for. Some features, such as a level meter, gain control, crossfade, and volume controls for each channel should be seen as basic necessities for all DJs. Similarly, all mixers feature input and output connectors, and these should be compatible with the audio player or amplifier and speaker setup that will be used with the mixer. Vinyl turntables, CD, and digital players require different inputs. Most mixers feature two channels and this is considered adequate for most DJs.
The type of music that is mixed further influences the type of DJ mixer required. For techno and dance music, invest in a mixer that allows smooth transitions between tracks and features a good EQ. Hip hop is characterised by scratching and cutting, and battle mixers are specifically designed for this style. Drum and bass DJs require features found in both traditional and battle mixers as their technique contains elements of both music styles. Research the types and brands of DJ mixers available and their most useful features before buying a mixer. A range DJ mixers for smooth mixes or scratching are available from eBay sellers.