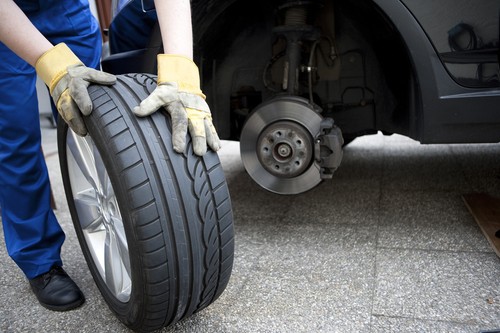 Wheels and tyres need to be replaced periodically. While consumers can purchase wheels and tyres separately from each other, it is sometimes easier and more convenient to purchase a matching set at the same time. However, there are things that need to be considered when buyers are purchasing a set of new wheels and tyres for a vehicle. Wheels and tyres are a very important component of the car, and the wrong wheels can mean a less quality driving experience and an experience that is not as safe.
While aesthetics are a small part of shopping for wheels and tyres, the most important factors that buyers should think about are safety, purchasing wheels with tyres that fit the vehicle properly, brand, model, and budget. Shop for wheels with tyres using these considerations, as well as other considerations, from a wide variety of wheels and tyres available on eBay for an affordable price.
When to Replace Wheels and Tyres
Before purchasing wheels and tyres, check the existing tyres. There are several things to look for when it comes to checking if tyres need to be replaced, and if it is time for new wheels as well.
Check the Tyres and Wheels
When looking at tyres, buyers should pay close attention to tire tread. Over time, tread begins to wear away, creating a bald look on the tyres. This is a sure sign that tyres need to be replaced immediately. This is a cause for concern, especially if there are any wires showing, cracks or tears that are visible, or any odd, lumpy spots which do not look normal.
For consumers who travel a lot, tyres should be assessed every three or four years and rotated every 6,000 miles. Tyres are ready to be replaced generally every six to 10 years, depending on the level of travel. Tyres that have been driven in extremely hot weather may deteriorate faster than tyres that are used in a more average climate, due to the fact that UV rays can cause wear on tyres.
Wheels that need to be replaced include bent wheels and rims, wobbly wheels, or wheels that have been damaged after running over something in the road or bent in an accident. Check wheels carefully and replace when needed. A bent or damaged wheel can compromise the performance of the tyres and the vehicle itself.
Purchasing Wheels
There are a few things to think about when buying wheels for a car. Wheels and tyres must go together properly and complement each other for a smooth, safe ride. Wheels are stylish, functional, and necessary additions to tyres, and they come in a range of materials, sizes, and styles to suit every taste.
Check the Fit
The most important factor when buying wheels is the size. The wheels that are purchased should be quite similar to the existing wheels that came with the vehicle. Purchasing wheels that are too big or too small simply due to aesthetic preferences may not be the most practical way to go. The size of the wheels should be compatible with the tyres so there are no problems for the consumers while driving.
Check the Size
The wheel rim size can determine how the car drives. The best rule of thumb is to purchase the same size wheels that were on the car previously, but for buyers who want a change, keep in mind that larger than average wheels make driving and turning more complicated and not as smooth.
It is best to opt for wheels that match the factory size wheels and tyres, and not opt for something significantly larger or smaller. This can create an unpleasant driving experience. The consumers also need to ensure the wheels are created for either a front-wheel drive vehicle or rear-wheel drive vehicle (these are labelled FWD and RWD wheels). The two types of wheels are not interchangeable.
Purchase Wheels by Style
There are different types of styles and materials to choose from when buyers are purchasing wheels. Aluminium and steel are the two traditional materials that wheels are created from. Steel may last longer, but it is heavier. Aluminium offers the users more style varieties as well as lightweight features and various manufacturing processes which result in a variety of wheel types.
There should be different types of wheels to fit each type of car. Buyers can remain in their recommended size range and still find wheels to fit the style and personality of both car and driver.
Purchasing Tyres
Shopping for tyres can be tricky, but if buyers know exactly what they are looking for, it can alleviate the frustration of buying tyres. Purchase tyres by make and model of car or by the tyre model number for a perfect fit.
Buy the Right Tyres
The first thing buyers should do before purchasing tyres is to consult the car's manual. This should include relevant and practical information about which tyres are best suited for the car. This, coupled with the tyres that the car already has, can be a guide when selecting tyres.
The model number of the tyres is along the rim of the sidewall of the tyres. Use these numbers, which include the rim width, diameter, and tyre model, along with the other considerations to determine several options for tyres.
Other considerations that buyers should factor in, is whether or not they plan to drive in frequent snow, ice, or inclement weather. This usually means a necessity for winter or snow tyres, or the need for sportier or rough terrain tyres.
Purchasing Wheels with Tyres
It makes life simpler when consumers purchase a set of tyres along with wheels for a complementary set that is already inclusive of the items needed, without the buyers having to shop separately for wheels and tyres. This is a great way to save money and do a one-stop shop for everything that is needed. There are just a few things consumers should think about when browsing for a new set of wheels with matching tyres together.
Match Wheels to Tyres
When purchasing wheels that already come with tyres, it is best to assess each piece of equipment carefully by reading the listing for the wheels with tyres. Also make sure that each piece corresponds with each other and works best for the car that the buyers are shopping for. The wheels should fit the tyres properly and not be too large or too small. Factory tyres and wheels that were put on originally together are a safe bet, making them the best option for the vehicle.
How Many Tyres and Wheels to Purchase
It is always best to purchase a full set of tyres instead of replacing tyres and wheels separately. This ensures that the tyres are getting the same amount of wear, and they are all alike. This is the safest option too.
The car is designed to operate best when all four tyres are at their peak performance, and when buyers only replace one or two tyres at a time, it can throw off the car's suspension and cause the users to have issues along the way.
Quick Guide to Buying Tyres
One of the best ways to find tyres that complement a car is to shop for tyres and wheels that are made for a specific type of car. Some brands specialise in performance tyres that are well suited to sports cars or four-wheel drive vehicles, while some brands are all-around good tyres that can be used on a number of standard passenger cars or sedans. Find the best tyres for a car by shopping with the type of car and brand in mind as a guide.
Type of Car

Brands to Look For

Average Price/Price Notes

Sedan

Passenger vehicle

Pirelli

A good set can be purchased used as well as new, for a lower price

SUV

Four-wheel drive

All-terrain vehicle

Marix

Sunny

Higher performing tyres are more costly than other types

Sports car

Goodyear

Bridgestone

Price varies depending on added features such as snow tread
Finding the right type of tyre is key to purchasing the right set of wheels with tyres. There are specific brands and styles that work for various cars, as well as brands that specialise in tyres and wheels for certain types of cars. Sports cars and four-wheel drive vehicles need higher performing tyres than sedans or basic passenger vehicles, so this should be taken into consideration when looking for the right wheels with tyres.
Consider a Spare Tyre
Drivers should have a spare tyre. It is best if the tyre is a full-sized tyre rather than a smaller tyre, which many cars come with originally. Purchase a full-sized tyre that matches the other four to carry as a spare, so when a flat occurs, it is easy to get wherever needed on a full-sized tyre.
How to Buy Wheels with Tyres on eBay
If you are purchasing wheels with tyres and you are on a budget, buying wheels with tyres on eBay can save you a lot of money and frustration. Even eBay beginners can easily search for the desired items by finding any internal page or the home page and typing the search, such as "wheels with tyres". Once you know exactly what your car needs, you can simply search for the proper tyres by car make and model, tyre size, or your favourite tyre manufacturer.
If you are buying tyres that are gently used, make sure the tyres are in great condition and have plenty of tread left so they still have many miles left on them. Only purchase tyres with wheels from merchants who are Top-rated sellers to ensure you are getting a great deal on a quality set of wheels with tyres. Once you narrow down a few options, compare them by brand, the condition they are in, and the price, then select the best option for your budget.
Conclusion
Take the hassle out of shopping for wheels with tyres by doing it on eBay. Buyers have all the time they need to shop at their leisure by searching via model, car make, or tyre and rim brands. They can even find a great set of used tyres still in excellent condition. When it comes to maintaining a car for the long haul, keeping up with the tyres is the most important thing to think about and to stay on top of. Good tyres and wheels can ensure a safe, smooth, and problem-free ride no matter how often the consumers travel or no matter the terrain.
Having a spare tyre can add peace of mind to any long journey, and knowing that tyres have been checked and replaced can ease car worries for at least a few thousand more miles. Taking care of a car means maintaining it, and keeping an eye on wheels and tyres is the first step in making sure the car drives for many more miles to come.