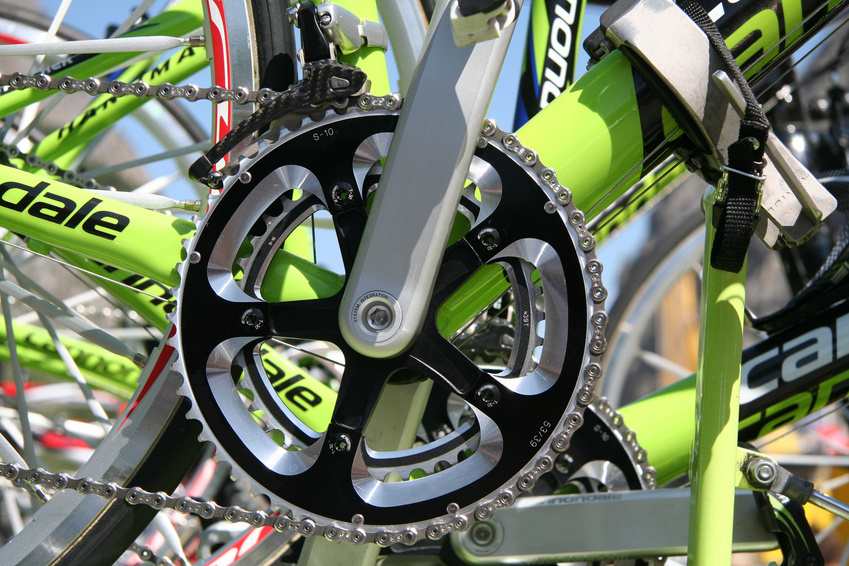 The chain link on a bike is one of the most important elements of its mechanism, but purchasing a new chain can be difficult, especially if you have a specialty bike. While there are a number of different types of chain links, you can find one for your bike by checking the chain type and model on your current bike, and then purchasing a new one in that size. There are also a number of different features to look for in a bike chain to ensure that it is the best quality.
Correct Chain Type

The right chain type is especially important if you are purchasing a single link for your bike chain. You need the sprockets to match up with the ones on your current bike, which sometimes means you have to purchase the same brand. You also need the link to be the correct length and width, which you can access by measuring the links you are removing or by checking with the brand model that you currently use. You also want to inspect how the chain joins between links, because while chains come with a number of different pin types, you want it to match up to the one currently on your bike. Many links use standardised pins, but some require special options. Some chains also require a link removal tool or splitter for removal.
Lightweight
While many older chains and cheap chains are quite heavy, good modern chains are lightweight. The majority of bike chains are made of steel alloy or carbon, and each material has its own pros and cons. Carbon is lighter, but typically less durable, and not quite as good for intensive cycling.
Size

The reason size is a very important feature to look for in a bike chain link is because it determines how well the chain works with the bike. For example, if the chain is too thick then it gets stuck in the cogs and it may not support the number of rear sprockets on the bike. Sizing goes according to the bike speed, and the actual thickness of the chain. For example, 7.1 to 7.8 mm means a basic chain for a 6 to 8-speed bike. A 9-speed bike uses 6.2 to 6.8 mm chains, while a 10-speed and higher use 5.8 or 5.5 chains. The best idea is to measure the current chain and then purchase the same size replacement, unless you are upgrading.
Rust Resistant
Most chain links are nickel plated, which makes them rust resistant. Nickel plating is also attractive and looks good on most bikes. However, anyone replacing one or two links rather than the entire chain should consider getting the same type of metal already on the bike. Simply oiling the chain also provides some amount of rust resistance as well.