Feidaxin FD-150A/450A Programmable Compact Transceiver
Feidaxin FD-450A is a UHF (VHF FD-150A) Two-Way Radio from in China.
FD-450A covers 400~470MHz, FD-150A covers 136~174MHz. The Radio requires no computer/external device to program. TX/RX independent 99 Channel Memory capacity with 50 CTCSS, 104 DCS. A very rugged build radio, professional use in mind.

▲ Rugged Build
FD-450A is very well built around Aluminum Alloy chassis inside. Case housing is thicker than most of other radios. The radio is a bit bigger and heavier than others due to large 6.0v 1200mAh Ni-MH battery pack; nearly 50% of volume.
▲ Easy to read Alphanumeric LCD
Blue backlit large Alphanumeric LCD is easy to read and navigate settings. Viewing angle of LCD is set correctly so that LCD is legible when held by hand. Keypad tone corresponds to volume level and can be turned off.
▲ 50 CTCSS & 104 DCS / Auto Keypad Lock
I could see this radio was designed for Business/Professional use. Auto Keypad Lock prevents accidental changes on settings, small but useful feature for Business/Professional use. The radio is equipped with not only CTCSS but DCS (normal/inverted), making application much wider. Screw hole below remote speaker/microphone jack is to attach connector securely, another small detail for Professional use.
▼ Remote Speaker/Microphone
Motorola* type 8mm pin pitch remote speaker/microphone can be used. But exposed jack has very unprotected looking and both 2.5mm & 3.5mm jacks are not supported by housing; usually barrel of jack is inserted to the hole on housing to relief stress on jack. Stress from pull & twist of the connector goes to soldering points of jacks which is not really comforting. Probably speaker/microphone from Feidaxin is proprietary shape to fit and secured with screw, not giving any stress to jacks and covers opening fully. The radio comes with plastic cover to protect jack opening.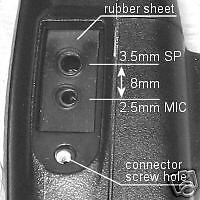 Remote Speaker/Microphone (Motorola Compatible)

*Previously stated as Kenwood 12mm type by error. Thanks [user name removed to follow ebay.co.uk guideline] for the correction!
▲ Desktop Charger
Desktop battery charging base contains a LM317 voltage regulator. Charging process is better than dumb charger but indicator is not accurate (could be just mine).
Updated: Battery charger is NOT dumb as stated before.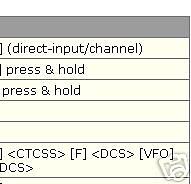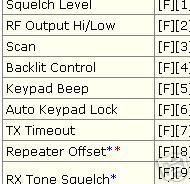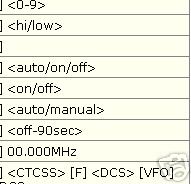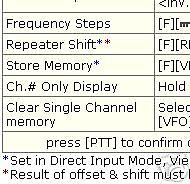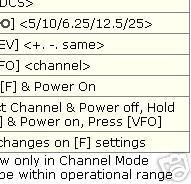 Newer FD-450A has functions written on keys, older (see picture) has just numbers.
Please visit my "about ME" page for Feidaxin FD-150A/450A Function List



This guide was originally written for eBay.ca, re-posted for eBay.co.uk categories.