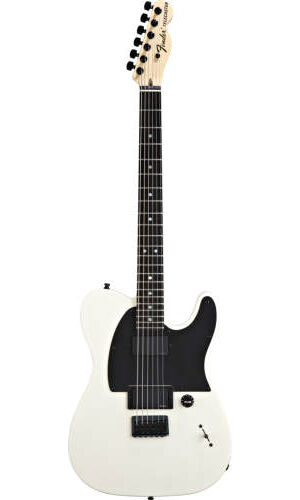 Fender guitars have long been considered the height of guitar innovation and design, and the guitar of choice for many players. Vintage models are highly collectible, often selling for considerable sums of money.
Fender Telecaster
The Telecaster is the first commercial electric guitar produced by Fender. It was first made in 1951.
Telecaster Features
The Telecaster had several innovative design features not seen before in guitar manufacture.

| | |
| --- | --- |
| Single cut-away body | Slab design rather than hand-carved to allow faster and easier assembly. Ash or alder. |
| Single-piece maple neck | Fashioned from a single piece of maple (without separate fingerboard). The neck was bolted on rather than glued to enable speedy assembly and easy repair or maintenance. Has 22 frets and a strengthening rod to prevent warping. |
| Control plate | Removable plate allowed easy access to electronics without removing strings and bridge. |
| Pickups | 2 single-coil pickups with 3-way selector switch. Changes in the pickup combinations for each switch over time. Newer models have humbuckers. |
| Bridge | Originally 3-saddle bridge, strings arranged in pairs. Now 6-saddle bridge |
| Pickguard | Originally similar to Bakelite, but plastic used on later models. |
Telecaster Models
The Telecaster is available in a number of models, including: American Standard, American Vintage, and Highway One. Squier models (made outside the USA), and MIMs (Made in Mexico), are available in Standard, Classic and Deluxe versions, at a lower retail price.
Telecaster Bass Guitars
In 1951 the Precision Bass was introduced, based on the Telecaster design, and intended as a companion to the Telecaster. This was followed by the Telecaster Bass in 1968 which was upgraded in 1972, discontinued in 1979 and reintroduced in 2007 as a Squier.
Fender Stratocaster
The Stratocaster was first manufactured in 1954, and has become one of the most iconic guitars ever produced.
| | |
| --- | --- |
| Custom contour body | Innovative streamlined design, including double-cutaway, extended upper horn, recessed upper body, and chamfered lower right body, all designed for balance and easy playing. |
| Single-piece maple neck | Single-piece neck on early models, which was abandoned but later reintroduced. Slab neck on early models replaced by C-neck. Peghead has a dog leg shape. |
| Fingerboard | Rosewood finger board, with clay inlay dots on early models, pearl dots on later versions |
| Pickups | Originally 3 single-coil pickups with 3-way switch. Later models upgraded to humbuckers and 5-way switch. |
| Bridge | Floating tremolo bridge, could be manipulated by tremolo arm for signature bending of the pitch. Fixed bridge version called a hard tail. |
| Pickguard | Originally thermoplastic and single-ply, but later version had 3 or 4-ply pickguards with different plastic. |
Stratocaster Models
The various Stratocaster models include: American Deluxe, Hot Rod, and Roadworn. Squier versions are available, and the Standard range is a MIM version.
Stratocaster Basses
The Stratocaster bass is a companion guitar to the Strat, with many similar design features.
Fender Jazzmaster
The Jazzmaster was conceived as a superior guitar to previous models with upgraded features. Introduced in 1958 it was originally aimed at jazz players, but soon adopted by rock musicians. In 1980, it was withdrawn, but reissued in 1984 as a Squier model, based on the 1962 design.
Jazzmaster Features
This guitar had several features aimed to make jazz playing easier.
| | |
| --- | --- |
| Offset waist body | Intended to offer more comfort to seated players. Ash, alder, and basswood. |
| Two-piece maple neck | Very early versions had a one-piece neck but soon became two-piece. |
| Fingerboard | Rosewood fingerboard with clay dots. Additional binding in 1965, and clay dots replaced with pearl in 1966. Optional maple fingerboard offered in mid-70s. |
| Dual circuit | Could change settings between Lead and Rhythm. |
| Soap-bar pickups | Wide white pickups, single-coil. |
| Bridge | Floating tremolo bridge. |
| Pickguard | 4-ply tortoiseshell (1958-59 have a gold pickguard) |
Jazzmaster Models
Models for the Jazzmaster include the Select Carved Maple Top, the American Vintage '65 and the Classic Player. MIM versions are also available (e.g. the Blacktop), and signature editions featuring the set-ups of famous Jazzmaster guitarist can also be obtained.
Jazzmaster Bass
The Jazz Bass was introduced in 1960, as a Deluxe partner to the Jazzmaster. There are several models, including the American Series, American Standard, and Highway One. Limited editions are also available.
Fender Jaguar
Fender introduced the elite Jaguar in 1962. It was discontinued in 1975, but reintroduced as a Squier in the mid-80s, and as a USA version in 1999.
Fender Jaguar Features
The Jaguar grew out of the Jazzmaster, and so has several aspects of the Jazzmaster design.
| | |
| --- | --- |
| Offset waist body | Similar to the Jaguar. Made of alder. |
| Maple neck | Shorter than the Jazzmaster with 22 frets. Some models had neck bindings. |
| Fingerboard | Rosewood fingerboard |
| Dual circuit | Could change settings between Lead and Rhythm, but more complex than the Jazzmaster |
| Pickups | Smaller single-coil pickups than the Jazzmaster. Later versions had humbuckers. |
| Bridge | Floating tremolo bridge. Rubber bridge guard available to act as a mute. |
Jaguar Models
There are several Jaguar models, both from the original production run, and the reissued models. These include: The Blacktop, The Jaguar Special HH, the Classic Player Special, and the Baritone custom, as well as Squier and signature versions.
Jaguar Bass
The Jaguar Bass and the Jaguar Deluxe Bass have similar features to the Jazz Bass, but include some higher-end features. There are several versions available, including the Pawn Shop Reverse and the Modern Player, as well as the Squier Vintage Modified range.
Fender Mustang
Originally marketed for students, the Fender Mustang was introduced in 1964, withdrawn in 1982, but reintroduced in 1990.
| | |
| --- | --- |
| Offset waist body | Similar to the Jazzmaster. Original models usually poplar, but some re-issues use basswood. |
| Two neck lengths | Shorter neck (22.5") had 21 frets, but the 24" with 22 frets was more popular |
| Pickups | Two single-coil pickups, without selector switch – option to use singly or in parallel. |
| Bridge | Floating tremolo bridge with a specially designed tremolo arm, linked to unique tailpiece. |
Fender Mustang Models
In addition to the original Mustang, in 1969 Fender designed the Competition Mustang, decorated to echo the Mustang racing car, and available in several colours. When re-issued, models included the Pawn Shop series, and signature models, as well as a Squier.
Fender Mustang Bass
This guitar was designed to match with the Mustang, with a newly designed body and 30" scale.
Fender Jagmaster and Jagmaster Bass
The Jagmaster is a Squier model, introduced in the late 1990s, and combines elements of the Jaguar and Jazzmaster. The Fender Jagmaster bass is a companion to the Jagmaster, and features similar design elements. Both guitars are aimed at beginners and students.
Fender Bass Guitars
The first specifically designed bass guitar was the Precision Bass, launched in 1951. The Fender Bass VI guitar followed in 1961, with many of the features present of the Jazzmaster and the Jaguar, but with six strings instead of the usual four.
Buying a Fender Guitar
Before buying a Fender guitar, it is important to find out as much information as possible about different models. The choice of guitar will depend on the reason for buying it; the requirements of someone buying a guitar to play will be very different from someone looking for a vintage guitar for a collection.
Players
Take some time to research the specifications for each guitar, and try playing different models to see which is most suitable. It may be best for a beginner to choose a less expensive guitar, such as a Squier or MIM, at least until they are sure they will continue to play. More experienced players will probably have a clearer idea of their requirements. Players also have the choice between buying a new guitar, or opting for a used guitar which may allow them to buy a higher-grade guitar at an affordable price. However, when buying a used guitar, always make sure to check that the guitar is a genuine Fender before making a purchase.
Collectors
Collectors are most likely to be looking for vintage guitars (made before 1980), so not only is it important to research the features of each model, but it is also essential to find out how to ensure the guitar is a genuine vintage Fender. Checking details such as serial numbers, codes, and also knowing the specifics of the original models will help to ensure that a guitar is not a fake. If possible, examine the guitar before buying, but for an online sale, ask the seller for plenty of information (including photos), before committing to purchase.
Buying a Fender Guitar on eBay
To buy a Fender guitar on eBay, begin at the home page, navigate to All Categories and select Musical Instruments. Under the Guitars menu, click on Electric, and then select Fender under the Brand menu. The category can then be browsed. Alternatively, carry out a keyword search for a specific model.
Conclusion
There is no doubt that Fender guitars are considered to be brand leaders, so buying a Fender guitar will ensure that a buyer has a high-quality instrument giving pleasure for many years to come.