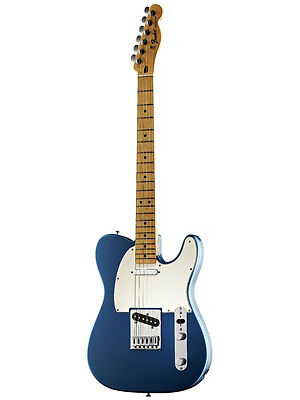 A Fender Telecaster is an electric guitar produced by musical instrument manufacturer Fender, bearing the iconic Telecaster body shape and configuration. A versatile instrument, the Fender Telecaster is popular across several genres of music, from rock and country to blues and jazz. Its versatility promotes the Telecaster as ideal for players of all levels, from beginners to professionals, whilst the enormous range of Telecaster models and variants ensures a suitable instrument to suit every taste and budget. Finding a reputable seller and being confident in the condition and configuration of a good-quality instrument that will provide exceptional sound quality is key to ensuring many years of enjoyment.
About Fender Telecasters
Fender began to produce solid-bodied electric guitars in 1950. Following structural redesigns of original prototype guitars, the first commercially successful guitar of its kind was named the Fender Telecaster. Featuring a contoured, single cutaway body shape, dual single-coil pickups, an easily adjustable neck and Fender's trademark headstock, the Telecaster rapidly gained popularity across many musical genres. The features of modern Telecasters remain largely unchanged from those of their 1950s ancestors.
The dual pickup configuration contributes to the Telecaster's success, as it enables the instrument to produce two distinct sounds. The bridge pickup produces a high output, emphasising treble tones, creating the Telecaster's signature twang of bright, clean notes, while the neck pickup allows for warmer, more mellow tones, particularly suited to blues music.
Choosing a Fender Telecaster
There is no disputung the fact that personal taste plays the deciding role when choosing a guitar. It is also necessary to keep in mind the following factors, too.
Vintage Fender Telecasters
The history of the Fender company has impacted the relative quality and condition of the instruments produced across certain eras. Fender Telecasters produced before 1965 were manufactured by the original Fender Electric Instrument Company, and are considered by musicians to be superior-quality guitars. The most valuable vintage Fender guitars were produced during this era. From 1965 until 1985, Fender guitars were manufactured by CBS, and cost-cutting techniques rendered the Telecasters produced during this era less valuable, with poorer configurations. From 1985, the Fender Musical Instruments Corporation reclaimed the company and manufacture of Fender electric guitars, resuming high-quality production based on Fender's earlier, classic designs.
| | |
| --- | --- |
| Broadcaster | The first version of the Telecaster was known as the Broadcaster, but conflict with products from another musical instrument manufacturer led to the model's name being changed to the Telecaster. This was one of the earliest Fender guitars, and the first to incorporate a truss rod in the neck of the guitar. |
| Pre-CBS | A solid-wood body, in ash or alder, with two single-coil pick-ups, this classic Telecaster model was produced with a variety of pickup selection circuits. The wiring configuration, and date stamped or written on the guitar neck, can help to identify a vintage Fender Telecaster. The guitars produced during these era are the most valuable to a collector. |
| CBS | Alterations to original designs include a notchless body shape, humbucking pickups and active electronics featured on the short-lived Elite Telecaster, and can be identified by a different logo design. |
| Post-CBS | Returning to original designs with modern interpretations, Fender Telecasters were again produced as high-quality guitars with versatile sound. |
Reissue Fender Telecasters
Inspired by the popularity of many of their vintage models, Fender manufacture a range of electric guitars that are reissues of previous instruments, built to modern design specifications. Most notably, the American Vintage and Vintage Hot Rod series promote classic Telecaster models in all-new materials, with modern configuration and a vintage style. Research each item for details concerning colour, configuration, and expected sound.
Modern Fender Telecasters
The modern Fender Telecaster typically features a 22-fret fingerboard and a neck which is adjustable at the headstock end. Standard modern Telecasters have a 6-saddle bridge, flat bridge plate, and dual pickups, though many variants of the standard model also exist. Fender also produce a variety of series of guitars, each with its own particular style and timbre. Research particular Fender Telecasters to identify a suitable sound, look, and price.
Telecaster Variants
The following table briefly outlines the features of the most common Fender Telecaster variants.
| | |
| --- | --- |
| Thinline | First produced in 1969, the Thinline Telecaster is a semi-hollow electric guitar, also referred to as a solid guitar with body cavities. Vintage Thinlines are available in either mahogany or ash, and modern Thinlines are also manufactured. |
| Deluxe | Featuring two Fender Wide Range humbucking pickups, a large headstock and maple neck, some Deluxe Telecasters also include a tremolo bridge option. |
| Custom | Using a denser wood, resulting in a heavier instrument and greater sustain, the Telecaster Custom was designed with humbucking pickups to significantly reduce interference. |
| Plus | The Plus models were released following repurchase of the company from CBS, and feature a range of pickups to optimise sound, including humbucking, Stratocaster, and Telecaster pickups in modern models. |
| Tele Jr | While it shares many aesthetic features with the classic Telecaster, the Tele Junior has similar construction and electronic features to the Gibson Les Paul Junior electric guitar. It was produced by Fender in the early 1990s in a limited run of 100 units. |
Squier Telecasters
Fender originally began to produce electric guitars under the Squier label to compete with comparatively inexpensive versions of their most popular shaped guitars, the Stratocaster and Telecaster. Squire electric guitars are more affordable variants of original Fender instruments, and are mostly manufactured in Asia. The lower cost of the instruments makes them an ideal guitar for beginners. Squier similarly offer variations across series, including the Signature series, featuring reissues, and replica guitars.
Used Fender Telecasters
A well-cared for second-hand guitar ought to retain its sound quality and aesthetics, and so be almost as valuable to a guitarist or to a collector as a brand item. When buying a used Fender Telecaster, identify the particular model by its features. Where possible, always view an item in person, to establish its condition first hand, before making a purchase. Used guitars may have some cosmetic wear that will not affect the sound quality of the instrument. However, any warping of the wood or damage to the electronics will have a serious detrimental effect on the guitar.
Left-handed Telecasters
Left-handed guitars feature the same configuration as the standard model, but are flipped to enable easier and more comfortable play for left-handed players. Unless a guitar is described as being left handed, buyers should assume it is the standard, right-handed version. Left-handed players can also play right-handed guitars; the left-handed version simply presents another option.
Buying a Fender Telecaster
Whether purchasing a new or vintage Fender Telecaster, it is important for a buyer to select the right guitar. Research models and their variants to identify the required look and sound of the instrument. Wherever possible, view a Fender Telecaster in person before making a purchase, to assess the condition of the item. Be aware that customised guitars might not include original Fender features.
Identify a trustworthy seller and compare a range of items to ensure an easy transaction, resulting in a good purchase at the best price. Fender Telecasters can be very valuable items, so discuss payment options with the seller. A Fender Telecaster is a delicate item, so ensure that suitable delivery arrangements are made.
There are many essential and non-essential accessories that a guitarist will need to effectively play a Fender Telecaster, including amplifier, pick or plectrum, guitar strap, and effects pedals. A guitar case is useful for storage and transportation. These items are not usually included with the sale of a Fender Telecaster guitar. Accessories might be available to purchase with a guitar as part of a kit, otherwise these items will need to be purchased separately.
Find Fender Telecasters on eBay
To purchase a Fender Telecaster, head to the eBay homepage. Begin by opening the All Categories tab and clicking on the link for Musical Instruments, followed by Guitars. From this page, click on Electric, then under Guitar Type click the link for Electric Guitars. Refine the listings by choosing Fender from the Brands category, and Telecaster under Guitar Subtype. Browse all available item listings, or further narrow the search by using other sub-category options on the left side of the page. Another approach is to search directly for an item by entering specific words into the eBay search bar at the top of any page. example, to find an unused left-handed Fender Telecaster, type "left-handed Telecaster new" into the search field.
Conclusion
A Fender Telecaster is a high-quality electric guitar that has been in continuous production since 1950s. As a versatile instrument it is popular across many music genres. Many variants of styles of Telecaster exist to suit all tastes and budgets, for players and collectors. Research particular models to identify desired sound and look. Make efforts to view a Fender Telecaster before purchase, and conduct research to be confident in making a good purchase from a trustworthy seller. Be aware that accessories may need to be purchased separately.