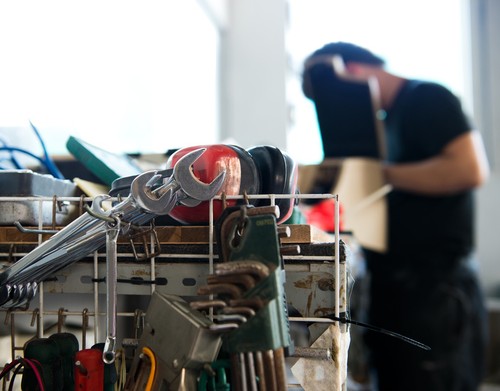 There are times when products marketed towards business and industrial customers are also appropriate for domestic use. And while do-it-yourself repairs and renovations may be the first thing that comes to mind, there are several more applications for business and industrial items in the home. In addition, consumers can take advantage of durable items and discounts for buying in bulk or by the lot.
Items can be grouped into several main categories, including building materials and supplies, electrical equipment, industrial tools, office supplies and equipment, stationery and paper supplies, and packing and posting supplies. Products range from sophisticated electronic components, to powerful generators, to basic supplies like staplers and envelopes. When purchasing a business or industrial item for domestic use, buyers should verify that it is safe and appropriate for consumer use. Following these steps helps people safely and successfully incorporate these items into their homes.
Building Materials and Supplies
Do-it-yourselfers can avail themselves of industrial building materials and supplies for all their home repair and renovation needs.
Materials and Tools
Whether adding on to a house or updating its look, bricks, flooring, roofing, walls, and windows and glass are the fundamental materials necessary. Buyers can opt for reclaimed items, such as Victorian bricks or elegant hardwood flooring, or they can opt for new materials. To complete their project, they may also need tools and supplies such as brick lifters, carpet protectors, ladders, and more.
Painting
Giving a fresh coat of paint to the exterior of a house can dramatically improve its appearance; likewise, the colour of interior domestic spaces plays a significant decorative role. Painting supplies help realise these projects, no matter how large or small. In addition to paint, these include primers, varnish, dust covers, brushes, rollers, and more.
Cabinetry and Woodworking
Other interior projects can also benefit from industrial tools and supplies. Carpentry supplies let homeowners add cabinets, moulding, and more, for one-of-a-kind details. Those with a woodworking area at home can look for wood and woodworking supplies, which are perfect for the creations they have in mind.
All the Rest
For a comfortable, functional living space, insulation, electrical work, and plumbing supplies are all essential. When planning repairs or additions, homeowners can find many items from industrial suppliers.
Electrical Equipment
Those with a knack for electrical work, whether wiring a house, fixing equipment, or building their own, can benefit from a wide range of industrial items for their projects.
Components and Supplies
Electronic components are individual devices that perform a vital function in a larger electronic system; they do so by affecting the electrons or their fields. The following chart outlines some of the most common electronic components.
| Component | Description |
| --- | --- |
| | Passive, two-terminal components used to store energy; have two or more electrical conductors separated by insulator, known as dielectric; have many forms and applications |
| | Have conductivity between that of a conductor and an insulator; often used in signals, switching, and energy conversion |
| | Integrated circuits (ICs), or microchips, feature a set of electronic circuits on a single plate made of semiconductor material; ubiquitous in contemporary electrical devices |
| | Used to transmit electric current from mains to a device, or to transmit electrical signals from one component to another |
| | General category to describe components that do not supply energy themselves |
| | Light-emitting diodes; movement of electrons across the surface of a semiconductor produces light |
| | Control flow of electrical current to turn devices on and off |
| | Static devices that transfer energy via induction; have a wide range of applications in electronics and electrical power transmission |
These components come designed for different applications, so buyers should always verify that the product they are purchasing is appropriate for their intended use.
Circuit Breakers
Circuit breakers help protect home electrical circuits from damage caused by short circuits or overload. If they detect a fault in the circuitry, these switches create an interruption, which discontinues the flow of electricity. Circuit breakers are essential for the safe functioning of a home electrical system. They come designed for various voltages, so buyers should look for items labelled for consumer use to ensure they are designed for domestic installation.
Manuals and Publications
For at-home electrical work, knowledge is crucial. Manuals and publications can help do-it-yourselfers educate themselves on subjects like domestic electric wiring, regulations, and more.
Industrial Tools
While many industrial tools are too large and powerful for consumer use, others are suitable for the household. These range from tools for cutting wood, to supplying power for a home or appliance.
Wood Cutting and Drilling Supplies
Those who work with wood require tools for cutting and shaping their material; these include cutters, saws, saw blades, and lathes. For household drilling needs large and small, there are power drills, drill bits and chucks, and more. And to guarantee precision, measuring tools can help for all kinds of projects.
Compressors
Air compressors convert energy from an electrical, petrol, or diesel source into kinetic energy. They do this by compressing and pressurising air, which can then be released on-demand. Air compressors are used to power air compressor tools, such as a nail gun, which are typically faster, stronger, and lighter than traditional tools. For home use, consumers should shop for portable air compressors, which should be sufficiently powerful for their use. Such compressors are either light enough to carry by hand, or have wheels for easy transport.
Generators
Generators for domestic use can serve either as standby power sources during electrical outages, or to power certain appliances or equipment. Portable generators that run on unleaded petrol are recommended for standby, portable, and recreational use. Stationary generators are permanently installed and require an existing supply of liquid propane or natural gas.
Misuse of generators can result in serious injury or death; for that reason, consumers should always read the product manual closely and follow safety instructions carefully.
Office Supplies and Equipment
Whether setting up a home office, or simply looking for the convenience of machines like faxes or copiers, consumers may find that certain office supplies and equipment come in very handy.
Copiers, Fax Machines, and Shredders
Having the ability to copy documents at home is very convenient. Consumers can opt for copiers designed to handle smaller volumes, and stock up on copier supplies such as toner cartridges.
A fax machine at home saves time and money for those who frequently communicate via fax. Fax film, paper, and ink, are other supplies they need to help things run smoothly.
When it comes time to dispose of sensitive documents, such as bills or bank statements, shredders let consumers do so securely.
Office Equipment Basics
Additional office equipment are common household items. Stationery and other paper supplies are common staples of any household. Calculators, staplers, and mousemats all help make basic tasks easier, whether work-related or not, while diaries and organisers keep help people keep dates and appointments in order.
Projector Screens and Projectors
Watching films and television on a screen is a great way to enjoy high-definition (HD) material. Consumers can create their own home cinema with a projector and screen. However, they should take care to select a projector optimised for home use, since projectors optimised for office and conference presentations may be less suited to the specific needs of high-definition media.
Office Furniture
Office furniture, while generally rather sterile for use throughout the house, is quite functional when a space calls for organisational and ergonomic furniture. Items like office chairs, desks, and computer workstations are perfect for a study. Bookshelves and filing cabinets keep things organised and within easy reach, while more attractive pieces are perfect for displaying photographs and memorabilia anywhere in the house.
Packing and Posting Supplies
Having a regular supply of packing and posting materials at home makes postal correspondence easy. When preparing to mail packages, there are several options for both package type and internal packing. Boxes are probably the most common, whilst wrapping paper is good for items already boxed, and specialised media mailers are for those who regularly post items like records, CDs, and DVDs. To protect items during shipment, it is advisable to use additional filler such as packing peanuts, bubble foam wrap, or wrapping paper. Packing tape holds the whole item together securely. Of course, if an item fits, using an envelope is an easy solution: they come in different sizes, and may have features like padding or self-adhesion.
For special occasions, gift bags create a polished, festive packing. Tissue paper adds colour and volume, and protects delicate articles.
General Tips for Buying Business and Industrial Items for Domestic Use
While in many instances business and industrial items can be safely and appropriately applied to domestic use, buyers should be aware that certain products may be specifically designed for larger-scale operations, and thus may be undesirable or even unsafe for home use.
This is especially true with respect to electrical equipment, whose power requirements and/or output may be above what is available and safe for home use. Buyers should exercise caution and always pay attention to product specifications and instructions. When in doubt, consult a professional for advice.
Building materials intended for commercial use may be designed to withstand much more use than they would receive in a household. For example, flooring or carpeting may be much tougher than necessary for light foot traffic at home; this, in turn, drives the cost up. Look for items that indicate they are for consumer or domestic use.
Quantity and size are additional issues. While buying bulk or by the lot is a good way to economise, consumers should verify quantity or size prior to purchasing and ask themselves whether they are realistically able to use, or store, so much of a certain item. If not, it may not be such a savings, after all.
Where to Buy Business and Industrial Items
Consumers interested in purchasing business and industrial items for home use can shop at a number of different places. Browsing local office supply shops and suppliers for home and industrial materials lets consumers have a look at items firsthand. Online, they have a wide range of options, including purchasing from manufacturers or retailers, or on websites like eBay.
How to Buy Business and Industrial Items for Domestic Use on eBay
If you are looking for business and industrial items for domestic use, eBay is a very good resource. With over 100,000 users, the selection of items is extensive and prices stay competitive. To start, go to eBay's home page and type keywords into the search bar. For example, you can enter "portable generator" or "used lathe". Once you have your search results, you can further refine them by factors like price range, seller location, and more.
When you have found an item you are interested in, take a few moments to read the description thoroughly. Make sure you note important details such as quantity, item condition, and whether there are any other included materials or items. With electrical equipment and machinery, be particularly scrupulous when reading the description, so you understand what you are buying.
Getting to know the seller is also advisable. You can do so by looking at their feedback rating and browsing comments by other buyers who have purchased items similar to the one you are considering. Top sellers earn their status by providing excellent customer service on a high volume of sales.
Conclusion
Business and industrial items are not always strictly for commercial use: some can be helpful in the home as well. With so many different items available, the applications range from from do-it-yourself home repair to basic household tasks.
Those skilled enough to perform renovation and home repair can utilise building materials and supplies, such as flooring, paint, insulation, and plumbing supplies. For electronic whizzes, electrical equipment lets them perform repairs and restoration on appliances, or build their own as a hobby or profession. Industrial tools can be used for larger, intensive tasks, such as drilling, woodworking, and generating power. For organising and communication, consumers can choose certain office supplies and equipment to use in their study. Finally, for packing and posting needs, stationery and paper supplies are excellent to have on hand at home.
When purchasing industrial or business items for home use, buyers should take a few measures to be sure that the item and quantity suit them. Following these basic steps helps them find the right items for all their domestic needs.