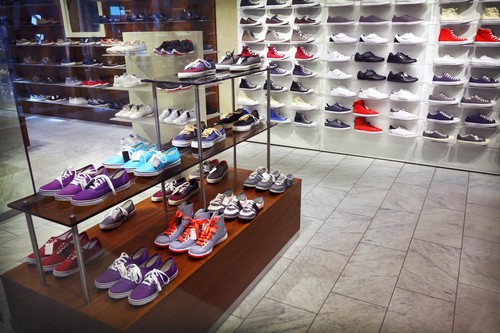 In every kind of retail business, retail display equipment is a key element of the company's success. The varieties of equipment that have been developed to carry different kinds of merchandise are truly staggering, but the end outcome is the same: The business owner has acquired one of the key tool sets necessary to optimise the profits of the company.
Retail displays are chosen to optimise the display of merchandise within a given floor space; to reinforce the company's brand; to encourage shoppers to linger; and to present key items at the point of sale. Specific kinds of retail display equipment provide for display of certain types of items, display in specific store locations, and maximum visibility of the items being displayed.
The store owner seeking to add value through selection of the best retail display equipment should consider the above issues when shopping the equipment marketplace. A large, diverse equipment market such as eBay offers the needed display equipment at fair prices.
Success Goals for Retail Display Equipment
Merchants seeking retail display equipment, in whatever branch of retail, typically have several goals for their retail display equipment. Accomplishing these goals with retail display equipment can help make the success of the retail establishment more certain.
Optimise Merchandise on a Given Floor Space
It is an unusual mercantile environment where floor space is not at a premium. Some high-end boutiques use a more open floor plan to suggest the exclusivity of each item purveyed; but in general, retailers must attempt to maximise the sales per square foot of floor by maximising the merchandise per square foot.
Reinforce the Brand
No one needs to read the name to know they are inside Marks and Spencer. The same goes for the 6,000-some businesses that make up The Cooperative. Consistent colours, lettering styles, fixtures, mannequins, and more create an instant sense of recognition.
Whether a retail food business or retail ironmongers, consistent display fixtures become part of a company's visual brand identity. This is why boutiques are so likely to choose fixtures in with custom coloured finishes. Painting pegboards in the logo colour seems like an odd thing, especially since pegboards are almost entirely covered with product once the displays are hung. Still, it can have a subtle influence on the customer's sense of being present in a specific company's store.
Encourage Shoppers to Linger
A well-stocked, visually appealing display is typically believed to encourage shoppers to linger, helping to promote point-of-sale spending, which typically accounts for 60 per cent of all buying decisions. A study on behalf of U.S. cereals brand General Foods found, paradoxically, that a quality display of their cereals allowed people to quickly find what they wanted to purchase, reducing the need to linger while increasing overall product sales.
Present Key Items at the Point of Sale
A quality display presents key items at the point of sale. These include small "impulse" items with high markups that help to ensure the overall profitability of the enterprise. Countertop risers for lipsticks in fashion stores, magazine and candy bar racks in food stores, colourful pens and USB drives in stationery stores all catch last-minute buyers and last-minute sales.
The Core of Retail Display
Most kinds of retail display equipment are not specialised to a single retail business. The same wire bin that carries large plush toys in a children's store is filled with kiddie footballs in a sport shop. Therefore, instead of listing equipment by industry, the listing below of core retail display elements is by type, with reference to industry where appropriate.
Lighting
Nothing can be hung or set on lighting, but every display looks terrible without it. Lighting is the single most important part of every retail display. Whether simple overall bright ambient lighting is selected or focal lighting in a high profit zone, lighting helps customers actually see what they want to buy. In new construction, "green" lighting designs use roof and clerestory windows, LED lights, and lights on timers to reduce the cost of sufficiently lighting retail space.
Slatwall and Gridwall Systems
Many stores rely on slatwall or gridwall systems to manage merchandise around the perimeter of the sales floor. These systems are very versatile. Slatwalls may be installed in a range of colours and materials. When the metal-supported slatwall is chosen, slatwall can carry about 27 kg in product weight. Unsupported slatwall takes only about 16 kg.
Shelving, Racking, Other Accessories
Shelves, racks, baskets, and other kinds of display accessories are produced in wire, metal, and various fibreboards. They are designed to attach to slatwall, gridwall, and pegboard systems. Some of the kinds of products they are used to display include the following: clothing, hardware, dry goods, groceries, books.
Free-Standing Racks
Free-standing racks come in a variety of configurations. Some are designed for permanent installation, while others may be moved about the store as is convenient for promotions. Some are open racks designed for hanging large items, such as clothing or automotive exhaust parts, while others may hold merchandise with built in slots, pegboards, or other components. These kinds of racks are used for merchandising a variety of materials, including these products: clothing, carpet samples, books and magazines, and pegged products.
Clothes rails are typically wheeled and offered at various lengths up to 6 feet. Some clothing sales fixtures are designed with a circular rack, and some with a cross or broken cross. The racks used for magazines, books, and carpet samples offer slots to hold the items being sold. Pegged products may be sold from installed stationary racks or from rolling racks, which are most often two-sided or four-sided.
Shelves, Gondolas
Sturdy retail shop shelving and gondolas can provide very stable support for heavy items. Some specially designed versions can help support store branding or aisle branding with their use of colour or material.
Retail Display for Specific Item Types
Some kinds of display equipment are designed to handle certain types of items. Several of those are noted below.
High Value Items: Display Cabinets and Counters
Glass display cabinets are typically upright cabinets with glass on the front and sides. They often have a lock to allow the retailer to control access to the merchandise. A glass showcase counter is used at the point of sale, often for such merchandise as jewellery or high value art sculpture. The clerk has full control of the merchandise from the lockable rear opening of the counter.
Light Items: Free-Standing Wire "Dump" Bins
The free-standing wire dump bin may be sized as large as 50 cm by 50 cm by 1 m high. These light bins, which fold down when not in use and sometimes designed for stacking, hold lightweight items including inflated balls and stuffed toys.
Clothing and Accessories: Mannequins
Mannequins are offered as full-body models and as almost any body part: torso, legs, hands, heads, and so on. They also come in an assortment of colourings and coverings. Some store chains have their own proprietary mannequin characters, such as the Gap's Old Navy brand, which has yet to open stores in the U.K. Using mannequins consistently is one way to add value by helping to brand your store's visual identity. Be aware that a mannequin with a poor quality wig creates a poor brand impression. Better a contemporary mannequin with no features and no hair.
Cold-Stored Foods: Refrigerators and Freezers
Refrigerators and freezers used in retail sales are often large upright models with clear glass doors, allowing the customer to see the products inside. Some are single door models; others may have double doors; some doors pull open and others slide. Serve-over-counter refrigerator models are for service of such items as bakery goods. An ice cream display is a specialised serve-over freezer for ice creams and gelati.
Self-Service Items: "Pick N Mix" Stand
The Pick N Mix stand is a clear acrylic display used for attractive display and self-service of several kinds of items. Some of these are bulk foods, "penny" candy, small toys, and party favours.
Lower Cost and "Impulse" Items: Countertop Racks and Risers
Countertop displays are used to create eye-level displays. Often, they are used for impulse items, such as lipsticks and nail polishes. In some departments, they carry the less expensive items in a line, such as the necklace and earring sets that do not need to be kept inside the glass display case.
Focal Displays: Market Barrows
Market stalls and the associated tables, wind curtains, and so forth, typically provide the shelter needed for vendors selling their goods at outdoor markets. Market barrows are a different matter. Although designed for outdoors sales, they also can provide an interesting focal point indoors for displays of such items as flowers, fruit, or other colourful items when they fit with the business' brand.
Buying Retail Display Equipment on eBay
The variety of retail display equipment on eBay is so broad that an owner seeking to fit out a new shop may wish to browse a bit before committing to explore specific categories on offer. Once the range of opportunities has been viewed, specific items of interest may be selected using the search window. Each search identifies a number of items offered by different sellers.
Minimising Shipping Costs
Some large or heavy items may be offered for "Collection Only". To find out whether these items are near the buyer's location, it is possible to use the "Sort by" menu to prioritise those items that are "Nearest first". Those items located closest, by postal code, appear first in the selection, allowing the buyer to determine whether they are close enough for collection. It is also possible to sort items with "Price plus P+P: Lowest First" to consider all costs at once. Another way to minimise shipping costs is to make as many purchases as possible from a single seller.
Conclusion
Selecting the initial retail display equipment for a business can feel intimidating. The range of options is quite broad. One key is to identify a specific material or colour for those items that are most visible to customers. Mixing gridwall and slatwall is possible, but using harmonious elements is essential, as is placing them in ways that appear intended. The same is true in selection of free-standing display elements. Many retail stores use wire bins along with rigid gondolas and shelves, but the selected items are still chosen for overall visual harmony.
Underlying all of these choices is the need to make display add value. The owner wants to optimise merchandise on a given floor space. The owner aims to encourage shoppers to linger through an appealing presentation of products, to present key items at the point of sale so impulse buys are more likely, and to reinforce the brand through placement, colours, and overall design. The store owner seeking retail display equipment that add value to the business cannot do better than to search the generously stocked eBay marketplace.