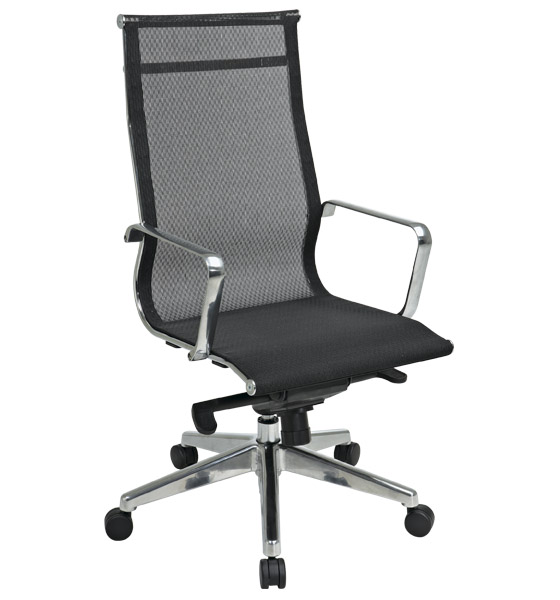 In many cases, workers spend more time in their office chairs than they do on most other pieces of furniture. Because of this, it is essential that office chair buyers get the best quality office chair possible depending on their budgets. Luckily, buyers can visit eBay to source a large selection of office chairs at affordable prices.
On eBay, buyers can find new and used office chairs, which include a variety of features. Although used office chairs are typically lower priced, buyers should take some time when visiting eBay to comparison shop between new and used office chair models. Used office chairs must be evaluated for condition issues that can impact the integrity of their comfort features, an issue that buyers do not face when purchasing new office chairs. All office chairs should match users' statures as well as the type of work they perform daily. Since office work is frequently repetitive, choosing the wrong office chair can lead to health issues like numbness in the extremities, aches, pains, and fatigue. To avoid any problems, office chair buyers should evaluate potential purchases based on a chair's materials, design, and features.
Office Chair Materials
The materials used to construct an office chair can range from soft fabrics and foams to hard plastic and steel depending on the construction component of the chair. Before purchasing an office chair on eBay, buyers should consider how materials impact the chair's stability and comfort.
Office Chair Seat and Back Materials
Typically, the seat and back of an office chair is constructed with the same materials. This is because the weight-bearing seat and back of an office chair requires comfortable materials for long-term use.
Mesh
Mesh office chairs include backs and seats constructed of heavy-duty synthetic mesh materials. Because the mesh is stretched tightly onto the chair's seat and back frame, the mesh provides a buoyant, shaped surface on which to rest and sit. Mesh seats and backs supply a chair with a high level of air circulation, which increases a chair's comfort and cooling capabilities.
If buyers are shopping for a used mesh office chair on eBay, they should thoroughly evaluate the condition of the mesh before purchasing. Any holes or worn areas can impact the durability of the mesh and may require repair. Additionally, buyers should check along the frames of the chair's back and seat to see if the mesh has pulled away from the frame in any areas.
Foam
Foam can be added to office chairs, which include fabric coverings instead of mesh to fashion the chair's seat and back. Moulded foam is a common type of foam that supplies an adequate amount of support for many situations. High resilience is an improvement over moulded foam chair seats and backs because high-resilience foam is thicker and can contour to a user's body shape. Memory foam is the highest grade of foam used in office chairs and provides dense, contouring support for a chair's users. When purchasing foam office chairs on eBay, buyers should choose the highest quality foam chair they could afford to get the best support.
Fabrics and Leather
To cover foam office chairs, manufacturers can use a variety of fabrics and leathers. Leather is considered a luxury for office chairs but may not provide the breathability needed during hot and humid weather. Imitation leather is easier to maintain than real leather, but suffers from the same density issues that impact comfort in muggy weather. Woven fabrics include natural and synthetic fibres to create a breathable, durable sitting surface. Buyers shopping on eBay for fabric or leather office chairs should keep environmental conditions, like room temperatures or humidity, in mind to ensure they choose an office chair that is comfortable year-round.
Office Chair Hardware and Structural Materials
To create the hardware and structural components of an office chair, manufacturers employ metals, plastics, and wood materials. Although plastic components are acceptable in non weight-bearing areas of an office chair, they are generally too light to provide stability at the bottom of a chair. Additionally, components that allow users to adjust a chair's height or back should be made of metal to support the weight of users once they return to their chairs. To help buyers compare the stability of office chair models when shopping on eBay, buyers can contrast the weights of a select grouping of office chairs before deciding which chair to purchase. Generally, heavier office chairs provide more stability.
Office Chair Design
To provide office workers with a number of office chair options, manufacturers produce a number of different types of office chairs. Task chairs are highly adaptable and allow users to adjust their chairs depending on the task they are performing at any given time. To allow users freedom of movement, task chairs frequently swivel from side to side and glide across office floors on casters. Executive chairs incorporate the same features as task chairs, but have added comfort features, like padding and customising adjustment controls. Guest office chairs are stationary chairs that provide an office's visitors with a comfortable place to sit. Often placed in waiting rooms, reception areas, or across from workers' desks, guest office chairs lack the features, like adjustment controls and wheels, commonly found on other office chair types.
Before choosing which type of office chair to purchase on eBay, buyers should make some practical assessments of their workspaces. The size available to move behind a desk greatly impacts the type of office chair a buyer can purchase. Although buyers may want the comfort afforded by an executive office chair, for example, the additional padding of these types of chairs may make manoeuvring behind most desks cumbersome.
Office Chair Features
Office chairs can be outfitted with a range of user-friendly features. Many of these features improve a chair's safety and customisation. Additional features typically increase the price of office chairs, however, so buyers should carefully consider which features are the most essential to their needs before deciding which office chair to purchase on eBay.
Adjustable Features
To make office chairs appropriate for users with varying heights and body types, manufacturers include a range of adjustability features on some office chair models. Backrest adjustability allows users to determine both the height of their backrests and the depth of their seating position on the seats of their chairs. Adjusting the height of a backrest correctly adds lumbar support in a chair and eliminates many back problems that users can experience with ill-positioned backrests. Seat pan adjustments permit buyers with long legs to position their knees away from the front of an office chair's seat and increase their balance within a chair. Height adjustments are essential for users to position both their leg and their upper bodies so they can comfortably access the tops of their desks and computer keyboards without straining.
Armrests
Office chair manufacturers often forgo armrests when designing their office chair models. By eliminating armrests, office chairs are more adaptable to the body types of different users and can fit more easily into tight cubicle spaces. If buyers prefer office chair models that feature armrests, purchasing models on eBay which include armrest adjustment features ensures a perfect fit for any user.
Buying Good Office Chairs at Great Prices on eBay
eBay is a great source to find affordable office chairs with a range of special features. When shopping on eBay, buyers should carefully read the product descriptions that accompany office chair offerings to be certain they know exactly what they are purchasing. For both new and used office chairs, some assembly may be required before the chairs can be used. Office chair listings that require assembly should be checked to see if the purchase includes the tools required to construct the chair.
The easiest way to find office chairs on eBay is through eBay's search function. Buyers simply type applicable keywords, like "Herman Miller office chair", into the eBay search field and browse the selection of items that eBay produces based on the search words. Because office chairs are relatively large, some eBay sellers may require in-person pickup instead of offering to ship the chair via post. If buyers find this is the case with most sellers, they can limit their eBay searches to office chair sellers who are within driving distance of their locations.
Conclusion
Office chairs are indispensable pieces of office equipment that allow users to perform a range of daily tasks. Buyers who want a large selection of affordable office chairs at their disposal can visit eBay, which carries an unparalleled variety of office chairs at different price points. Choosing the correct office chair takes consideration, however, because office chairs experience a high level of repetitive use. If an office chair does not provide adequate support for a user, serious health issues can result.
Fortunately, manufacturers produce office chair models in many designs, which can meet the challenges of everyday office work. Before shopping for office chairs on eBay, buyers should become acquainted with the materials employed to construct office chairs so they can choose the best office chair materials for their work environment. The various type of office chairs manufactured have benefits which depend on their use and their location within an office. Office chair features increase a chair's adaptability to different users and promote comfort. By assessing office chair materials, designs, and features before shopping, buyers increase the likelihood of finding the perfect office chair model for their budgets when they visit eBay.