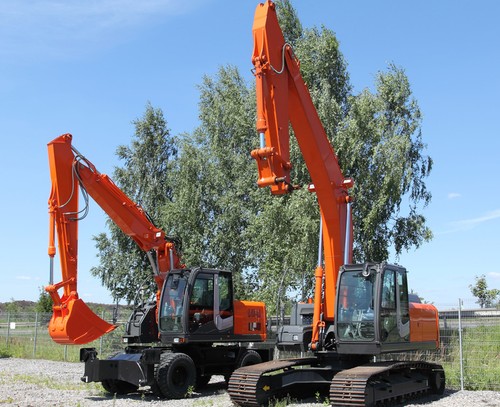 Excavators perform a variety of functions during construction, including digging a foundation, lifting and transporting heavy materials, demolishing old structures, landscaping or grading, and pile-driving. These giants of the construction site often come with a sizeable price tag, so for those interested in finding an inexpensive excavator, eBay can be an excellent resource.
The shopping process goes more smoothly when buyers have a sense of what they need. They should assess what size excavator is right for the type of construction they do, and what optional features are important to the success of their operation. In addition, it helps to have an understanding of some basic product specifications, as well as how reliable and easy-to-manoeuvre a particular model is. Researching models under consideration is a good way to help make a final decision, and buyers should also research the seller to ensure they are purchasing from a reliable, knowledgeable source. Following these steps helps buyers find a quality, affordable construction excavator on eBay.
Construction Excavator Sizes
One way to categorise excavators is by size. They can be divided into three groups: mini or compact excavators, standard excavators, and large excavators. Manufacturers may have slightly different ways of defining each size.
Mini Excavators
The smallest type of excavators are the minis, which is comprised of sub-types: the smallest micro versions weighing under 800 kg, mini versions weighing closer to 3000 kg, and midi excavators weighing upwards of six tonnes. Mini excavators are ideal for construction in areas with limited space, such as urban locations or narrow landscapes.
Zero Tail Swing Mini Excavators
Conventional excavators feature a counterweight at the rear of the machine, but this can be inconvenient when slewing in confined areas. The zero tail swing excavator, first introduced in 1993 by Yanmar, is designed so that the counterweight does not swing outside of the width of the machine's tracks. The house can rotate 360 degrees without bumping into any nearby objects.
Standard Excavators
Standard excavators are usually between 10 and 40 metric tonnes. These are a common choice when spatial constraints are not a concern and the job is more heavy-duty.
Large Excavators
High-end excavators can weigh in anywhere from 40 to 70 metric tonnes. These tend to be for heavy industrial use, and excessively large for most buyers' needs.
Choosing an Excavator Size
There are several things to consider when deciding what size excavator to purchase. A general rule of thumb is to get the smallest machine necessary for the work one generally does, since larger machines cost more to purchase and to operate.
First, buyers should consider in advance how deep they need to dig, and how far they need the bucket to reach. They can base these figures by analysing the typical jobs they perform. Weight is another consideration: if operating on fragile surfaces like landscaping, lighter machines can reduce damage. Next, buyers should assess how high they need the bucket to deposit materials: this is known as the dump height. Finally, buyers should take into account the height and width of any spaces through which the excavator needs to pass, such as gates, warehouse doors, etc. This sets a limit on dimensions when shopping for an excavator.
Additional Excavator Types and Options
When choosing a construction excavator, there are many options to consider beyond size and dimension. The following chart outlines some common options.
| Option | Description |
| --- | --- |
| Crawler Excavator | Features bulldozer-like tracks as undercarriage for maximum stability |
| Wheeled Excavator | Wheels as undercarriage for better mobility, especially from job to job |
| Long-Reach Excavators | Features an especially long boom arm that can reach the upper storeys of a building; used primarily to pull structures down during demolition |
| Attachment Types | Attachments come in different sizes and styles, including general purpose buckets, heavy duty buckets, pavement-removal buckets, tilt buckets with side-to-side angling, sorting buckets, augers, thumbs, hammers, rakes, rippers, and mulchers |
| Monitoring System | Helps get the most out of performance; includes diagnostic systems, programming of hydraulic flow for specific jobs to save fuel and improve performance, and more |
| Power-Boost Mode | Allows user to optimise power levels to boom, attachment, and tracks, according to the type of work; may be automatic or manual |
| Backfill Blade | Blade attached below the boom; facilitates refilling once digging is finished |
| Climate-Control Cab | For the comfort and productivity of the operator |
| Anti-Vandalism Feature | Good for excavators left on-site overnight; locks controls to protect both the machine and the work |
| Pilot Hydraulic Controls | Common in newer excavators; ergonomic joystick controls that replace the mechanical levers on older models; easy to use |
When shopping for an inexpensive construction excavator, buyers should carefully consider which options are important for their working conditions. Some optional features, such as the anti-vandalism setting, may be worth any additional costs under certain circumstances, while others may not.
Understanding Excavator Specifications
Construction excavators come with numerous specifications. While they may not all be decisive when choosing between a few different models, it does help buyers to understand their meaning.
Weight and Dimensions
Weight is generally expressed in metric tonnes (t) or kilograms (kg), where 1000 kg equals 1 metric tonne. Gross or operating weight indicates the maximum amount of weight for operation of the machine, including fuel and passengers. Other dimension specifications include length and height, ground clearance, track width, and width of the cab.
Engine Power
Engine rate power is usually expressed in kilowatts (kW), although it also may be expressed in Pferdestärke (PS), which is the equivalent of one metric horsepower.
Another important specification for an excavator's engine is its displacement, which expresses the total volume of air in cubic centimetres (cu cm) displaced by the movement of the pistons in each cylinder. Displacement suggests engine power, but there are other factors that affect power as well, including the number of cylinders and the ratio of bore and stroke, which are the cylinder's inner diameter, and the total distance a piston moves up or down, respectively.
Other Performance Specifications
Specifications should also indicate the maximum depth which the excavator can dig, usually expressed in millimetres, and the capacity of the bucket in cubic centimetres.
Additional Considerations for Choosing an Inexpensive Excavator
Because even inexpensive excavators are a significant investment, it is worthwhile to research makes and models prior to purchase. Ease of use is an important consideration, since it influences operator comfort and productivity. Ergonomic factors like adjustable seat heights, controls within easy reach, and good visibility combine to make operation run as smoothly as possible. And while the buyer cannot test an excavator before purchasing online, they can read product reviews online or in industry magazines to get a sense of how it handles.
Another factor is reliability, as even an inexpensive excavator is a poor investment if it constantly breaks down. Again, product reviews can help buyers assess how sturdy a given model is, how often they can expect to service it, and how readily available service is in their area.
Suggestions for Buying Used Construction Excavators on eBay
Excavators are complex pieces of machinery whose proper function is vital not only to the success of a construction project, but to the safety of the people involved. When purchasing a used excavator, therefore, it is important that the buyer has a clear and accurate sense of the item's condition, and whether repairs or service are needed prior to use.
In addition to all essential product specifications, sellers should include precise details about the excavator's working condition. This includes owner history, how many hours it has been used, for what purposes, when it was last serviced, and in-depth descriptions of any issues or potential problems. Most excavators are designed to work 8,000 to 10,000 hours before replacement is required for any major components.
There should be several pictures of the excavator included in the listing, with close-ups of any damage. This helps the buyer get a better understanding of the item's condition. Pictures should be of the machine itself, not stock photos of the model. If a buyer has any concerns or questions, they can contact the seller via eBay.
Searching for Inexpensive Construction Excavators on eBay
To begin searching for your construction excavator, go to eBay's home page and type keywords, such as "mini excavator", into the search bar. Once you've received your search results, you can set your price range; you can also refine the results according to other factors, such as item condition (new, used, or refurbished), seller location, and more.
Researching Product and Seller
When you find an excavator that interests you, take some time to research both the item and the seller. The item description should contain vital information about the machine, including make, model, condition, and dimensions. There may be only a few item specifications, particularly if it is a used excavator. If this is the case, you can get more information by contacting the seller; alternatively, you can research the make and model yourself on the Internet.
Note the payment and collection requirements. Many excavators require local pickup; this should be approached prudently for the safety and comfort of both parties.
Researching the seller is also important. To assess seller reliability, check their feedback score and look at comments left by previous buyers who have purchased similar equipment. Top-rated sellers have completed a high volume of sales with excellent customer satisfaction.
Conclusion
Excavators are used for a variety of purposes in construction, including digging, lifting, and transferring materials. When looking for an inexpensive excavator, eBay is an excellent place to go. There, buyers can choose from a wide selection of new and used items at competitive prices.
It is important to know what size excavator one needs; this involves assessing measurements for things like digging depth, reach, weight, height, and width. Next, buyers should decide what features are vital for their particular work. Some options may be indispensable for certain types of construction conditions, others may not. Understanding product specifications also helps when comparing different models, and further product research gives buyers a rounder sense of how reliable and easy-to-use a particular model is.
Whether buying new or used, buyers should read the item description carefully and research the seller as well. Following a few steps helps buyers choose the right excavator for their business.