Whether scrapbooking, doing homework, or eating, the kitchen table is the hub for carrying out everyday activities. For that reason, finding just the right one to fit your particular space is a big deal for the household. Regardless of whether your room is large or small, there is a table for you on eBay which measures up to your expectations.

Enjoy the Farmhouse Vibe
Should your house have an eat-in kitchen with a cosy space tucked away that invites people to sit down, purchase a farmhouse kitchen table, and gather round. For furniture that takes lots of hard knocks, choose an oak table because the wood's density is 0.75 grams per cubic centimetre, one of the densest. Buy the set containing the table and chairs, or mix and match your pieces for an eclectic look. Look through similar country kitchen tables for comparable designs.

Choose the Table Size to Fit Your Space and Needs

You look at your kitchen table daily, and need to like how it fits the space; not too small and not too large, yet it needs to supply a sufficient tabletop area for any goings-on. Small tables with drop-leaf extensions fold down when not in use, and others offer efficient sizes designed with ergonomics in mind. Look for large tables that are Shaker contemporary, French table and bench combinations, Art Deco varieties, or other designs which include drawers for silverware, napkin rings, and placemats.







Pick a Pine Table to Finish as You Desire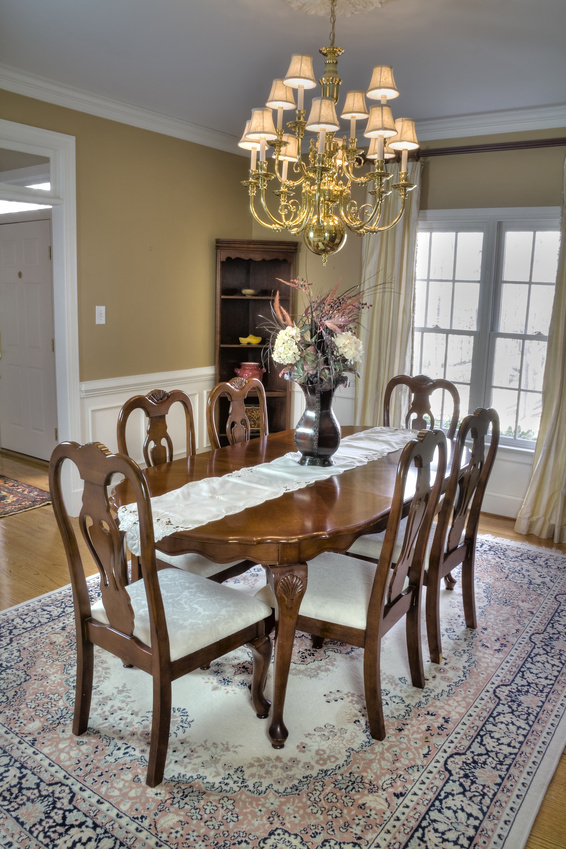 Pine is a versatile wood for staining, varnishing, adding clear polyurethane for preserving, or painting the surface to coordinate with the kitchen's decorating scheme. Look at pine kitchen tables of knotty pine with striking patterns, painted pine planks, solid pine pedestals, or other tables in round, square, oblong, and rectangular shapes to add your finish to.








Buy a Practical Glass-Top Table
Wipe off spills, fingerprints, and other dining disasters quickly when adding a glass table to your kitchen. A black glass dining table and leather chairs impresses while being a practical addition to anyone's kitchen furnishings. Circular glass-top tables invite guests to mingle and stay awhile, while rectangular glass tables encourage everyone to spread out in ease, but make sure your table contains tempered or safety glass that shatters into hundreds of pieces, if broken, to avoid serious injuries.

Invest in an Antique-style Kitchen Table
Buying an antique table for kitchen use means your purchase is generally of better quality, increases in value, and usually has a story behind its existence. These tables look sturdy and well made, with many exuding a rich patina from old age. Choose from fine examples of Victorian styling, rustic, vintage double drop leaf, and other tables that survive the test of time.