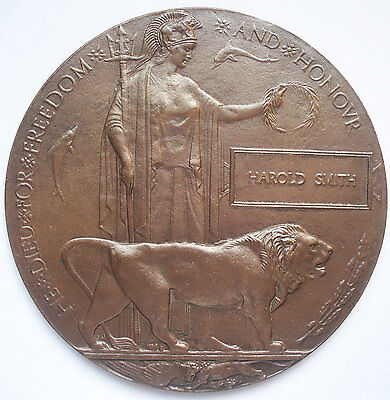 Full title: Memorial Plaque
Also known as: Death Plaque, Dead Mans Penny etc.
Construction: Cast bronze disc, 121 millimetres in diameter.
Ribbon: N/A
Clasps: N/A.
Naming: Raised block capitals, rank and regiment not shown (as all men/women made the same sacrifice and are equal in death).
Issued: Production began in 1918 and plaques were still being issued in the later 1920's (perhaps even into the 1930's!).
Awarded to: All ranks of men and women serving in (or under contract with) the British & Imperial (ie: Indian, Canadian, Australian, New Zealand etc) Forces, including those employed in hospitals or the Merchant Navy etc, whose death was attributable to the war. Just over 1.36 million Memorial Plaques were issued.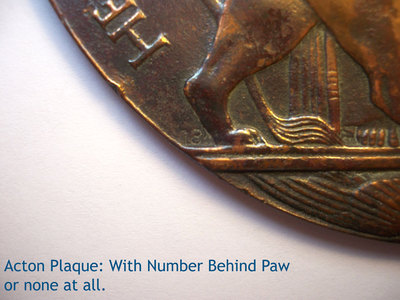 Obverse: The design known as "Pyramus" features Britannia standing facing right, wearing classical robes and a classical helmet (decorated with a Lion), she holds a trident in her right hand and a laurel wreath in her left hand. A Lion stands at her feet facing right. Between the Lion and Britannia's left hand is a rectangular panel containing the naming (on 1 or 2 lines depending upon length). In this way Britannia is seen to be bestowing the laurel wreath crown upon the deceased. To the left of Britannia and above her left arm Dolphins are seen jumping (representing the Royal Navy and British sea power). The whole scene is surrounded by the words "HE/SHE DIED FOR FREEDOM AND HONOVR", this continues to the naming panel, after which a laurel branch closes the circle. Below the ground or bar upon which Britannia and the lion stand, a Lion is seen killing an Eagle. The whole is in relief. The designers initials ("E.CrP" Edward Carter Preston) can be seen impressed to the right of the Lion's foremost paw.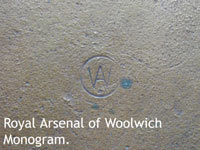 For quality control, most plaques have an impressed unique workers number, a small number produced first are numberless. An impressed number behind the Lion's rearmost paw indicates a plaque produced at the Acton Memorial Plaque Factory (until 1920). An impressed number between the Lion's rearmost paw and tail indicates a plaque produced at the Medal Department of the Royal Arsenal of Woolwich (1920 onwards).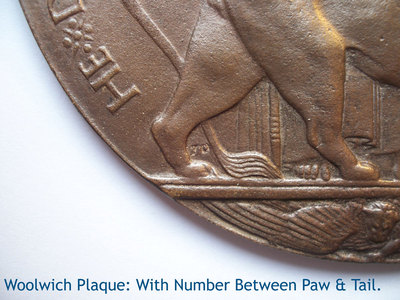 All Acton plaques have a wide H (in He), the H will measure around 5mm in diameter. Some (but by no means all) Woolwich plaques have a thinner H, measuring around 4mm in diameter. The thinner H allows for the inclusion of S to make "She", it would seem these plaques shared a mould with the female plaques. That these thinner H plaques are solely a naval issue is completely false.
Reverse: Flat and without detail, plaques produced at the Royal Arsenal of Woolwich are impressed with a small (WA) monogram (the A sits in the apex of the W).
Comments: The popularity of plaque collecting has rocketed in recent years and as a result prices of unique plaques (those with just one Commonwealth War Graves result) have increased. A pierced (for wall hanging) or overly polished plaque may command less. However in my experience condition matters less than the CWGC result (for example a unique 1st day of the Somme plaque will always command a hefty premium). Plaques to females and "pattern/specimen plaques" sell for thousands of pounds and are considered rare.