What is Jigging?
Jigging is a method of fishing with a jig, which is a type of fishing lure. Jigs consist of a weight or sinker with a hook moulded into it which is often covered by a soft body to attract fish. All Jigs are intended to create a vertical, jerky motion, unlike spinner baits which move horizontally through the water. The jig is a very versatile lure and can be used for both salt and fresh water species. Many species of fish are attracted to the lure and it has become very popular among anglers for many years.

Many people believe that Jig fishing is the domain of the sea angler and while that was true not so long ago, things are changing and this method is catching in rivers and lakes across the world.

This topic is covered at the bottom of this article.
The Jig Head
The head of a jig can consist of many different shapes and colours along with different features. You will find the most common is the round head, though other jigs may include a fish head shape, a coned shape, or any number of other shapes. The three most popular jig head shapes in bass fishing are the flipping jig head, the grass jig head, and the football jig head. These heads come in many different weights normally weighing between 1/80th of an ounce to nearly a pound for large saltwater bottom fish species. They can also be found in a wide array of patterns and colours. The hook patterns can also vary depending on the brand. These variances can be on the hook type, colour, and angle of the hook or the material of the hook. You will find that some jig heads even offer a weed guard.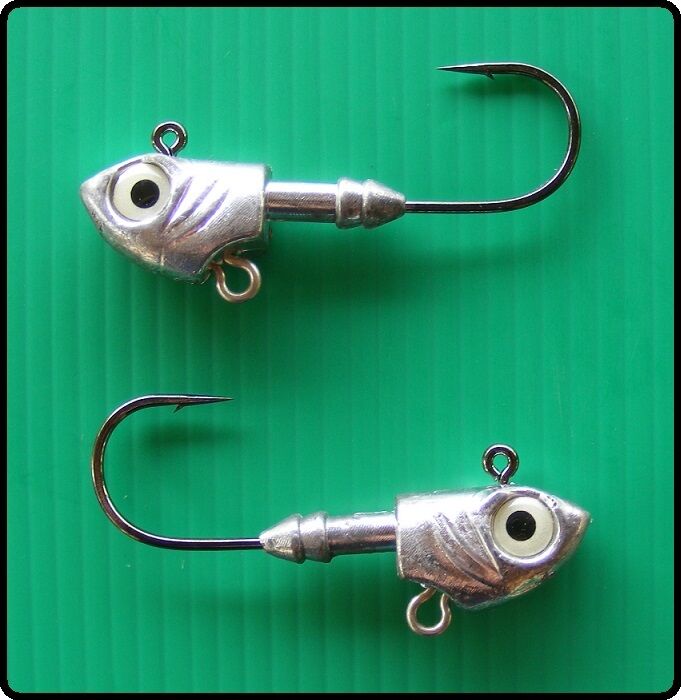 The Jig Body
There is a wide array of bodies for jig lures. The most common is made out of silicone or rubber. These come in many shapes and can resemble a grub, fish, frog, lizard, paddle tail, or other insects. Colours can range from bright yellow to a transparent brown with silver and red flakes. During summer months look at colours for the heat such as brown, or blue with black hair. Bait such as minnows, night crawlers, or leeches can also be used as jig bodies.

For successful jig fishing, the angler needs to use a rod which is good for feeling a strike and needs to stay in contact with the lure, and not least to get it to where the fish are to be found. Most fish caught by jigs are on or near the bottom.


Metal Jigging Lures
Jigging lures (metal jigs) are made for saltwater vertical fishing in deeper parts of the sea, typically where other methods are not as effective. It is common for bigger fish stay near the bottom during the hours of daylight, and only way to catch them is by presenting a lure directly in front of them deep down. Pelagic fish do not like light, preferring the deeper area of the sea. With less light and heat at these depths, bottom fishing or jigging is the most productive technique for these large fish.

Jigging lures are usually made with a metal and lead composition, ranging from just 40g up to 300g. In the main there is two type of Jig lure available, "tail weight" or "Centre weight". Centre weight lures are balanced around the centre of the jig, while the "tail weight" is heavier towards the tail of the lure. Centre weight jig is mainly used for mid-water fishing (30m-70m), with a slow descent with sideways movements. These can be deadly for catching, kingfish, Cudas and sailfish.

The "Tail weight" jig is designed to reach bottom quickly and lift with a less effort. These jigs are used for deeper laying fish. They are thinner; more streamlined, and provide less resistance in the current and require less effort to manipulation.


Should you use long or shorter jigs lures?
Your choice should depend on the strength of the current and the depth of where your are fishing. Heavy lure jigs will drop faster and will stay more vertical, though it will be harder to handle and require more effort. Using a Jig lure that is too light will take more time to reach bottom and will have a open angle, but it will be less physically demanding. The jig length will also affect the rate descent of the lure. A big lure takes bigger fish under normal circumstances. If you fish from 90m to 130m deep with a moderate current, then a 150g to 250g jig will be ideal. Once you have tried out jig fishing, you won't want to troll from your boat again!
Jigging in Rivers & Lakes
As mentioned above, jig fishing is become more popular in rivers and lakes, not just in the sea. Pike, Perch, Chub (less commonly) and Bass will happily take a small jigging lure in the right circumstances. Many rivers, drains, canals and lakes are packed with bank side features which the jigging angler can exploit. Waters that have patches of lily pads in the margins are an obvious place to try to find a predator or two. It is obvious as this is where fish such as Pike and Perch like to hunt smaller fish, especially when the water begins to warm up.
What tackle do I need for freshwater Jigging?
If fishing from a boat, you can use a rod as short as 6 ft but if fishing from the bank, ideally you need an 11 ft -14 ft rod to give you as much reach as possible, with a test curve of no less than 1 1/2 lb. You can use a monfiliment line though braid is a better option as it offers no stretch, so less chance of the hook fish burying itself in the vegetation below. The only other requirement is the Jig lure itself. These are available in weights from as little as 20 g, and can weigh 200 g, 300 g or more. For freshwater fishing, where you are not likely to be fishing water that is deeper than 20 ft, a 20 g or 40 g Jig lure is more than adequate.

It is then a simple case of dropping the Jig in to a clear patch in the vegetation, letting it drop to the bottom, and lifting the lure then letting drop back down again. You lift the lure as much or as little as you wish in search of a fish but anywhere between 1 ft to 2 ft off the bottom will often produce something. Lifting it higher means more effort and 30 minutes or more of this action may see you needing to take a break.

Give it a try and we think you will be surprised with the result and will be more surprised if you don't start catching fish in your fist few trips, providing you are targeting the right place to fish and there are hungry predators in the area.