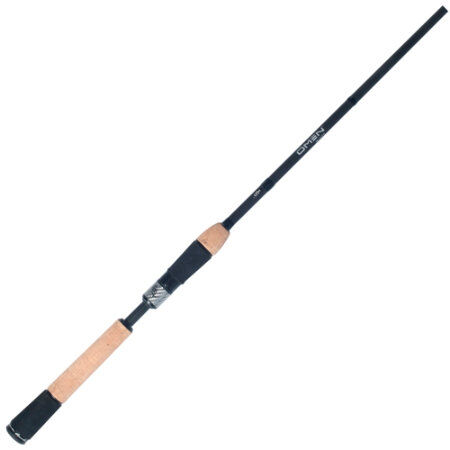 Introduction
Buying the correct fishing rod for your fishing adventure is as important as buying the correct pair of fishing shoes for your feet. The choices are endless and the different types available may seem over whelming at first. However if the right choice is made, the rod will ensure success at whatever type of angling being undertaken.
The fishing rod is the first and most important piece of equipment and with endless choices of places to buy a rod from eBay to specialist stores on the high street, there is no lack of expert advice available.
What kind of fishing activity is being undertaken?
There are lots of different places and ways to fish. It is important that you have a rod that is designed for the type of fishing being undertaken. To begin searching, it is vital to ask the following questions:
Where are you going to fish?

Inshore
Offshore
Surf fishing
Pier fishing

What size fish is likely to be caught?
Is the expedition going after a specific species of fish i.e. fresh water or salt water fish? Game will differ depending on where the fishing activity is taking place and most fish will have specific requirements, i.e. the weight of the fish will require a specific rod that is able to handle the size, the bait etc.
How often will the rod be used?
Spinning or casting? This decision will come down to the type of fish being fished, but it is good to have an understanding of the difference between spinning and casting and a preference.
Types of Fishing
As stated above, there are 4 distinct categories to fishing; inshore, offshore, surf and pier fishing. Within these categories there are a variety of different types of fishing. These are listed below and each has different requirements for type of rods. These requirements must be taken into consideration when purchasing a rod.
Inshore fishing
Offshore fishing

Bottom fishing
Fly fishing
Inshore Fishing
Inshore fishing is exactly that, fishing inshore in shallow water. Generally speaking, inshore fishing is in a small boat like a dingy and in water less than 30 meters deep. Inshore fishing includes lots of different styles of fishing, including bottom fishing and saltwater fly fishing. Because of the nature of inshore fishing, the water is generally shallow and so the fish likely to be caught will be small to medium sized, most likely under 20 pounds. As a result, the rod required needs to be able to handle a medium sized fish but be light enough for the user to move about with it easily.
Inshore fishing includes the following types of fishing:
Bottom Fishing
Bottom fishing is exactly what it sounds like, fishing on the bottom of the ocean, river or lake. When bottom fishing, it is important to take into consideration the water depth, current and the weight required on the end of the line to get the bait to the bottom. All of these factors should be taken into consideration when purchasing a rod for this type of fishing as the size and weight will affect the choice. Good choices for this type of fishing are often a:
Inshore Salt Water Fly Fishing
Although very popular, fly fishing can be a daunting prospect. Fly fishing is associated with skill and practice. As with most fishing, a heavier weight rod is required for catching larger fish and a lighter weight rod more suitable for smaller fish. The best rod to look for, for a beginner inshore salt water fly fisher, is not for a single rod, but a pre-packaged outfit. The safest bet is a 6 to 8 outfit which is in the mid-point weight range and can accommodate a beginner in almost all encounters of early fly fishing.
General specifications to look at when purchasing an inshore fishing rod are:
Lines between 18 to 50 pounds will service most inshore fishing
The two most common reels suitable for the activity are:

Multiplier reels
Fixed spool reels
Suitable rods for this activity to look at are:
Casting rods are traditionally used for light bottom fishing and are accompanied with a conventional reel. They are a practical choice for use of lures or bait (including free-lining live bait) for light bottom fishing. As well as this, they are compliant with floats.
Spinning rods are similar to casting rods as in they can do the same thing, but they have a different reel. As the name suggests, this reel spins. This is because it casts a lighter lure and does not have as many issues with backlash. Because of this, they are an ideal choice for a beginner, easy to use and are light.
Hot Tip - rods most commonly used for inshore fishing are:
Up-tide rod

Between 9 to 10 feet in length

Shorter down-tide rod

Between 6 to 8 feet in length
Off Shore Fishing
Off shore fishing is fishing in deep water, generally on the edges of ocean currents and in boats. It is often referred to as deep sea or open water fishing. Being in a fishing vessel allows access to different fishing grounds and types of fish. Although angling (fishing with a rod) is favoured in off shore recreational fishing, other types of fishing technics can be used including nets and traps. Off shore fishing will bring in big-game fish like tuna and billfish.
Off shore fishing can be broken down into three main categories, trolling, bottom fishing and fly fishing.
Trolling
Trolling is where one or more fishing rods are drawn off the end of a boat in the water. This trolling is done via moving boat or a slow winding of the reel in by hand. This method of fishing is not to be confused with trawling which is a different method of fishing using a net. Trolling is a leisure activity as well as used for commercial fishing.
Trolling rods are built with either a conventional reel or a heavy spinning gear. Conventional being the most practical with a heavy spinning gear used occasionally for catching fish like mackerel. Trolling rods are labelled by line class and are a pricy investment. However, there are affordable packages that combine a good rod with a decent reel.
Bottom Fishing
Bottom fishing, is similar to inshore bottom fishing. The line is not trolling behind the boat and requires a heavier and stiffer rod. These rods are often referred to as 'meat' rods. They must be able to stand up to large fish and endure a lengthy battle with the game.
Off Shore Fly Fishing
Fly fishing is a very specific style of fishing and requires a specialist rod. Rods for fly fishing must be strong and have a large arbor reel – which is a reel that houses multiple lines. They must be heavy and built to tackle large fish.
Hot Tip - Rods most commonly used for off shore fishing include:
Sea rods i.e. down-tide rods. These will have:

A line of up to 50 pounds
Multiplier reels
This is because they must be able to handle larger fish and bait such as:
Squid
Whole mackerel
Artificial lures i.e. perks
Precaution: Off shore fishing is more dangerous compared to inshore fishing. It is vital that you have someone in your party who has experience and knowledge of weather patterns, navigation and safety precautions. It is not an activity for beginners to attempt alone.
Surf Fishing
Surf fishing is fishing standing on the shore line, often wadding into the surf. The title of surf fishing catches all types of fishing from the shorelines including:
Sandy and rocky beaches
Jetties and piers
Most surf fishing is done in salt water, but there are a few exceptions. The basic idea is to cast the line out as far as possible over the break of the waves. Similar to inshore fishing, rods for surf fishing are made with both spinning and casting reels. But in this case, this choice is more down to the angler rather than specific requirements for the activity. Surf rods are:
Between 8 – 18 feet in length
Designed to cast over a long distance
As with most fishing, the longer and heavier the rod the more suitable for larger fish.
When surf fishing, it is also important to have a choice of terminal tackles. Terminal tackle consists of:
Other equipment to consider investing in for surf fishing includes:
A choice of lures including:

Spoons
Plugs
Soft plastics
Jigs

Surf bags to carry equipment in
Waders, basically glorified wellington boots, worn to wade out into the surf – often chest high.
Flashlights or headlamps for night time surf fishing.
Pier Fishing
Pier fishing is fishing off a pier. The choice of rods for this activity is vast but similar to surf fishing, reliant on the choice of the angler. Points to consider are:
Personal choice
Casting distance
Fish size
Final Considerations
Once it is decided the type of fishing being undertaken, there are a few more considerations to keep in mind before making a purchase. These all surround the rod attributes. It is vital you look at:
Length of rod
Butt length. The butt of the rod is the part of the rod between the reel and the end of the rod.
Action (taper). The taper is the bend of the rod from the tip to the butt. What is required:

Slow taper
Medium taper
Fast taper
Extra-fast taper
All of these attributes will be dependent on the type of fishing being undertaken.
Hot tip: Understanding the terminology used when discussing rods can assist with the purchase.
Conclusion
Selecting the right fishing rod for you can be a daunting process. It is vital that you purchase the right one for the type of fishing you are looking to undertake as there is no rod that will 'do it all'. An angler's rod is the basic equipment required for this activity and requires research and attention.
There are many great auction sites like eBay that offer a wide selection of rods for all types of fishing activities. There are also many specialist stores available to browse before you buy. Remember to ask questions from experienced anglers and take into consideration their recommendations and advice.