Constructed of high-quality material, Fiskars scissors are specifically designed for use in a variety of arts and crafts projects and media. Renowned for their performance, these scissors cut a wide range of materials and fabrics with precision and ease.
Orange-handled Scissors

Fiskars original orange-handled scissors are renowned for their comfort grip, quality craftsmanship, and precision cutting. They feature a plastic, ergonomically designed bent-handle, and suit both left- and right-handed individuals. Their stainless steel blades make them perfect for cutting materials on a flat surface. Look for those that feature a non-stick coating, as it prevents the build-up of sticky residue when cutting through adhesive materials.
All-purpose Scissors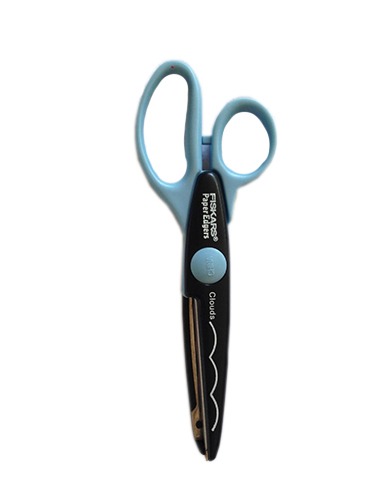 Fiskars all-purpose scissors are well suited for those who enjoy a wide variety of crafts. These craft scissors have a solid construction and feature a 10 cm blade and handle. Fiskars fabric scissors cut through multiple fabric layers, including cotton, silk, and denim with optimal control and precision.
Cuts+More Scissors
Fiskars Cuts+More multi-purpose scissors feature an ergonomic handle design that offers optimal cutting precision and comfort. Their stainless steel blades come apart for use as a titanium-coated knife, perfect for cutting through thicker materials, such as cardboard and leather. The blades, when used concurrently, can cut through twine and wires, without incurring damage. In addition, Fiskars Cuts+More Scissors pierce holes, cut tape, and open bottles. When not in use, a safety sheath serves to protect the blades. The scissors prove dishwasher-safe, for ease of cleaning.
Edging Scissors
Fiskars edging scissors feature sculpted steel blades, perfect for producing decorative edges when crafting with paper. Whether creating full-length edges on scrapbook pages or fashioning handmade cards, these paper scissors can bring your artistry to a whole new level. Fiskars edging scissors come with ergonomic handles and are coloured for easy identification purposes. For increased personalisation, look for ones with a themed-design, such as sunflowers, scallops, and waves.
Children's Scissors
Fiskars manufacture a scissors line, specifically tailored towards young children. These children's scissors are meant to teach kids how to safely cut and aid in proper finger positioning. Available in an assortment of design options, they offer plastic and angled blades and blunt tips only capable of cutting paper. For increased ease of use, look for a spring-action handle. Ideal for first-time cutters, these scissors feature dual-finger loops for easy holding and a special spring mechanism that re-opens the blades after each performed cut. Still, student and graduate scissors are readily available for kids ages five and up; these scissors teach advanced precision and control techniques and feature pointed tips.