Use any normal setting multipurpose silicone sealer

ES

Use un sellante de silicona acetico

F

Utilisez en scellant de silicone acetique

P

Use um selante de silicone acetico

IT

Usi un sigillante siliconio acetico multiuso

.
Firstly clean and dry your mudguard

ES

Limpie y seque el guardabarro, el superficie debe estar limpio y seco para favorecer la adhesion.


F

Nettoyez et sechez el garde bou, la surface doit etre propres et secs por faciliter l'adhesion.

P

Limpar y secar el guardabarro, las superficies devem estar limpos e sescos para favorecer a adesao.

IT

Pulisca e asciughi iil parafango, la superficie deve essere perfettamente pulito e seccho per poter favorire l'adesione.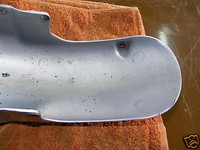 Apply a layer of silicone sealer to the fender extender

ES

Ponga

sellador silicona sobre la extension

F

Mettez silicone sur la prolongateur.

P

Ponha a silicone no extensao.

IT

Metta il siliconico su la prolunga.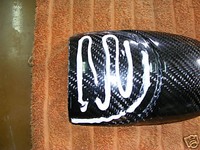 Attach to the mudguard with some masking tape to hold in place

ES

Utilice cinta de enmascarar para agarrar la extension

F

Fixez la prolongateur al garde boue avec ruben adhesif

P

Ponha a extensao no guardabarro com fita mascarar

IT

Usi nastro adesivo per restare la prolunga.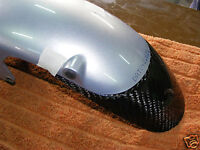 Use a weight (bag of sand or small stones) to clamp the fenda extenda in place until the silicone has dried.

ES

Una bolsa con arena mantiene pesa mientras que se seca la silicona, una vez colocada hay que dejar curar el producto.

F

Utilisez un poids (par ex un sac de sable) pour fixer la prolongateur jusqu'a ce que seche le silicone.

IT

Usi un peso (per es una borsa di sabbia) per porre freno la prolunga fino a il siliconico si asciuga.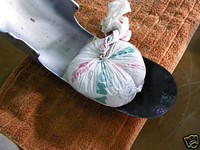 Any excess silicone which has leaked out can easily be cleaned once the silicone has dried, or before it has dried with a wet finger.

ES

Se puede limpiar exceso de silicona con un dedo mojado en agua.

F

Nettoyez exces de silicone avec un doigt mouille.

IT Pulisca eccesso di siliconico con un dito bagnato.