Fitting a transducer to a ukulele
If you are reading this then you are obviously thinking about fitting a transducer to your ukulele.

We have been selling a budget transducer now on Ebay for a few years and offer this as a service to anybody thinking about undertaking this task.
In the packet
When you receive your packet you will have an under the bridge transducer ( we prepare the ends for you ready to solder to the socket ) and a standard output jack socket.

You will of course also need your ukulele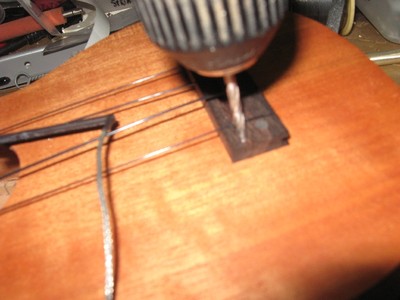 Preparing the ukulele
Slacken the strings on your instrument and slide out the bridge saddle.

Take a drill bit approximately the width of the slot and drill a small hole as shown.
Fit the transducer
Take the bridge saddle which you removed and lay it on the bench, measure the height of the transducer and mark this on the flat edge of the saddle. You will need to remove / cut off the equivalent height of the transducer or the action (height of the strings ) will be too high.

After you have cut the saddle down pass the bare end through the hole into the body.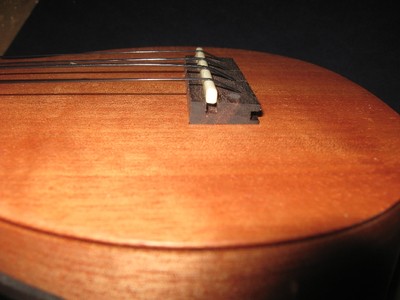 Lay the transducer flat in the slot and place the saddle on top. Ensure that the saddle rests squarely on the transducer.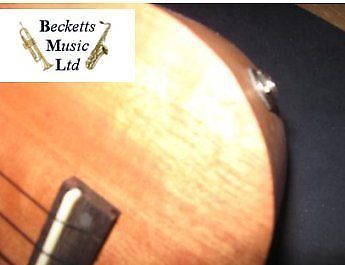 Fitting the socket
Drill a hole to allow the fitting of jack socket

Locate the loose end of the transducer cable previously inserted into the drilled hole.
Pass this through the sound hole of the instrument and solder to the socket provided.
The braided cable goes to the connection that makes the ring around the hole of the socket and the other connects to the tip connection.

( Don't fit the socket to the bottom of the ukulele where strap button might be fitted as the wood is normally too thick here as there is normally a reinforced wooden block at this point )

This is probably the trickiest bit - fit the socket into the hole just drilled.

Quick tip : Get a piece of thin rope a bit thinner than the hole in the socket and about 50cm long. Tie a knot in the rope about halfway along. Pass the end of the rope though the socket from the rear ,where the cables are soldered, being careful not to bend the contacts. Feed the loose end exiting from the socket through the ukulele body and through the hole. Slip the washer and nut over the loose end and slowly pull the socket through the body to the hole. When the threaded part comes through the hole simply do up the nut to fix in place. Pulling slowly on the other end of the rope will extract the rope from the socket.
Becketts Music Ltd
56 Commercial Road,
Southampton
Hampshire, S015 1GD

Tel: +44 (0)23 8022 4827
Fax: +44 (0)23 8032 2046


VAT REG NO. : 188 0841 36
Company Registration : 04058232

© Becketts Music Ltd 2013