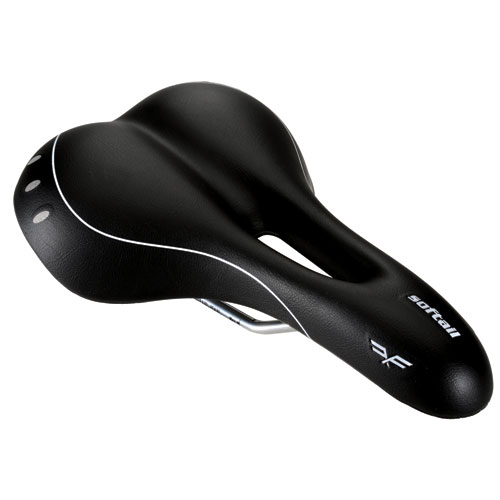 The saddle of a bike is the part that determines how comfortable a ride is, and it's important to make sure that the bike has the right saddle for the job before it is ridden. There's a wide variety of bicycle saddles available on eBay so it's easy find the perfect fit, or even to get more than one if the bikes going to be ridden in a variety of conditions.
Before going ahead and buying a saddle, make sure that all the criteria are met, after all it's easy enough to buy a saddle and if the correct choice is made it could outlive the bike. This guide will run through the factors that should be considered before buying a saddle.
1. What Kind of Saddle is Required?
This is the most important question to ask. There is a huge variety of saddles out there, but these can be condensed down to roughly three categories. They depend upon the posture of the rider, as an upright rider will favour a different style of saddle to one who prefers to lean over the handlebars.
Type of Saddle

Description

Comfort

This is the widest style of saddle, which requires the rider to remain upright. It particularly suits the style of bike called sit up and beg, or Dutch bikes.

Cruiser

Suited to those who are going to be going on short or long journeys these saddles are in between comfort and racing. They're suited to a standard handlebar set up where the rider leans forward slightly.

Racing

These are thin and are designed for lightness and speed rather than comfort. They're well suited to bikes with a drop handlebar set up where the rider leans all the way forward.

Other

BMX and mountain bike saddles are chosen for their robustness and ability to take a knock due to the rough conditions they may encounter.

Bucket style saddles are also an option for bikes such as cruisers.
2. What Kind of Bike is the Saddle for?
There are a wide variety of types of bikes available and these all suit different types of the saddles above. There is no clear cut line though, and it is possible to have a different type of saddle than the pairings below as these are guidelines only, and this does come down to personal preference.
| | |
| --- | --- |
| Type of Bike | Description |
| Cruiser | This is the style that has a low down seat, and high handle bars. They require bucket style saddles due to their design, and have possible the highest handlebar to saddle ratio. |
| Racing Bike | This style of bike will most normally be seen with a narrow racing saddle, enabling high speed but at the cost of comfort. |
| Mountain Bike | This style of bike will suit a comfort style saddle, but specialist mountain bike saddles can be bought if required. |
| Town Bike | These will required a comfort or a cruiser saddle as they're ideal for short to medium journeys, and will give the rider a smoother ride. |
| Touring Bike | This kind of bike will require a cruiser style saddle, as they're most suitable for long distance journeys and being ridden for long periods of time. |
3. Seat Post Size
If the seller hasn't listed the width of the seat post then make sure to ask them. Seat posts that are too large or too small can be swapped sometimes for the right size one, but it is more convenient and simpler to make sure that the seat post will match the bike frame before it is bought.
4. Saddle Width
Not everyone is the same, and personal preference will account for the width of the saddle. Again, this is something that should be listed in the eBay listing, if it's not then it's easy enough to ask the seller.
5. Material
A saddle is constructed out of several different sections, and while each section is not required to make a saddle, for example it's possible to just have a shell without a cover, it's necessary to consider the options so that the buyer can make the right decision.
Shell Material
This can be made from plastic, leather or carbon fibre.
Plastic will usually be the most cost effective option, and the shell will then be protected by a cover which will also act as a cushion for the saddle. Plastic covers are not mutable, and so cannot be moulded to the shape of the riders posterior.
Carbon fibre isn't as cost effective as plastic, but it serves much the same function and has the added bonus of being lighter, so it would be a good option for those riding long distances or trying to maximise their riding efficiency. It also needs a cover for the riders comfort.
· Leather is highly regarded as a saddle material, as well as being aesthetically pleasing it is also flexible. This means that it can be moulded to fit the rider, providing a comfier ride. This moulded fit does take some time to achieve, so it will become comfier over time. Leather is not as weather resistant as either carbon fibre or plastic shells, but looked after properly it can last a long time. As the leather moulds to the rider a cover is not necessary, but it must be tensioned properly to ensure that it supports the riders weight.
Cover Material
This acts as padding between the rider and the shell, which is usually either of carbon fibre or plastic. There's a variety of cover options out there but these are some of the options:
· Man made covers such as nylon offer a hard wearing substance that can be filled with foam or gel to offer a smooth comfy ride. Gel filled covers will last longer than foam, which loses it's springiness as it is compressed.
· Leather covers are another option, which suit those who want the leather look for their bicycle whilst still having a shell to support the rider.
Rails and Seat Post Material
The rails are the thin pieces of metal that sit under the saddle and run parallell along the length of the saddle from the seat post to the edges of the saddle so as to offer extra support. They come in different materials which offer mainly changes in the weight of the saddle piece.
The seat post is made from similar choices of material, it is the piece that connects the saddle to the bike.
· Aluminium is the lightest metal, but as it is quite soft it can dent or bend more easily than the other options. It is also possibly the most cost effective, competing with chromoly steel which goes at a similar price range.
Chromoly Steel is high carbon steel, which means it is less flexible than steel but also much lighter. It is still the heaviest option here, but has much less chance of bending or denting than aluminium.
· Carbon fibre is the least cost effective option, but it is also the lightest. So it is well suited to those who are looking to reduce the overall weight of their bike (and hence their race or journey times) by making sure that everything on the bike is as light as possible. Carbon fibre also has the benefit of being quite strong, but can be brittle leading to fracturing or chipping.
Conclusion
The bicycle saddle is the part of the bike that will see the most contact with the riders body, and because of this is should be strong, durable, and suited to the demands of rides it's going to be used for. A well made and chosen saddle can outlast the bike if it's properly taken care of, and can enhance the enjoyment and pleasure that the rider gets from using the bike. It can seem like a daunting task as there are so many options out there, but finding the right bicycle saddle is important. eBay offers an accessible, wide range of bike saddles and accessories, which can be navigated easily with the help of this guide.