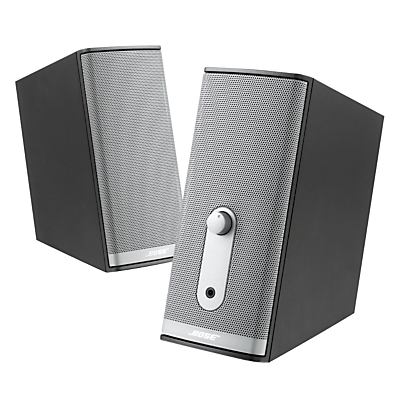 This article looks at a number of points to consider when buying speakers for use within the home from eBay's Sound & Vision category. In most cases, these will be purchased as a stereo pair, unless purchasing a single centre speaker or subwoofer for a surround-sound system, or the surround-sound system as a whole. Car speakers and those for use with musical instruments or public address systems are excluded.
Cabinet Style and Finish
The majority of stereo speakers come in four main cabinet sizes and styles.
In-Wall and Ceiling
A growing trend is for music distribution and surround-sound systems in the home to use integrated speakers, either mounted in the walls of the house, or in the ceiling. When considering these for purchase, it's probably best to stick to new items only, as these are designed for permanent installation, and any pre-installed speakers which have been removed from a household installation will likely have screw marks, adhesive residue and the like from the previous installation.
Bookshelf
The most compact style of speaker is generally termed the 'bookshelf' type. These are small enough to be used on a desktop or shelf, and are generally best suited to small to medium rooms.
Stand Mounting
Speakers which are physically too large for shelving and desktops are generally called 'stand mounting' speakers, and they are intended to be placed on speaker stands to raise them to the correct height for listening, the ideal height being that which places the tweeter, or high frequency unit, at the same height as the head of the listener at the normal listening position. Most stand mount speakers are suitable for medium to large rooms.
Floor-Standing
Floor-standing speakers are made with larger cabinets than stand mounting speakers, and they are also generally suitable for medium to large rooms. As well as these main types, a number of more specialised types of speaker are also available.
Surround Centre
In a surround-sound system, the centre speaker is most often used to carry a dialogue channel, allowing dialogue to be clearly heard regardless of the demands being placed on the other speakers in the system.
Surround Rear
The rear speakers in a surround-sound system are generally used to carry effects audio, and are often smaller than the main, front speakers of the system, due to the lesser demands placed upon them.
Subwoofer
The subwoofer is an effects speaker, designed to reproduce only the lowest frequencies, and intended to give added impact to film soundtracks, when used with a surround-sound or home cinema system. Subwoofers can also be used successfully in music systems, and tend to be favoured by those with a preference for bass-heavy music, such as heavy rock, reggae, and dance.
Finishes
The type of finish desired will no doubt be a matter of personal preference. Speakers are available in a wide variety of finishes, from the more traditional wood veneers and solid wood cabinetry, to high-gloss paint and synthetic finishes. The pictures within any eBay listing should be sufficient to give a good idea of the size and finish of a pair of speakers. Many sellers will also indicate the overall size of the speakers for sale in their listing description.
Driver Style and Size
Various styles of drive unit can be fitted to loudspeakers.
Stereo Pair Speakers
The majority of speakers include two or more drive units in their makeup, with different drive units for handling different parts of the audio spectrum. High frequencies demand a small drive unit, whereas bass frequencies need larger drive units to move more air. With the exception of the specialised dual concentric designs, which incorporate high and low frequency drivers in one unit, the majority of speakers will have two drive units or more. Certain high-end designs can have five, six, or more drive units included. Surround Centre and Rear speakers are typically fitted with no more than two drive units.
Subwoofers
Most subwoofers contain one bass speaker, typically of a large size. Generally speaking, the larger the better and many high-end subwoofers utilise speakers of 15 or 18 inch diameter. If the pictures or description of the product are unclear, the seller should be queried to provide clarification. It may also be worthwhile to consult the reviews of the product, as other buyers may have left useful feedback.
Sound Quality
If the speakers are available to be listened to prior to the conclusion of the auction, this will be the best way to judge their sound quality. The buyer should take a selection of music with which they are familiar. Assessment of sound quality will always be a personal matter, and one which will always be difficult to express in words. If a local listening test is not available, then the speakers should be assessed on the basis of the manufacturer's reputation, and from any reviews that are available of the model concerned, whether these reviews come from online sources, or from the various HiFi magazines on the market, along with consideration of the seller's description on eBay.
Power Handling
Broadly speaking, the power handling of a pair of speakers should be at or slightly above the output power level of the amplifier with which they are to be used in order that the speakers have some headroom over and above the maximum power output of the amplifier. It is possible to use a set of speakers which are rated below the level of the amplifier, with care and moderation, but this approach is generally not recommended.
Condition
There are two aspects of condition to be considered when buying speakers; the external condition of the cabinet, and the condition of the drivers themselves. It's perfectly possibly to find speakers with cabinetry in exceedingly poor condition, but with drivers in excellent condition and working order, and likewise, a pair of speakers which has been cherished by their owner, and with cabinets in excellent condition, could have speakers which have decayed and are unusable. In the former case, it will come down to personal preference as to what condition of cabinetry the buyer will bear in order to own the speakers. In the case of some vintage designs, the drive units themselves are considered the desirable element, and it may be well worth the purchase price to acquire these for later partnership with another pair of cabinets. Depending on their original construction method, speakers can be found to have either foam or rubber component parts, either in the drivers themselves, or as parts of the grilles. Many of these foam or rubber parts have not stood the test of time, and have a tendency to decay, eventually rendering the speaker driver unusable. Certain specialist firms offer refurbishment services for replacement and renewal of these components, and others offer DIY kits whereby the owner can attempt this themselves. If it's possible to inspect the speakers before completing the auction, the buyer should look especially at the surrounds of the bass and/or midrange drivers, looking for any signs of decay or flaking. If the speakers are to be assessed on the basis of an eBay description and pictures, and any aspect is unclear, the seller should be queried to provide further detail or enhanced pictures.
How to Find Speakers on eBay
From the eBay homepage, select Shop by category, choose Sound & Vision from the pop-up category list. Should it not appear on this list, expand the category list with the See all categories button, following which Sound & Vision can then be chosen. There is, from this page, a subcategory list where Home Audio & HiFi Separates can be selected, followed by Speakers & Subwoofers. The selection can then be easily refined by choosing Bookshelf or Floor-Standing , or by Brand.
Conclusion
A wide variety of speakers, whether for basic stereo, surround-sound or other purposes are available via eBay, and hopefully the above guidelines will lead the prospective buyer to a suitable purchase to enhance their listening experience.