Sometimes the stock engine your manufacturer thought was perfectly fine in your car is just not good enough. Well, for some people that is. This is a list of the extremes and the awesome.

Some of these cars have had quite substantial engine swaps that turn something rather subtle and docile into a monster. This is all in the name of more power, more speed, and more noise. Jeremy Clarkson would whole-heartedly approve of these vehicles.
Fiat 500 - V12
When I first came across this car I nearly spat my hot chocolate all over my keyboard. This is a classic
Fiat 500
that has been engine swapped to the extreme. Gone is its little, but sufficient engine, and in its place a replacement has come. That replacement is from a Lamborghini Murciélago; and with it, comes a 6.2-litre V12.
BMW E46 M3 – V10
Phil Morrison, co-founder of Driftworks, bought himself an E46 M3 to use as a comfortable daily, as he had a 720+ bhp
Nissan S15
in his garage, and needed something to use every day. The problem with having such a fast car as a toy, means your daily drive may feel somewhat…slow. To rectify this problem, he had a V10 engine put into his ride. This created an E46 M3 like no other. The S85 V10 had been lifted from a BMW M5. As you can hear, in the video, this car also has a switchable aftermarket exhaust, which, when fully open, sounds absolutely unbelievable.
Volkswagen Jetta – VR6 AND W8 duel engines
So, this car takes the engine swap to a next level. Not only does this
Volkswagen
have a new, larger more powerful engine, but it still retains the previous engine. This creates a couple of issues, such as synchronising both engines and mating them both to a single gearbox. The owner has dealt with this issue and has been able to create a working car with two engines. Ingenious!
Subaru Impreza – BMW V10
What do you do when your beloved
Subaru Impreza's
boxer engine gives up the ghost? You engine swap it. That's exactly what this owner did with his Subaru, and he didn't hold back. Wedging a large V10 engine into this Subaru has turned a fast capable car into a rather crazy raucous machine. We do approve of this, although mating a German engine to a Japanese car might be seen by some as a step too far.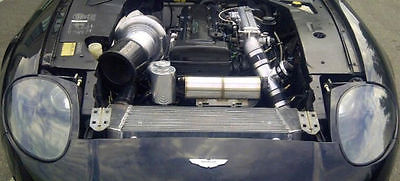 Aston Martin DB7 – Supra 2JZ-GTE
This Canadian
Aston Martin DB7
owner wanted a bit more oomph. The luscious Aston Martin just didn't pull hard enough in its current guise. So he decided to drop a
Toyota Supra
2JZ into his DB7. Now, a lot of people may see this is an act of sacrilege of the highest order, but you've got to admire someone willing to go to that length with such a car as a DB7. The 2JZ was installed into the DB7 with a large turbocharger and an EFI control unit.
Custom Motorbike – Lamborghini V12
If you thought the
Lamborghini
V12 being fit into a Fiat 500 was a mega swap, just wait till you see this thing. A guy created a custom motorcycle that utilises an authentic Lamborghini V12 as its method of propulsion. We do question how well that motorbike is cooled at a standstill, and how hot it gets while riding what is basically a furnace, but either way, this thing is beyond cool.
I hope you enjoyed this guide and if you think we've missed out on anything please feel free to leave a comment below. Don't forget to check out
my latest collections
. If you have a great idea for a collection, share it via the comments and I will try to add it to my overview.