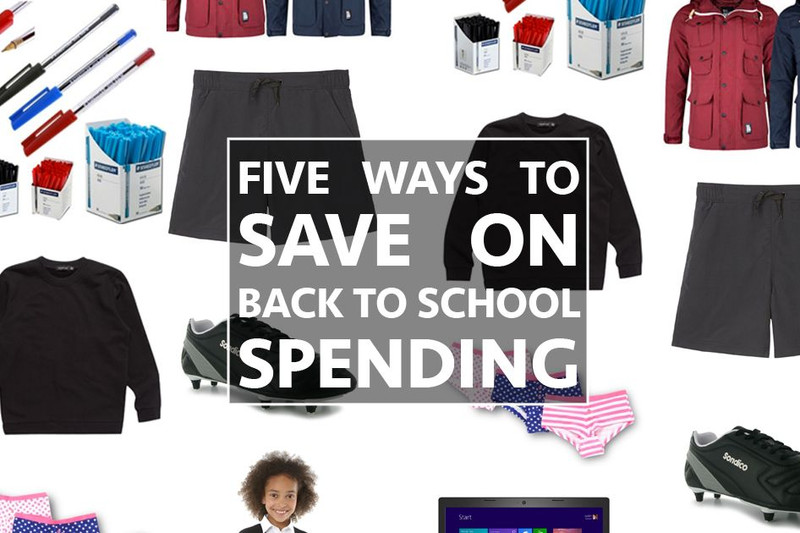 If you're a UK parent of one or more small people aged 4-17 then chances are they're heading back to school or college about now.

You're probably feeling a mixture of emotions: sadness that the holidays are over, joy that you'll have some peace or not have to juggle work and summer childcare, and annoyance that it costs so much just to start a new school year.

To ease the strain, here's my round up of five ways you could bag significant savings on back to school supplies.
Bargain briefs, cut-price cardigans
Studies suggest that school uniforms cost the average family almost £120 a year. That's no small amount!
Debenhams have listed a whole load of school clothing at an incredible 70% off. Grab a
V Neck Cardigan
for £3.90 (RRP £13), or a
Unisex Crew Neck Sweater
for £2.10 (RRP £7)
Those are some significant savings on good quality clothing.
The right tools
Of course, there's also the cost of stocking the kids' school bags with pens, calculators and geometry sets you've long forgotten how to use.
Instead of a last minute, wallet-wounding trip to the local stationery supplies outlet, you can hop online and pick up discounted stationery from eBay. For example, 20
Quality Staedtler Ballpoint Pens
cost just £4.99.
A good sport
For children who love to get outdoors and take part in afterschool sports, there's a whole load of extra kit you'll probably need to invest in.
Right now, eBay has brand new
Sondico Kids Football Boots
for just £10 (RRP £24.99) and
Debenhams Swim Shorts
at just £3.60 (RRP £6), plus loads of other great deals on sportswear.
From notepad to laptop
If your kids are starting to study for exams, it's probably time to invest in a laptop.
You could spend full price on a laptop on the high street, or you could save 31% by picking up a brand new
Lenovo G505 15.6" Intel Dual Core Laptop 4GB RAM 500GB HDD
, complete with carry bag, anti virus software and 12 month warranty for just £229.99 – that's a saving of £108.
All the young dudes
All the young dudes
Should your children be moving on from uniforms and neat school bags to the world of sixth form college, you'll no doubt know that the back to school expenses have far from vanished, they've just taken on a different form.
This time, your little darlings need enough clothes of the fashionable variety to get them through a full week of study (also know as watching music channels in the common room).
A
Crosshatch Landcost Hooded Jacket
is just £22.95 (RRP £45) and is perfect for waiting outside the Chemistry Building for that girl from 6B.
Whichever way you cut it, starting the new school year is going to mean getting our your wallet, but with huge savings to be made on high quality, branded school supplies, it might not be quite as painful as you first thought.