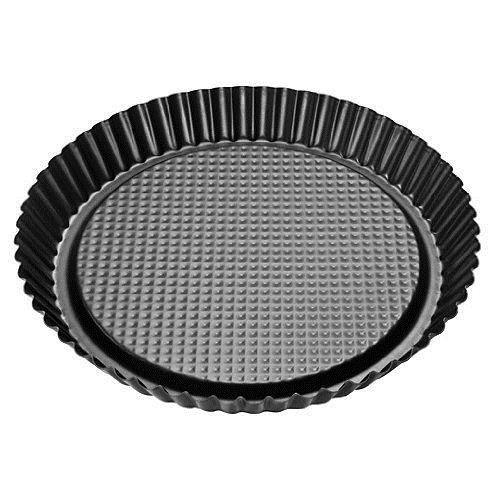 A cousin of the cake tin, which has deep sides in order to allow cake mix to rise to the top, a flan tin is a shallower, often wider dish designed to hold a pastry or sponge shape with either a savoury or a sweet filling. Flan tins come in a number of sizes and several different types of materials, although the circular tin, with either plain or fluted edges, has remained the most popular. Most cooks find that having a range of sizes of flan tins available serves a variety of uses.
About Flan Tins
Flan tins are designed to accommodate both savoury dishes, suitable for a main course or starter, and sweet desserts. The word "flan" originates from the mid-nineteenth century and has French, Latin, and Germanic origins. Although a flan is a baked dish, it is sometimes eaten cold. For example, a sweet flan might consist of a sponge base, allowed to cool, and then filled with fruit and cream; a savoury flan, such as a quiche, consists of cooked pastry often filled with meat, fish, or vegetarian ingredients, thickened by eggs and cheese. Usually, the savoury variety can be eaten hot or cold.
Flan Tin Materials
Flan tins are generally up to about 12 inches in diameter, and up to one inch deep. Different sorts of non-stick heatproof materials can be used to make them, including carbon steel, aluminium, iron, ceramic, Pyrex glass, and silicone. Although pans made from certain types of materials are recommended, or not recommended, for specific types of cooker hobs, generally the materials used for ovenware and bakeware, including flan tins, are suitable for every type of oven, providing purchasers with more choice when selecting them.
Iron and Steel
Iron flan tins provide a strong, heavy-duty casing that is extremely durable. These tins weigh more than flan tins made from alternative materials. Carbon steel tins are a popular choice for the manufacture of a wide range of kitchen utensils. The heavy gauge variety allows for the even distribution of heat, and some types have a dimpled base to ensure better browning and allow the contents to be released more easily. Carbon steel is generally safe to use in the refrigerator and the freezer, as well as in the oven.
Aluminium
Aluminium is a lighter, brighter metal than iron or steel and is, in fact, the most plentiful metal on earth. It is derived in the main from bauxite, which is a type of clay rock containing iron oxides. As with carbon steel flan tins, those made in aluminium often have loose bases so that, after cooking, the flan can be eased out of the tin gently to avoid cracks or breakages in the crust. Mini-flan tins, up to about 3.5 inches in diameter, are usually made from aluminium.
Ceramic
A popular choice for tableware, ceramic dishes are made from clay hardened by heat. Traditional stoneware glazes have a pale interior, often cream or beige, and a coloured exterior in a deeper hue such as dark brown or terracotta. All white stoneware is also available and recently designers have begun to be more adventurous, introducing new shapes and colours to ovenproof stoneware, including purple. Stoneware has the added advantage of being attractive enough to be taken straight from the oven to the table.
Pyrex Glass
A hard, heat resistant type of glass dating from the early part of the twentieth century, Pyrex dishes are made from borosilicate glass, a combination of boric oxide and silica forged at a low melting point. Pyrex can withstand high temperatures, is resistant to scratches and stains, and is relatively easy to clean and maintain. It is suitable for use in the microwave, oven, fridge, freezer, and dishwasher.
Silicone
Silicone is a relative newcomer to kitchen utensils and equipment. It is a soft, bendable, synthetic material formulated from alternating chains of oxygen and silicone atoms. It is very resistant to chemical attack and also to changes in temperature, making it suitable for use in freezers as well as ovens - ice cube trays are now made from silicone, for example. In the main, silicone flan tins are non-stick and resilient to damage, dishwasher-friendly, and known to last a long time. They also come in an attractive range of colours.
Choosing the Most Suitable Flan Tin
As they are so versatile, flan tins are suitable for use all year round. In summer, light, savoury flans eaten cold, such as those made with salmon and dill or goat's cheese, are delicious accompanied by a light salad. In winter months, hearty flans using potatoes and meat or fish provide a satisfying main course when eaten straight from the oven and accompanied by roasted winter vegetables and garlic bread. Sweet dishes, whether cold or hot, are welcome all year round.
Identifying Preferred Features
Some, but not all, flan tins are dishwasher safe. This can be very useful for busy cooks who like to clear everything into the dishwasher after a meal, without having to spend time at the sink. On the other hand, easy-clean varieties , whether metal or ceramic, often have an added coating that renders the surface smooth and shiny so that washing by hand is quick and simple. Flan tins with a removable base do make it easier to detach the flan, which can be left sitting on the loose bottom when placed in a separate serving dish. Non-stick flan tins are often coated in the same way as easy-clean tins, and this means it is not necessary to grease or oil the dish in advance of lining it with pastry or sponge mix.
Size
The largest flan tin is approximately 12 inches in diameter, and the smallest true flan tin is approximately 3.5 inches, although smaller ceramic ramekin dishes are sometimes used for making individual flans suitable for serving as canapés or finger foods. Standard larger sizes are 10 or 11 inches, medium tins are between seven and nine inches, while smaller tins sometimes come in a set, for example four or six with a diameter in the region of 3.5 inches.
Removable Base
Flan tins with a removable base are useful for novice and experienced cooks alike as they make the process of getting the flan from the oven dish to the serving dish so much easier. In particular, younger children who are learning to cook, and who will enjoy making their own flan full of their favourite ingredients, find being able to separate flan from dish is made much easier with this type of tin.
Shape
As circular tins are standard, the main choice to make in this regard is whether or not the sides of the tin should be straight or fluted. The decision is not really affected by the recipe, although some cooks prefer a straight side for savoury quiches and straight-edged tins are certainly easier to manage when baking sweet sponges. The fluted effect is ideal for pastry, however, creating an attractive outer case when baked.
Personal Requirements
Choosing the right flan tin is simple once requirements are taken into account, including selecting the material that fits with the rest of the ovenware in a kitchen. For example, if this is mostly carbon steel or aluminium, then ovenware in the same material will be a good match. If serving straight from the oven seems ideal, then a ceramic flan tin will make the most attractive container. If microwave cooking is preferred, then non-metal materials such as Pyrex glass, ceramic, or silicone will be needed.
Versatility
Flan tins are versatile pieces of equipment so if there is more than one cook in a household, consider whether particular features, such as a removable base, non-stick coating, or easy-clean surface will make life easier for everyone. If dishes are prepared ahead, then containers need to be suitable for storage in the fridge or freezer. Purchasers for households where dishwashers are in almost daily use will find this is an important feature to include in the ideal specification.
Frequency of Use
Cooks who regularly feed roughly the same number of people may find a larger, family size flan tin will suit most occasions. If cooking for children's lunch boxes, a set of smaller tins is easily recycled after use, allowing several different recipes to be used in a relatively short period. Building up a good collection of different size flan tins will help create a well-stocked kitchen, and there will be no difficulty finding flan tins on eBay.
Find Flan Tins on eBay
Shoppers looking for flan tins on eBay can either enter a specific search term into the box at the top, or use the Categories drop down next to the search box. To search by category, click on the Categories drop down and select Home, Furniture & DIY. From here, click on Cookware, Dining & Bar on the left hand pane. Once the page has populated, select Bakeware & Ovenware then click on the Pie, Flan & Tart Tins link for a complete list of available auctions. Shoppers can further refine their search by using the filters next to the product listings.
Conclusion
An online search of sellers and suppliers for new individual items, or to add to an existing collection, will ensure the most suitable options are easily identified; there is plenty of choice available, accompanied by useful and relevant information.