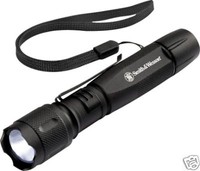 Mention torches to the average person in the street and he / she will honestly not have a clue what you are talking about! Until the introduction of the U.S. made Maglite range of flashlights some years ago now the best that your average Policeman, Security guard etc could hope for was a X2 "D" cell rubber torch, Maglite changed all that, their aircraft aluminium flashlights were built to take punishment...and take punishment they did, in all weather conditions and all enviroments, Maglites were fitted with Krypton or Halogen bulb's and their ultra bright beams could be focused from spot to flood, they lead the way in lighting for the professional for years....that is until the arrival of Streamlights amazing range that not only matched Maglite but beat them in all departments, fast becoming a best seller in the U.S.A.
Now it seems that everybody makes Maglite "look - a - likes" including the likes of Draper, Sealey, and Coleman, even B&Q have jumped on the bandwagon with their own "Professional" range of aluminium flashlights...and for the money ( half the price of a Maglite ) a bit of alright they are too!
Also look out for models from Smith & wesson, Winchester, even Uzi ! these are usually imported via the internet from retail / mail order outlets in the U.S.A. Most companys now offer models which use LED's, they offer a much longer life in use and are hell of a lot brighter than even Krypton and Halogen bulbs, Leaders in this field are Surefire, their compact units offer almost "instant daylight" and are used today by a growing number of Police officers in the U.S.A. and around the world.
Okay, at the end of the day most people are just looking for something a little above average that isn't going to cost them a fortune...if that includes you how about a visit to your local Army surplus store? Angle head flashlights ( X2 "D" cell size ) can be picked up brand new and boxed for around £10 - £14 replace its standard bulbs with a couple of brighter Kryptons and you have a robust handy flashlight that will give you many years of trouble free use...Happy Shopping ! Ken Lambourne.
PLEASE take a moment to vote for this guide...thank you.