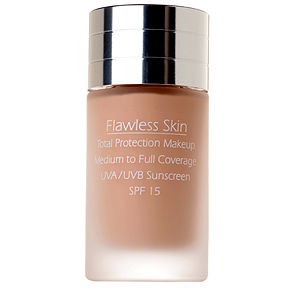 Every woman has her own unique beauty regimen, and makeup can plays an important role in it. While she dresses with care and styles her hair, an important part of her daily routine involves applying makeup every morning.
A good makeup application begins with the foundation; as such, this product must be carefully considered and chosen. Makeup foundation comes in formats that include cream, liquid, and mousse. Many women prefer cream or liquid, as they generally provide even application for a flawless appearance. While a tremendous range of products is available, the final selection can vary based on a woman's skin tone.
A staple in many women's beauty bags, makeup foundation is readily available from a number of outlets. While buyers can turn to neighbourhood stores or department store chains, sometimes, better bargains and wider selections can be found at the online marketplace of eBay. A woman needs to familiarise herself with the types of foundation and select the appropriate one for her skin type. After determining the ideal shade for her skin tone, a woman is ready to purchase the makeup foundation and accessories that make her skin look flawless.
Types of Makeup Foundation
No longer are women left with heavy tinted creams and liquids as the only solutions to smooth skin and enhance their appearance. In addition to the old cream-based standby, makeup foundation is available in a range of materials and styles, including mousse, powder, and fluid that is lighter than air.
In general, a lady bases her selection on the needs of her skin, as well as the desired look she hopes to achieve. While the thicker makeup foundations provide superior coverage and hide blemishes and imperfections, a lightweight tint allows more of a woman's own skin tone to show through, thereby delivering a more natural look.
No matter the product the wearer selects, she is seeking a few non-tinted benefits as well, for skin that looks dewier and healthier overall.
Cream Foundations
The cream foundation made its mark for a reason: because it works. Despite the many formulations and consistencies of makeup foundation available, cream is still the master at filling fine lines. Ingredients such as petrolatum and sodium hyaluronate give the appearance of plumping the skin.
Liquid Foundations
This is a type of makeup foundation that is frequently used. Not only is liquid foundation readily available, but it also goes on easily and smoothly, making consistent, even coverage a reality. While fingertip application is more common, some women select foundation sponges for a crisper application. Liquid makeup foundation is popular for around-eye use, as it lends itself well to an extra layer of colour over thin, and often darkened, skin.
Depending on their level of activity, some women gravitate towards smudge proof, waterproof, or all-day formulations. While these can hold up better under bright lights or a warm sun, their added oils and waxes may contribute to skin irritation or breakouts. If this should occur, wearers may wish to look into non-waterproof or natural formulations, including those made from organic ingredients such as minerals and essential oils in lieu of chemical dyes.
Mousse, or Whipped, Foundations
Newer to the makeup scene are whipped and mousse foundations, products that offer easier application and a lighter feel. Lightweight mousses and whips are easier to blend than their thicker counterparts. To create the smooth mousse texture, manufacturers mix air into tinted foundation. The product comes in an aerosol or spray can, much like the ones used for hair mousse or whipped cream. While mousse foundations are more expensive than many other foundation types, their application is smooth and simple. Mousse foundations are recommended for women with dry or wrinkled skin, as the foundation does not seep into fine lines or dry patches.
Tinted Moisturiser Foundations
Tinted moisturisers are less about foundation and more about hue. The right product can impart a softer look with a touch of colour. It should be formulated such that it both softens and protects the skin. Another advantage of using a tinted moisturiser is that it is essentially two products in one. By combining the foundation and the moisturiser, a woman can purchase just one product instead of two and apply fewer layers of makeup to her face.
Cream-to-Powder Foundations
A newer type of makeup foundation is the cream-to-powder variety. This type of foundation smoothes on easily, like a liquid, yet dries to an oil-minimising and long-lasting powder-like finish. As with the tinted moisturiser, a cream-to-powder foundation eliminates the need to apply multiple layers of makeup. Cream-to-powder makeup foundation comes in a powder compact, tube, or bottle. A powder foundation is not as good as cream-based for aging or wrinkled skin, however.
Mineral Makeup
Newer to the scene are mineral makeup products. These have become popular due to their natural ingredients and mildness. Mineral makeup is a frequent choice amongst women with sensitive skin or allergies. Mineral makeup is of a powdered consistency and can be brushed on in layers until the desired appearance is achieved.
Accessories for Application of Flawless Makeup Foundation
By purchasing the right products and establishing a beauty routine, anyone can create a flawless look. While there are no hard and fast rules, using specific accessories help the wearer achieve makeup perfection.
Lotion
Following cleansing, a woman can prep her the face for makeup foundation with an application of face-specific lotion. A common choice is an anti-aging lotion, such as the ever-popular Oil of Olay. It is important to moisturise the entire face, paying special attention to smile lines and the tissue below the eyes.
Concealer
The consistency of a facial blemish concealer usually falls somewhere in between cream and liquid makeup foundations. A concealer is usually a tube or small jar of evenly toned, tinted liquid and is ideal for minor cover-ups such as blemishes, redness, or dark circles under the eyes. While some women use concealer after their foundation is in place, beauty experts generally recommend applying the concealer first.
Brush
Many women dab on liquid foundation with their fingertips. However, it is recommended that they use a brush designed specifically for this purpose.
Choosing a Foundation Primer over a Simple Moisturiser
For a woman who wants a well-moisturised face with an even smoother foundation application, a foundation primer may be just what she needs. The primer is used in lieu of a basic moisturiser and is intended for preparing the skin to receive and benefit from the makeup foundation. Not only does a primer refresh and soothe the skin, but it also holds the foundation in place and keeps skin oil and sweat from leaking through, important considerations as the thermometer rises.
Additional Benefits of a Flawless Makeup Foundation
When shopping for makeup foundation, there are many brands and products from which to choose. One woman's preference may differ from another's based on shade, consistency, skin tone, and desired additional benefits.
Some products are designed to improve skin health, either working from the inside out or by their all-natural composition featuring ingredients such as vitamins A, C, and E, jojoba, grape seed extract, or safflower. Although built-in sun protection is another welcome feature, for optimal results, it is a good idea to wear lotion with an SPF of 30 or more beneath the foundation. Some women opt to blend the SFP lotion and foundation, which results in an application that is sheerer than foundation alone.
Other makeup foundation products may deliver advanced moisturising benefits, either upon application or through timed release during the day. Some foundations may promote skin firming or be certified oil-free. Light-reflecting formulas maintain a healthy glow through both natural and artificial light.
Makeup Foundation Selection for Women over 40
As any woman knows, her skin tone and texture changes as she ages. To that end, she should not cling to the foundation makeup of her youth as she approaches middle age. Women over 40 have different skin care needs; as such, they need to re-evaluate their makeup foundation choices.
While specific choices vary from one woman to the next, some of the more popular features and benefits for this age group include skin firming, wrinkle and line coverage or protection, all-day moisturising, dark spot correction, and SPF protection. A woman over 40 also needs to avoid shimmery or powdery finishes and seek a foundation that is oil-free.
Buying Flawless Makeup Foundation on eBay
Thanks to eBay, you can find foundations from high-end brands as well as more affordable brands all in one place. After determining the features and benefits in a foundation that are right for you, you are able to view a plethora of products that accommodate your needs with a simple search. Results conveniently display not only product photographs and names, but also descriptions, prices, and shipping information, including delivery time and cost. Another thing to note is whether the seller accepts returns or not and, if so, during what time frame. If you prefer, you may choose to work with only eBay's top sellers, for additional peace of mind as you make a transaction.
Before making a purchase, remember to double-check the shade of the makeup foundation to ensure it is the appropriate colour for your skin. Amongst the wide variety of brand names on eBay are the high-end ones, such as MAC, Shiseido, Clinique, Lancome and Estee Lauder. The website also offers value brands such as CoverGirl, Maybelline, Revlon, and Neutrogena.
Conclusion
In order to achieve a flawless look, a makeup regimen should include proper application of a quality foundation. There are countless products on the market in a wide range of prices and features. The selection of a makeup foundation is highly dependent on a woman's needs, from skin tone and finish, to desired effect, to aging considerations, if any. The makeup foundation forms the base of the application, with blush layered on top for the desired finish.
If a woman wants to maximise the benefits from her makeup foundation, she may also wish to consider purchasing accessories such as a foundation brush and makeup sponges. She should learn proper preparation, including an undercoat of moisturiser, if desired, as well as colour selection and smoothing techniques. Some makeup foundations have built-in moisturiser or oil control; others may promote skin firmness and dark spot correction. The intended use as well as a woman's age may factor into the selection.
Many women turn to eBay for its wide selection at great prices. eBay's Health & Beauty section makes it easy to compare makeup foundation products and features, ultimately making the shopping experience as convenient and rewarding as possible.