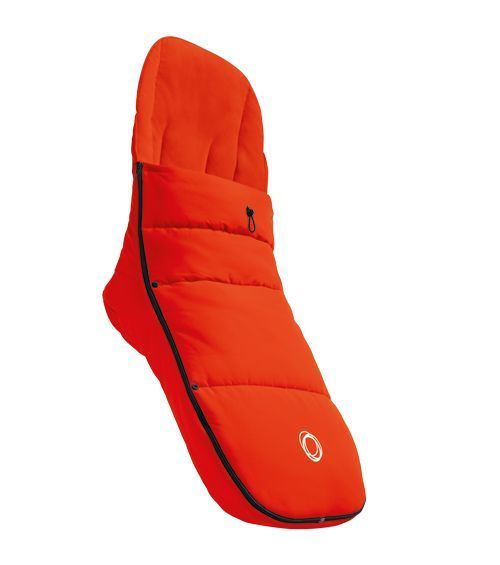 A fleece footmuff is a baby wrap to keep out the cold or, more correctly, to keep a baby's natural body warmth intact. Footmuffs are considered essential for babies in prams and pushchairs, especially for when the weather turns colder. A fleece-lined footmuff is seen as the ultimate way to ensure a baby's warmth and comfort, whilst at the same time keeping baby safe and secure in a pushchair or carrycot.
Footmuffs are often specifically designed for a particular range of pushchairs, however, many others are universal, in that they fit virtually any design of pram, carrycot, or other device used for carrying a baby. While the wide availability of footmuffs may at first make choosing one appear somewhat daunting, a little thought and careful consideration saves the purchaser the frustration of buying the wrong one. Information on how they have evolved and what different types, styles, and designs to look for should help allay any difficulties and make purchasing a fleece footmuff, particularly online, a less painful and ideally enjoyable process.
Footmuff History
It used to be that transporting a baby around in a pram or pushchair could be a challenging undertaking for the parent or guardian in terms of the baby's comfort. As the weather turned colder, baby blankets were often used to keep the baby safe from the elements while out and about, but babies inevitably kicked off both the blankets and any footwear, leaving them unduly exposed to the elements. This translated to the need for constant vigilance on the part of the caretaker, and often resulted in frequent, sometimes inconvenient stops to rearrange the blankets and replace any errant shoes or socks. Discarded or forgotten, baby shoes and socks were often placed on nearby walls by well-meaning passers-by, hoping that the guardian of the baby or toddler would return to retrieve the items.
In the mid-1980s, babywear designers woke up to this, and came up with the all-in-one footmuff. The footmuff was excellent for keeping baby warm, and had the added advantage in that it could not easily be kicked off, and any socks or footwear tended to stay within the footmuff if shed. While early footmuffs were made from cotton or a polyester-cotton mix with no lining, the vast majority of modern footmuffs are fleece lined for the added warmth and comfort they bring.
Types of Footmuffs
Footmuffs are now available in a staggering choice of different types. They are available to suit every pocket or taste, and no matter what the buyer is looking for, there is sure to be one which is perfect for every need.
Custom Fleece Footmuffs
Custom fleece footmuffs are designed and marketed for specific models of pushchairs or travel cots. These are normally more expensive than the one-size-fits-all universal models, but have the added advantage that they are tailor-made to fit the intended pram. They typically feature mounting straps, often fixed with Velcro, which lock into the pram or travel cot. Often, custom footmuffs match or at least complement a pram's livery. Custom-made or designer footmuffs often sport the manufacturer's logo in the same way that designer clothes do.
Universal Fleece Footmuffs
These are designed to fit into a wide number of pushchairs, buggies, or carrycots. While universal fleece footmuffs may not be a precise fit to particular models or brands, they have the advantage of often being much less expensive than their custom-designed cousins. The best universal footmuffs tend to have two sets of slits toward the top rear of the bags. The slits are for threading the seat belt through and can provide some anchorage for the footmuff, preventing the baby from wriggling out and the footmuff coming loose and falling to the ground.
Over-the-Pram Fleece Footmuffs
These are usually universal in design, and are built to fit over pram handles, covering the pram seating areas entirely. These have the advantage of being easily removed for washing and prevent soiling of the pram seats. They often have additional universal Velcro fastenings to fit around the two main aluminium struts running down the front of the prams. A great advantage of these footmuffs is that, by their very nature of being strapped over the pram handles, they are extremely safe and secure. Even with a wriggling baby, determined to escape, the footmuff cannot slide off the front of the pram.
Sleeping Bag Style Fleece Footmuffs
Fleece footmuffs styled like sleeping bags are primarily bought for newborns and very young infants. They often feature zippers running the lengths of both sides to allow easy access to the children. These are also often used for very young babies in carrycots, and the caretakers may lay loose blankets over the top of the footmuffs to provide added warmth and security.
Fleece Footmuff Designs
There is a vast array of footmuff designs available in a wide range of colours, so before choosing a particular colour or design, the potential purchaser should spend time looking over the different designs on offer. As well as being offered in all the colours of the rainbow, some high-end manufacturers offer custom designs or even personalised lettering for their baby footmuffs. It is now possible to have a baby's name or nickname embroidered on the footmuff for that 'personal' touch.
Styles of Fleece Footmuffs
Thanks to the wonders of modern technology and the sheer creativity of footmuff designers, there are many different styles to choose from. These range from the simple coverall to the complicated, but beautiful, all-in-one style that has become so fashionable.
Zippered Fleece Footmuffs
Many footmuffs come with zippers to allow easy access to the children without needing to lift the infants from the footmuffs in order to simply adjust some item of clothing or to put their shoes or socks back on. While zippers do maintain an advantage over the one-piece bag, care should be taken when choosing such a footmuff to ensure the zipper can stand up to repeated and heavy usage. The buyer should carefully study any photographs or ask questions of the seller.
Flared Fleece Footmuffs
Some footmuffs are flared at the bottom to allow the baby plenty of kicking room, as any parent knows well how babies love to flail their feet. These are particularly useful if the baby has very active feet, as the baby is unlikely to be able to reach the bottom or sides in an effort to kick off the footmuff. While flared may appear to be a sensible option, particular care should be exercised when choosing a flared model to make sure it does not easily get trapped under the low-sitting pram's front wheels and pose a hazard.
Fleece Footmuff Colours
In the 19th and early 20th centuries, pink was considered to be a 'boy's colour', while blue was exclusively the realm of females. It was not until the 1940s that manufacturers settled on the now familiar other way round. While blue and pink still predominate the colours of footmuffs available, with the advent of modern materials and manufacturing methods, suppliers of footmuffs are keen to show and sell other colours and designs. These include nursery-type designs with the inevitable teddies and kittens, but also other designs of a more unisex nature, often useful and economical if the buyer is looking to have more children, so a footmuff can be passed down from sibling to sibling.
Cleaning Fleece Footmuffs
When footmuffs first came on the market in the mid-1980s, some manufacturers made footmuffs with natural fillings, including feathers and lambskin. While these were considered the height of fashion for a short while and were certainly very warm and secure, it was quickly realised that keeping them clean was expensive because of the need for dry cleaning vs. normal laundering. Very quickly, footmuffs with synthetic fibres began to appear, and these had the advantage of not only being just as warm as their natural counterparts, but washing machine-safe on a suitably low setting. Natural fibre, notably lambskin, footmuffs are still available, but the buyer should always be aware that the cleaning may prove more expensive.
How to Buy a Fleece Footmuff on eBay
Simply typing "footmuff" into the search box on eBay brings up hundreds, if not thousands, of choices. Careful use of the category listings narrows down the choices into a more manageable figure. Many footmuffs are designed specifically for newborns, so care should be taken to ensure that a prospective footmuff is large enough for the baby for whom it is intended, and that room for the baby's inevitable all-too-swift growth is taken into account. Choices of colour can be made based on a baby's sex, if desired, however, it is ideal to note again that there are many attractive footmuffs available in neutral, unisex colours and designs, suitable to be passed along to subsequent siblings or other parents of infants.
One suggestion is to check out the manufacturer's recommendations of footmuffs for the particular pram or pushchair being used. This is especially important if the pram has unusual, non-standard features that might make using a more universal model impractical. eBay features a wide number of sellers of fleece footmuffs from all corners of the globe and the buyer is sure to find the perfect one to suit his or her needs.
Conclusion
Given the vast and potentially daunting choice of fleece footmuffs available, both online and in brick and mortar stores, a buyer has a wealth of styles and colours from which to choose. With a little foresight and awareness of what the market has to offer and what features suit a particular buyer's needs, the buyer can easily identify the ideal footmuff for baby, whether for a pushchair, a pram, or a travel cot.
Considerations of size, colour, and fittings need to be weighed, along with other factors such as easy and inexpensive cleaning and intended longevity, that is, whether the footmuff is going to be used for more than one child. It makes sense to ensure that the footmuff one chooses does actually fit the intended pram or travel cot, or whether targeting a custom-designed model made by the pram manufacturer is the appropriate route to take. Footmuffs are popular, and therefore are available in an increasing variety of designs. Time and a little effort can undoubtedly yield the perfect purchase for the perfect tot, something that is even more easily accomplished when shopping online at a site such as eBay.