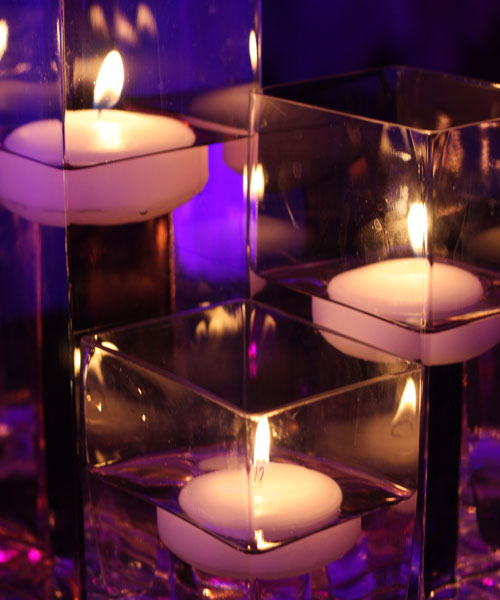 Nothing creates ambience quite the way candlelight can. In churches, festivals, weddings and celebrations all around the world, candles have played a significant role in creating the desired mood. While all candles add atmosphere, floating candles create something extra special. The mix of fire and water seems to strike a chord in nearly everyone. Floating candles are not only suitable for large events, but also for romantic dining and bathing. Floating candles are available in numerous colours and shapes. Floated in a small glass or a large pool, they can be used to give a festive, fun, or cosy air. Floating candles are safe to use provided dry materials are kept well away. Decorative materials used in the water pose no risk as they are wet.
Types of Floating Candles
Most floating candles are made from paraffin wax, beeswax, or soy wax. A floating wax candle has a narrow base with a wider top to ensure it floats. Even large, heavy candles will float if they follow this rule. For outdoor use, the candles should also have a slight dip in the centre to prevent them being blown out in the wind. Everlasting floating candles come with a base that can be reused and a special wick that is replaceable. Battery operated LED candles that change colour are also reusable. Small tea light candles, preferably with a long burning time, can be placed inside special lanterns that are designed to float. For indoor use, the accessories used allow for creative flair to enhance the desired effect. Some candles are scented to add a gentle aroma to the air.
Wax Floating Candles
The majority also have a burning time of five hours, which is suitable for most events although some festivities are better served by an eight or ten hour candle. For swimming pools and ponds it is recommended to use large floating candles (3-4 inches or more across) that have an adequate dip in the middle to prevent them going out.
| | |
| --- | --- |
| Small classic round shape white or ivory. Available scented or unscented. | These candles add a touch of elegance or romance. Ideal used in conjunction with bowls or glasses containing flowers, ribbons, or other decorative materials. A single white floating candle in a glass of coloured water makes an ideal individual decoration for wedding guests. |
| Small heart shapes in any colour. | One, two, or three colour combinations can be used for any event. Especially suitable for weddings, baby showers, and Valentines Day. Black hearts can add interest to a gothic party. A few scented red hearts in the bath can set the scene for a romantic evening. |
| Small classic rounds in any colour. | Suitable for any occasion, particularly when matched with decorative flowers for a centrepiece. Gold, red, or white candles are especially appropriate for Christmas. Cream or yellow coloured floating candles make an impressive addition to a decorated water bowl for Diwali. |
| Small Christmas novelty shapes. | Floating Christmas tree candles, Santa candles, and Berry and Holly shapes create a fun atmosphere. |
| Small novelty shapes. | Fish and shell shapes provide a base for a beach themed party. Witches and pumpkins make a fun floating arrangement for Halloween. |
| Small roses. Scented or unscented. | Available in a variety of single or two toned colours. Roses add romance and elegance. |
| Small hibiscus candles. Scented or unscented. | Selecting a range of colours can brighten up any event. |
| Large water Lilies in a variety of colours. | While many colours are available, white and/or pink is the most common choice. These large candles add a sense of calm and peace when floating gently on an outdoor pond. Best suited to a calm evening, or a gentle breeze. |
| Large Roses or Hibiscus | Suitable for pool or pond ambience. |
| Large floating fruit | Make a splash of summer in the pool. |
| Large Snowflakes | Beautiful for an outdoor Christmas scene. These candles can be enjoyed if viewed from indoors in winter, or can be used as a Mid-summer Christmas decoration. |
| Standard shape large floating candles in a variety of colours | Can be used as a single centrepiece indoors. A single colour or a variety of colours makes an impressive outdoor lighting scene. |
Everlasting or Reusable Floating Candles
One type of everlasting candle comes with its own float to which a long burning wick is inserted. The candle is then floated on a film of vegetable oil added on top of water. Scent can be added to the oil if desired. Replacement wicks are readily available on eBay or through some online stores. As these candles need oil to float on they are not really suited to outdoor ponds or pools. The other type of reusable floating candle is the LED light candle. These candles are made from plastic and run on batteries. They are white, but change colours once turned on.
Floating Lantern Candles
Floating lanterns are a Chinese tradition. Some lanterns can be released into the air, while others are designed to float on water or be placed down pathways. A long-burning tea light candle is placed inside. Floating lantern candles create a serene effect on outdoor pools and ponds. Selecting tea lights with a long burn time can prevent the need to fish lanterns out of the water before an event is over.
| | |
| --- | --- |
| Floating lotus flowers. Available in a variety of colours. | Foam pads keep them afloat. A plain white tea light is all that is required to bring out the colour. Suitable for outdoors or for an indoor centrepiece. |
| Water Lily lanterns | Particularly suited to ponds or pools. |
| Cube water lanterns | Simple and elegant, these floating candle lanterns will add ambience to any outdoor event. |
Accessories for Floating Candles
Glass bowls, flowers, ribbons, and coloured glass pebbles can all add to an indoor display of floating candles. Scent and colour can also add to the overall effect. Some bowls are especially designed for floating candle displays, but any attractive glass bowl can be used. Height and size need to be considered for a centrepiece. A display that is too large or small for the table will be overwhelming. If the display is too high it may prevent table conversation.
| | |
| --- | --- |
| Glass Pebbles Available in a range of colours and sizes. | Placed in the bottom of a glass or bowl, pebbles add colour and catch the light from floating candles. Use in individual glasses or centrepieces. |
| Glass bowls | A variety of sizes and shapes suitable for candle floating are available on eBay. Hand-blown glass is particularly attractive. Some bowls come complete with a stand or with inserted flowers or metal trims. |
| Fragrances | Pure essential oils or simple fragrances can be added to unscented floating candles. If the candles are floated on oil, the fragrance can be added to this. A few drops of scented oil dropped into the well of a wax floating candle will add the aroma required to create the desired atmosphere. Fragrances designed for special events such as Christmas can be found on eBay or online stores. It is recommended not to overdo the amount of scent used as some people may suffer headaches or allergies in confined spaces when too much scent is used. Essential oils are said to have stronger mood enhancing effects than simple fragrance additives. |
| Small gems or rhinestones | A little glitter can enhance a floating candle display. |
| Fresh or waterproof flowers | Fresh flowers debatably look best, but will rot eventually. Some artificial flowers may be suitable to use in water. |
How to Find Floating Candles on eBay
Floating candles can be found by clicking on All Categories and then on Home, Furniture & DIY. Now, on the left hand side of the page, hover over Furniture & Living click the link to Home Decor. Again on the left hand side of the page, click Candles & Tea Lights. From all candles listed, it is possible to narrow them down to just floating candles by clicking on the Floating Candle checkbox found underneath Type. In addition, browse through the full category list or narrow down their search for floating candles by type, size,or colour. Free or reduced local rate shipping is frequently available. Discounts may sometimes be offered for bulk ordering. This information will be available on individual listings.
Conclusion
Floating candles can add ambience and creative flair to the most intimate get-together or the largest festive occasion. On their own, or combined with accessories, floating candles provide a relatively inexpensive opportunity to accentuate a desired mood. For large occasions, such as weddings, it is possible to save money by ordering candles in bulk through eBay, online suppliers or brick and mortar stores. Handcrafted floating candles are another option for those wanting something unique. Floating candles offer a bouncing off point for the creative entertainer.